Back to News
B$Z: Freewaters Footwear and Therm-a-Rest Co-Develop New Sandal Technology
January 18, 2013
Freewaters Footwear and Therm-a-Rest Co-Develop New Sandal Technology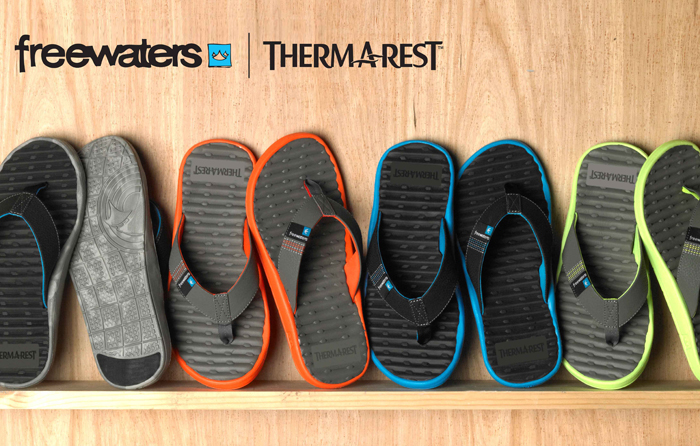 Laguna Hills, CA – Freewaters Inc. announced the launch of an exclusive new sandal collection co-developed with Therm-a-Rest, the leader in premium outdoor comfort. Two men's styles that feature Therm-a-Rest foam foot beds will debut at Outdoor Retailer on Jan. 23rd for summer 2013 delivery.
"This type of partnership is something rare and really special," said Freewaters Co-founder Eli Marmar. "Not only do Freewaters and Therm-a-Rest have perfectly symbiotic product technologies, we also share a passion for transforming lives through clean drinking water projects."
The proprietary foam formula provides the unique combination of instant comfort with strong rebound and durability. The signature Therm-a-Rest ridge pattern provides insane grip, flexibility, air circulation and water sipping. Combine all this with Freewaters ergonomic midsoles and attention to fit and the result is a total game changer in sandal comfort and performance.
"We are excited to work with a brand that values quality, innovation and philanthropy," said Therm-a-Rest Vice President Doug Jacot. "We believe this partnership will raise the bar for sandal performance and for how companies work together to help solve global issues."
By coincidence, Freewaters and Therm-a-Rest's parent company, Cascade Designs, Inc., have been working independently on water projects in Kenya. A portion of the proceeds from each pair of these new co-developed products will support a new collaborative water project, which will be announced in early spring 2013.
About Freewaters
Freewaters makes innovative and easy-going footwear that transports you into vacation mode the minute you slip them on. Freewaters believes that access to clean drinking water is a fundamental human right. Each pair helps support global clean drinking water projects. Based in California, Freewaters soaks up the Cali spirit of innovation, cruising down the open road and spreading good vibes. The Freewaters mantra is 'do some good' – a call to make the world a better place, little by little, step by step.
www.freewaters.com
About Therm-a-Rest

Seattle-based Therm-a-Rest has been the market leader in premium outdoor comfort since its invention of the world's first self-inflating mattress in 1972. A commitment to providing inventive, long-lasting and reliable products has driven the expansion of the line into closed-cell foam mattresses, air mattresses, sleeping bags, blankets, and seating solutions that reinvent the way people sleep outside. All Therm-a-Rest mattresses are made in the Seattle, U.S.A. and Cork, Ireland manufacturing facilities. For more information, visit www.thermarest.com.
---