Back to News
Vanessa Pflug, Textile Designer for Sanuk
February 1, 2013
Vanessa Pflug, Textile Designer for Sanuk
Vanessa Pflug recently found her way back into the world of action sports after working as a designer for a company in the home/baby industry for the past three years. She is now a proud employee of Sanuk – explaining the company hired her as its' textile designer, a new position for the Irvine, Calif. based footwear brand.
"I was actually nervous about getting back into the action sport industry," admitted Vanessa on having to go through a three-interview process before being hired at Sanuk. "I asked for advice from many different people."
Vanessa began her journey in the action sports industry with Volcom nearly five years ago, landing a coveted internship as a senior in college in the Midwest before graduating and moving to the West Coast permanently the following summer. Upon arriving in California, she found herself at one point working three jobs at once until finally settling in as a designer at Cocalo, her foray into the home/baby industry.
Now, after three months developing and designing "innovative textile concepts and original print/pattern" for Sanuk, Vanessa feels she's finally settled down in her new role and admits she really loves it. "I'm finally back in the industry I want to be in,," she explained in an e-mail.
Read on for more on Vanessa's journey from interning at Volcom in 2009 to recently arriving at the newly created Textile Designer position at Sanuk.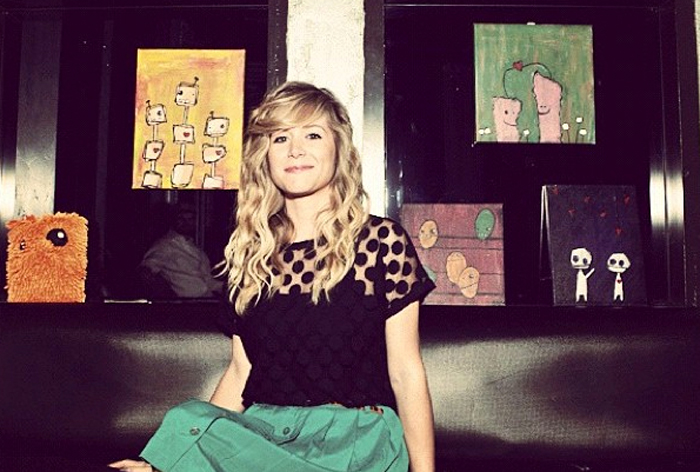 How did you get involved in textile design?
I went to school for textile and clothing at Iowa State University. I majored in Apparel, Merchandising, Design, and Production. I have had a love for anything creative since high school. I always enjoyed learning new techniques and different ways you can manipulate textiles. At my previous job I worked a lot with creating color palettes, prints, patterns, trend forecasting, and worked with many fabrications.
How were you able to land your first design job?
My first design job was through Volcom in Costa Mesa. I landed an internship with them the summer of my senior year of college by just applying through their website. After graduating in Iowa, I picked up and moved to California without a job or place to live. In the first year of living in California I actually had 3 different jobs at once. I worked part time with Volcom as their pre-production/design assistant, sales associate at Jack's Surf and Sport, and also was part time design assistant for Cocalo.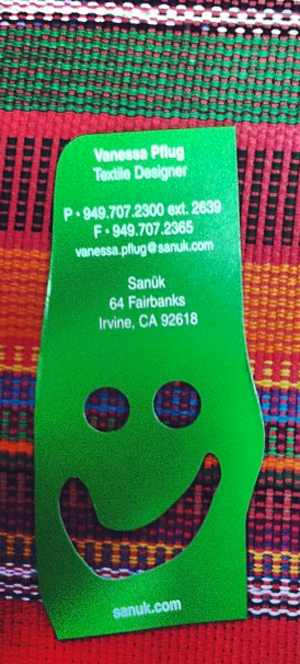 How did you manage to get hired at Sanuk as a Textile Designer – a whole new position for them?
I was actually nervous about getting back into the action sport industry because I worked with Cocalo as their designer in the home/baby industry for 3 years. I asked for advice from many different people. I connected with Chad from Malakye and he helped me put together an awesome resume/ sneek peek portfolio. I also connected with 24seven agency and they helped me get in contact with Sanuk. They both recommended me adding a page in my portfolio more related to the action sports industry and to show that I still had it. My portfolio was set up in a way to point out my strengths in my graphic and textile work that I did from previous design jobs. I went through a 3-interview process with Sanuk, but knew in the first interview that it was the right fit.
What's an average day like? Can you give us a basic idea of what it's like to do what you do?
My day typically pertains researching and developing color forecasts and trends. I closely follow the lifestyle of footwear markets and report on new and evolving trends as it relates to color, fabric, design aesthetics, and materials. Develop and design innovative textile concepts and original print/pattern, whether it be by hands on weaving or drawing straight onto the computer. I also have to prepare any prints/textiles for production for the factories to follow. I also have to pay close attention to cost when developing new textiles and prints. From time to time I will attend tradeshows and go out into the market to identify emerging trends and to pull design inspiration. I work very closely with the designers and we collaborate on many levels, bouncing ideas off of one another. Although we are busy; we all still have fun in the office. We even have a custom ping pong table by our desks whenever we need a breather. I will also be traveling quite a bit on inspiration trips and to our factories. I am actually leaving this month to Hong Kong and China. We will be visiting our factories and approving colors and materials. I will also be going to different fabric marts to select different textiles for F/W 14. This will be my first trip to China, so I'm pretty excited; I think it will be a super awesome experience!
Can you give us an idea of what the design process is like?
In the beginning of a season, each designer will start forecasting on color and trends. We will then all have a blue sky meeting to collaborate our findings. My boss and our line manager will write briefs for us designers to follow. The designers will start to do black and white line drawings of different styles, while I will be picking textiles in China. Whatever we don't find in China, I will work on designing custom prints and textiles. We then have different meetings throughout the year; initial line review and final line review, where we invite co-workers from different departments to review the line and make comments. We also have different sampling stages, prototypes, round 1, round 2, sales samples, and TOP samples coming from our factories. There are many meetings and revisions before getting to the final product. Also, while we work on the beginning of 1 season, we will be finishing the previous season.
What type of tools / software goes into designing textile for footwear?
I mainly use Illustrator and Photoshop. I also love using special weave programs when creating custom weaves. I love my drawing tablet; I don't even think I know how to use a mouse anymore, haha! I also try to get away from the computer and sometimes start on paper when drawing prints or doing hands on weaving when trying to develop new ones. It's nice to start the design process in different ways to keep things fresh.
What has been the biggest challenge for you since starting at Sanuk?
I think the biggest challenge has been learning everything I possibly can about footwear. This is actually the first time being in the footwear industry. So I am learning all the technical terms and techniques used in footwear.
What is the most rewarding aspect of what you do?
I think it is the awesome atmosphere and the down to earth co-workers. I am also going to get much reward out of seeing my textiles/prints on our footwear in stores.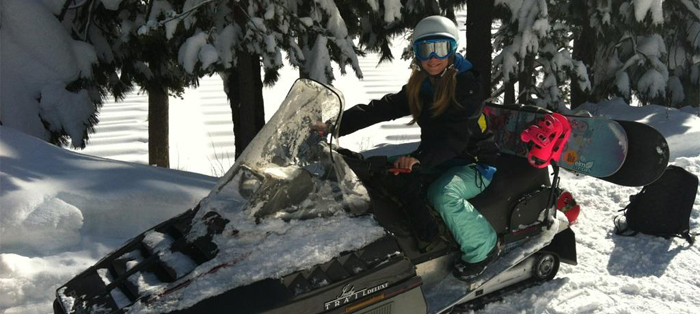 What makes the job you do important to the company on a whole?
Sanuk created this position because they really want me to create textiles/prints that are custom to Sanuk. They don't want to keep using the same textiles that every company uses. They want to stand out; especially in their textiles because that's one of the key traits of Sanuk. They use such rad textiles and techniques!
What are some interesting designs or ideas you've come across since beginning with Sanuk?
So far, I've mainly been learning as much as I can and preparing for the next season because when I started most of the season was already designed. I was able to do some pretty cool custom prints and patterns for them though; including some ikats, animals, Hawaiians, and tribals.
What can you tell someone who is in school or looking to get into this industry about succeeding as a designer?
Do whatever you can to get to where you want to be. It will be tough at times, but it's totally worth it! I had 3 different jobs at one point and did a bunch of grunt work, but it pays off. I kept open ears and learned everything I possibly could and asked a lot of questions. I love learning anything new that will help me in the long run to becoming a good designer. It is also good to keep in contact with all the people you meet throughout the industry, because you never know what the future may hold. Work hard, and play hard.
What enables you to be a successful designer?
I ask lots of questions and take everything in. I love learning new things because you never know when certain knowledge will come in handy.
Is there anything we missed that you'd like to include?
In my spare time I like to go snowboarding, camping, fishing, climbing, anything outdoors. I also love to go thrifting and to antique shops. I have my personal designs as well, called Nessa Pflug Designs. So far I just have an etsy shop. I also do a lot of art shows where I sell a bunch of my art. It started off with just painting, and now I have evolved it into screening different products such as totes, garments, and paper goods. My first series is a collection of monsters, releasing my inner child. I plan on doing my second series in the near future; which will be more of custom pattern work. Check out my etsy shop: http://www.etsy.com/shop/nessapflug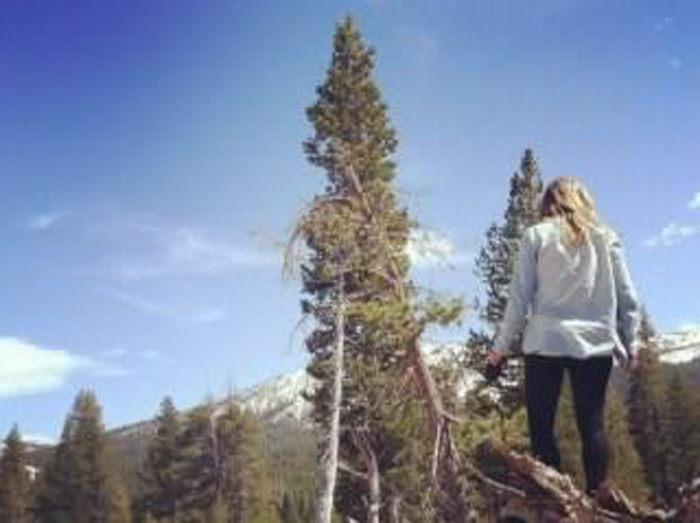 Thanks Vanessa & Sanuk - Good luck in 2013 and beyond!
---