Back to News
MOTO: FMF Apparel Signs James Carter To A Multi Year Deal
January 23, 2013
FMF Apparel Signs James Carter To A Multi Year Deal
*Young James Carter picks up multi year backing from FMF Apparel and signs on with Pastrana's Nitro Circus Tour for 2013.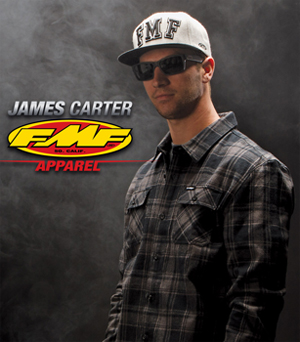 Irvine, CA: Coming off of a very successful 2012 and looking to further strengthen their team, FMF Apparel is digging deeper into Freestyle MX with the signing of phenomJames Carter to a multi year deal.
The 23 yr old Temecula, CA resident is known for his hard charging hits, unique style and big, "go for broke" tricks. In the FMX community, James has made a name for himself as one of the top up and coming talents with a deep bag of whip and flip variations. His skills were noticed last year by the Red Bull X-Fighters organization and he was invited to enter the event in Dubai, which he did but unfortunately broke his leg during practice. For James, it was initially viewed as a "setback" but the reality is that it helped him to hone in his focus and align everything in his life to revolve around being the best he can be at FMX. James has had time to fully rehabilitate, train harder than ever, get healthy and also realize how hungry he is to get out and ride again, doing tour demos and competitions.
The comeback story is underway and James is on fire to be at the top of the FMX world. Since he's now back on the bike and feeling strong, he has officially signed on to tour with The Nitro Circus, which starts off this March down in Australia.
FMF's Marketing Director, Donny Emler Jr. said: " The FMF brand has been entrenched in the sport of Freestyle MX since the beginning, with the likes of madmen like Pastrana and even Maddo. It's exciting to see how FMX has progressed through the years. We at FMF are dedicated to the growth of FMX and want to help support what we believe are the up and coming superstars of this sport and that's where James Carter just makes sense for us. He's a fit for what we're about and I'm looking forward to working with him."
James Carter had this to say: "I'm amped to announce my signing with FMF apparel. The FMF brand has been changing the game in Moto for decades. It's an honor to be on the team. The crew running FMF apparel is great and the clothing is amazing. Big thanks to Little D, Brian Jelligand the whole team at FMF for the opportunity to be in the FMF family.I'll be heading to Australia for the NitroCircus tour in March and I look forward to repping FMF down under."
FMF Apparel and Exhaust will be supporting James for all of his future endeavors. James will be running the famous "Red n' Yellow" FMF ovals on his bikes, helmets and on all of his clothing as he travels the globe. Look for updates on James at www.FMFracing.com
---