BACK TO NEWS
Paradox Grip Q&A with Ari Evan Gold, CEO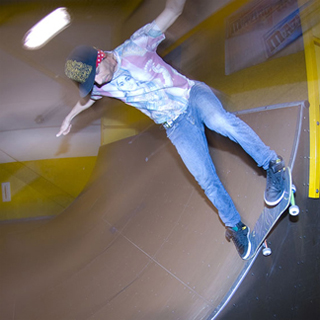 Paradox Grip Q&A with Ari Evan Gold, CEO, Product Developer, Team Manager, Marketing & Creative, Chief Operations Officer
Paradox Grip was started in 2008 and makes the most unique, innovative griptape in the world. When the company was founded nearly five years ago, it was based on a built-in 10% gross profit donation model - with proceeds going to The DOOGOOD Conservatory, who have been providing free skateboards to under-priveleged kids since 2002.
"As long as I have control over the brand, the gross donation is part of our business plan," stated Ari Evan Gold in an email interview.
Ari, who handles numerous responsibilites for the company including Product Development, Team Management, Marketing & Creative and Operations, received a scholarship in 2009 from the Social Enterprise Institute and was mentored by Betsy Densmore, the President of Academies for Social Entrepreneurship, which is devoted to blending the best of business and philanthropy.
"Ari participated in one of our first 'Social Enterprise Academies' which provides training, mentoring and a venture competition for charities that want to launch earned income ventures," explained Betsy. "Ari "drank the Kool-Aid", meaning he was very coachable about finding ways to make DOOGOOD more market-driven and less dependent on grants and donations."
Social Enterprise is dedicated to linking the passion of social purpose with sustainable business practices and principles and was truly an inspiration for Ari when beginning Paradox.
"As we go into our 5th year, we have successfully funded all the shipping costs and 90% of the material costs to run DOOGOOD's current 15 programs in 4 states and 3 countries," stated Ari.
A trio of pro skateboarders serve as team-rider/part-owner of Paradox, David Gravette, Peter Smolik and Jake Brown, and are the brand's amassadors; but they do much more for the social enterprise as Ari explains:
"It's very important to have rider/owners," says Ari. "As this is something that shows our intentions and passion."
Read on for more on how began Paradox nearly five years ago as the only company in skateboarding doing business as a social enterprise, to Ari's knowledge, and for plans on how the company will continue to grow in 2013 and beyond!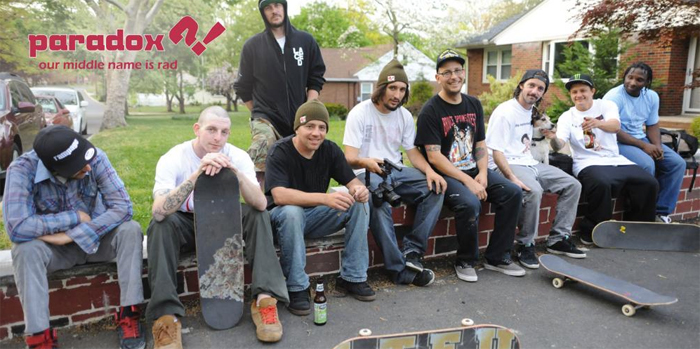 What is your current position with Paradox?
My current position is "man of many hats". First and foremost is product development, we didn't just put our logo on another person's creation, we started from the ground up and improved every aspect including packaging with our recyclable box. Second would be Team Manager; most of our team were recruited by me and I feel and treat them like family. Third hat to wear is marketing and creative direction; we were the first grip company to make commercials and do a tour. Fourth, chief operating officer; I handle all the other 10 thousand things that's needed to run a successful business.
Paradox is part-owned by three pro skateboarders, can you speak on the current staff and breakdown leadership within the company?
Our current staff consists of our 3 part owners going out and being our ambassadors. But, as someone who receives a cut of the gross profits, they are more. Some companies offer ownership and then the net profit after bonuses ends up being very little, or nothing. I do not do that. They get their percentage every quarter and its all in black and white. I do not manipulate the net to give them less. No bonuses over here. Jake Brown, Peter Smolik and David Gravette put their careers and reputation on the line to endorse our paradox formula and I felt they deserved a piece of the reward.
We also have a sales manager/ east coast brand manager, Shawn Pursell. He has been instrumental in opening up the east coast to accept us, aligned us with Chapman for our distribution in the northeast and got Gino on the team. He also manages the sales aspect of our small business. Our webmaster/graphic design guru is Jon Clawson. He takes my chicken scratch ideas and turns them into reality. He also maintains our website and handles all the e-business aspects. Our media manager is Nate Wooldrige. He is very gifted in both filmmaking and editing. His work on our latest tour was amazing and am very grateful to have him using his creative talents to tell our unique stories. Our shipping manager is Steve Holl, and boy does he do a great job for us. Our unique arrangement is a blessing for us and we really appreciate all he does for us. We also have a factory partner. This gives us the ability to take on very large orders, create custom grip for clients like Sector 9, Arbor, Sk8trip and many shops like Westside, Route 44 and Grandeur. This business arrangement has been very open and honest and I cherish this. It took 5 factories to find the one willing to do the work to make something that was not already created.
The three owners are also part of the Paradox team – how important is having an all-star pro roster led by people invested in the company?
I am not sure how important it is to make some of your team owners. But, I felt it was something they deserved and should receive as the risk they took to be associated with something so new and outside the norm. But, it does create a very real credibility. Having the right people endorsing your brand is very important. Some might think that our team choices are random, but they are mistaken. We chose our team on their uniqueness, their open personality, their attraction to outside the box skating and their long-term commitment to excel skateboarding. When attracting new talent is concerned, its very important to have rider/owners, as this is something that shows our intentions and passion.
What is Paradox and why was the company created five years ago?
paradox is primarily a grip tape brand. But, we have since created a chi-grounding formula, called paradox formula and are licensing it as part of our future plans. It was created to fund DOOGOOD. I was lucky enough to receive a scholarship from The Social Enterprise Institute and decided to make Paradox, a social enterprise and donate 10% of gross profits to pay for shipping and material costs for DOOGOOD, a charity I founded and run (for free-no salaries for 10 years). The DOOGOOD Conservatory is a program under the 501c3 of The CCA of Grass Valley. I chose to set it up like that to free myself from the organizational challenges of our own actual 501c3.
Can you speak about Social Enterprise, a truly innovative way to do business, and how that relates to Paradox?
From the education I was lucky enough to receive at The Social Enterprise Institute, I learned about this new paradigm. Instead of seeking grants and donations to run a charitable cause, it is possible to create a business that donates a percentage of its profits to run the charity. Wow, I thought, "you don't have to compromise your mission, solicit funding every single year, hire grant writers or any of that?" Really? Yes, under this new business model it is possible to negate all of these unsavory aspects of running a charity and to be of service to the consumer as well. So, with Betsy's guidance I created our first business plan with our donation of 10% built in. Many potential investors seriously balked at this and said, "If we invest, you must change this." Well, that wasn't going to happen, it's the whole reason for the very creation of Paradox in the first place. For the past 4 years, Paradox has successfully underwritten 100% of DOOGOOD's shipping costs and 90% of its material costs. We have even begun to make DOOGOOD brand skateboards to provide for the programs and to sell in the same manner as TOMS. Every 2 boards sold, 1 board will be provided to a qualified under-privileged child. None of this would have been possible if it were not for the donations made from Paradox. Not one cent is used for salaries. Please let me be clear, we only use these donations for material costs and shipping costs.
Paradox donates 10% of profits to DOOGOOD and has since the company's inception in 2008 – why?
It is the very reason for Paradox's creation. Paradox was created as a way to fund DOOGOOD, free it from the confines of grants, fundraisers and all of that. The education I received clearly stated it was possible, so with that knowledge, Paradox was created. 4 years later, that idea has become a reality. The first social enterprise in skateboarding, that actually helps skateboarding grow by increasing its fan base through providing free skateboards to under-privileged children.
Where did the idea initially come from? Were you inspired by other brands in the industry? Or by other philanthropic companies, like Tom's and People Water?
The idea came from The Social Enterprise Institute. I had no idea that you could actually fund a charity through this type of business model. Although, Patagonia and its founder Yvon, are a huge inspiration. His whole business model, philosophy of business and his very real philanthropic work have been a driving force in my passion to help others and the planet. They donate a % of their profits and use it to purchase land for conservation. Toms, influence wasn't really there until late last year. With the launch of DOOGOOD brand skateboards, I have taken alot of inspiration from the Toms business model. While they can give away a pair of shoes, for every pair sold, DOOGOODbrand is going to give away a skateboard for every 2 boards sold. This idea, would hopefully underwrite the cost of producing boards for DOOGOOD's 15 programs indefinitely. Only time will tell if this blossoms into reality, but Tom's example keeps the vision well lit and attainable.
Did you see any similar companies in the industry when you began? Are there any Social Enterprising companies in the world of skateboarding today?
Yes, when Paradox began the only example was Patagonia, although not technically a true social enterprise, they were doing the most for others and the planet with their profits by taking a percentage of that and purchasing land for conservation. Sadly [within the action-sports world], no; at least none that I am aware of. That's one of the reasons [I share the Paradox story], to get this information out to the next potential entrepeneur so they can use this to create more social enterprises.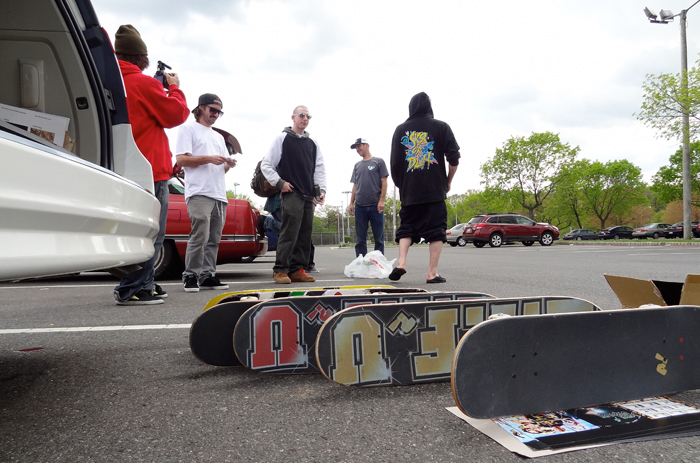 Besides grip tape for skateboards, does Paradox have any other products on offer?
Yes, we have a special quantum resonance technology, called PARADOX FORMULA. It has been examined by a grandmaster in Chi Gong/Wing chun, GM Greg Yau. He has approved it as a balanced formula that helps society a lot. It grounds the excess chi of the human body, when that happens performance peaks can be increased.
We are also making some apparel through our relationship with TeamPHUN and we are designing a new belt made for skating. Stay tuned.
Looking forward to the new year are there any plans for Paradox to expand…can you speak on any plans for 2013 and beyond? What's the future look like for Paradox?
We are starting a formal scientific research study on PARADOX FORMULA and its effect on peak performance at The California Institute of Human Sciences later this month. The research director at Psy-Tek Labs located on the campus of CIHS, Dr. Gaetan Chevalier, stated that he had never tested something so powerful at grounding the human bio-field. He has a Ph.D. in Partical Physics and in his preliminary study he was very excited about the definable results that will result from this research study. When the study is done and we have scientific evidence, it will be interesting to see how the industry reacts and if we can actually license such a far out concept. Hopefully, with the science, it can be done.
We also have begun Beta testing for a balm initially only used for iron fist/iron palm training in traditional shaolin kung fu. The feedback so far has been amazing. Its a partnership between Paradox and my sifu, GM Yau. Skaters could really use the benefits of healing and healing a lot faster. The name of this brand is FIVE PALM BALM and it will be donating 10% to The Shaolin Temple, creating yet another social enterprise.
We also created the first griptape release sheet (the paper on the back, that is usually thrown away) that has a pattern to be collected. It will take at least 5 release sheets to make the master pattern. Hopefully kids won't throw these right into the trash. The pattern repeats and could "wallpaper" a whole house. The pattern contains elements of sacred geometry that can harmonize any room the pattern is put in. The idea is to create an incentive to keep these sheets, instead of just throwing them away.
Is there anything we missed that you'd like to include?
We created the most recyclable box in the griptape world. Some would say we did it to save money, but they would be mistaken. Our cost is exactly the same, except our box can be recycled in over 80% of the factories worldwide. It contains no dyes, no plastic coatings, no colored inks and no fillers. We hope other brands see the benefit of being more green and switch their packaging to be more in line with nature.
We created the first griptape specifically designed for cold weather, another PARADOX innovation. Tested in the refrigirator's of San Diego and further tested in the very real world of Norway; it is now being used successfully in those climates that really needed a better product to deal with their specific elements.
I hope this profile inspires others to do something similar to help our society as a whole.
I put in these last things to also inspire others to CREATE SOMETHING NEW and not just put their branding on the same ol' stuff. America used to be leader in innovation and I hope we can again.


Thank you Ari - good luck in 2013 and beyond!
---