Back to News
B$Z: GoPro And ESPN Join Forces To Elevate The Global X Games Experience
January 24, 2013
GoPro And ESPN Join Forces To Elevate The Global X Games Experience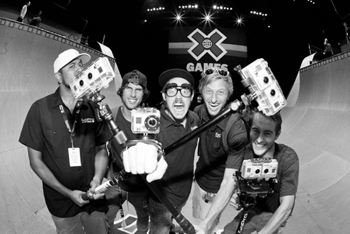 GoPro, maker of the world's most versatile camera and most engaging content, is teaming with ESPN, the worldwide leader in sports, to bring the action of the X Games to life like never before. This comes on the heels of ESPN's extensive investment in their new global X Games platform, expanding to three additional countries across Latin America and Europe in 2013.
The three-year agreement centers on GoPro's unique ability to offer unprecedented angles, perspectives and points of view – all in broadcast quality – to create a more engaging experience for action sports fans across the world.
"We are thrilled to be working with ESPN on X Games," said GoPro Vice President of Marketing, Paul Crandell. "GoPro has become the best selling camera in the world thanks to the passion and creativity of action sports athletes and fans across the world, so it feels fitting that, together with ESPN, we'll be opening up a new chapter of X Games. And what's more humbling is that ESPN, the premier Sports channel of all-time, is counting on our little cameras to push the boundaries of the content and viewing experience."
In addition to continuing its widely viewed Course Previews from previous X Games, GoPro will headline major event activations such as GoPro Snowmobile Best Trick at X Games Aspen and GoPro BMX Big Air at X Games Los Angeles. GoPro will also produce its own content for each X Games, focusing on athlete stories and cultural narratives.
X Games has brought together the best of the best in action sports for nearly two decades. Last May, ESPN announced an expanded six-event schedule, adding Foz do Iguaçu, Brazil; Munich, Germany; and Barcelona, Spain to its traditional circuit of Aspen, Colorado; Tignes, France; and Los Angeles, California. ESPN is looking to expand X Games to also showcase the culture, music, and lifestyle of action sports.
GoPro began ten years ago when Founder and CEO, Nick Woodman, created the brand as a wrist-camera for surfers. The company has become a core part of the Surf, Skate, Snow, and Motorsports scene, used by the world's elite athletes, including X Games medalists such as Shaun White, Ryan Sheckler, James Stewart and Ken Block. Backed by the recent introduction of the new HERO3 – the most advanced GoPro ever – the cameras are also becoming trusted tools by professional filmmakers, photographers, and musicians around the world.
"We love ESPN's approach to transforming the X Games into an Action Sports lifestyle brand," Crandell said. "Our cameras are enabling this as well, allowing people to document their lives and share their passions – from snow to street to music. We're stoked about what we can build together."
---