Back to News
B$Z: Utah Governor Unveils Outdoor Recreation Plan
January 29, 2013
Utah Governor Unveils Outdoor Recreation Plan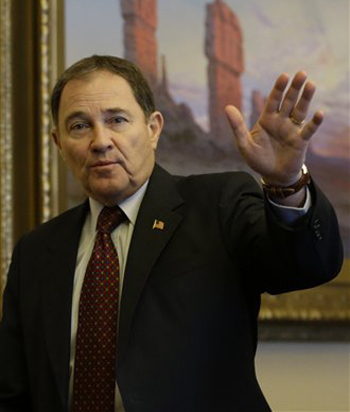 SALT LAKE CITY (AP) — Gov. Gary Herbert unveiled his long-awaited vision for outdoor recreation in the state Wednesday, calling for the creation of a government office devoted solely to the topic and laying out a broad-stroke plan to preserve Utah's natural jewels and cultivate outdoor recreation as a pillar of its economy.
Herbert revealed the plan a day after organizers of one of the world's largest outdoor gear trade shows announced they will keep the convention in Salt Lake City through 2016. The long-term future of the show, which is under way this week, remains murky though because of a shortage of convention floor space and lodging for convention-goers.
Herbert said Wednesday he hopes the biannual show — which draws more than 20,000 people and pours an estimated $40 million into Utah's economy every year — will make Salt Lake City its permanent home.
Organizers had threatened to move the event if the state didn't demonstrate its commitment to preserving public lands and solve the space issues. They asked Herbert in August to share his vision for the industry by January.
Herbert's plan calls for a new government office that would be devoted solely to outdoor recreation. Its duties would include organizing an annual summit where outdoor businesses, recreationalists and other stakeholders gather.
The plan also says Utah should stand by its desire to take control of federal lands. With or without the show, the principles in the plan will help to guide the state in balancing outdoor recreation and public lands, the governor noted.
"This is a pathway, a framework, for us to work together, despite some differences we may have," he said at a news conference.
The retail show is sponsored by the Boulder, Colo.-based Outdoor Industry Association, which represents companies such as Patagonia and The North Face.
Its president and CEO, Frank Hugelmeyer, lauded the governor for his commitment to making sure outdoor recreation and Utah's public lands are protected. He called Hebert's vision "unprecedented" and said it could serve as a blueprint for other states.
Hugelmeyer said the two-year extension of the show allows both sides to work on what are "pretty big issues" regarding the logistics of keeping Salt Lake City a viable location for the growing show. The governor's vision leaves some unresolved issues, he said, such as the state's desire to control federal lands. But, it includes mechanisms that will enable them to solve those issues in future years, he said.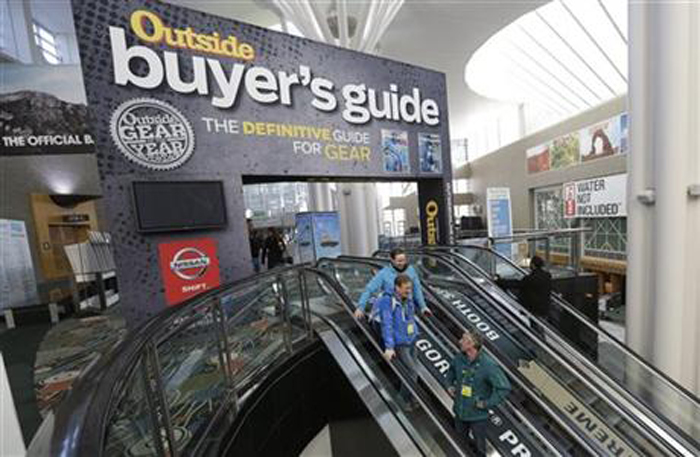 The association opposed a bill signed by Herbert in March that demands the federal government relinquish control of public lands in Utah by 2014. It also opposes Utah's effort to open thousands of dirt paths across public lands to motor vehicles. But despite those differences, Hugelmeyer said Salt Lake City remains a great fit for the show.
"We're in the business of meaningful experiences, and Utah is one of the great places on the planet to have meaningful experiences," Hugelmeyer said.
Convention-goers crammed into the Salt Palace Convention Center Wednesday to look at hiking shoes, beanies, wool socks and countless other products used for outdoor recreation. People sat on the edges of a wide staircase while they ate lunch and looked at their computers.
Several retailers said they hope the show stays in Utah, but acknowledged that the state must solve the space and lodging issues. Robert Gardner, president and CEO of Joovy, said the show has a great vibe in Salt Lake City but said there's no way it can stay here beyond 2016 without more room for exhibitors. His company displayed its kid strollers and bikes in an exhibition tent at last summer's show.
"The tent was way better than I thought it would be, but it's still a tent," Gardner said.
Jay Rossbach, sales director for Hotmocs, had to stay at hotel in West Jordan, a Salt Lake City suburb about 15 miles south of the convention center. But he said he can't see the show anywhere else, and hopes more hotels are built in downtown Salt Lake City.
"Please don't put it in Vegas," said Rossbach, whose company sells beanies and neck gators.
Salt Lake City has plenty of nearby skiing and outdoor activities and is not too overwhelming for many who come from small mountain towns, said Taylor Mallard, marketing manager for Bozeman, Mont.-based Oboz Footwear.
"To me, Salt Lake makes perfect sense— minus the space issue," Mallard said. "It's like a mountain town, only bigger."
Two weeks ago, the state approved a $2.66 million grant to build a 150,000-square-foot exhibition tent near the city's convention center to add space for the show. Officials also are exploring temporary lodging options, including lodging at the University of Utah campus.
Sales of outdoor products and sporting goods bring $5.8 billion to Utah's economy every year and $60 million in state and local sales taxes. Utah's tourism is driven by visitors enjoying of the state's canyons, mountains and desert areas, and the state has highest the percentage of outdoor and sporting good jobs in the country.
Alan Matheson, the governor's environmental adviser, said the state also recognizes that easy access to outdoor activities attracts businesses in other industries, such as high-tech companies.
The state's new outdoors plan is a great first step, but now the details need to be hammered out, said Ashley Korenblat, president of Western Spirit Cycling in Moab, a mountain biking town that draws people from around the world. Korenblat said upcoming outdoor gear shows offer a chance to check in every six months see if the state is producing results.
"That will prohibit this vision from being another binder on the shelf just gathering dust," she said.
Though she finds the plan encouraging, she said the "elephant in the room" remains the state's federal lands grab. There's still a lot of industry concern with the way those lands would be managed if the state took control, she said.
Matheson said that if the state did control those spaces, it doesn't mean they'd sell them all off or use all the land for energy development.
"The people of Utah love these lands — love our natural gems. And we're not going to do anything to lose those treasures," he said.
The governor, who is a big proponent of energy development, said the state would do a better job than the federal government of juggling the demands of the energy and outdoor industries.
"It should be a balanced approach," Herbert said. "Not everything should be protected, and not everything should be developed."
Herbert dodged a bullet by keeping the trade show in Utah, said one business leader who quit Herbert's outdoor recreation advisory council in protest over the Republican governor's policies.
"I think it's a meaningful first step," said Peter Metcalf, president and chief executive of Salt Lake City-based Black Diamond Inc., a manufacturer of outdoor gear. "It states how important outdoor recreation is to Utah — our public lands, waterways and clean air.
"I'm gratified — but now comes the real work," he said. "Utah has been ground zero for radical policies threatening our public lands."
___
Associated Press writer Paul Foy contributed to this report.
---