Back to News
B$Z: MIZU signs exclusive licensing agreements with Electric, Nixon, Poler and Volcom
January 30, 2013
MIZU signs exclusive licensing agreements with Electric, Nixon, Poler and Volcom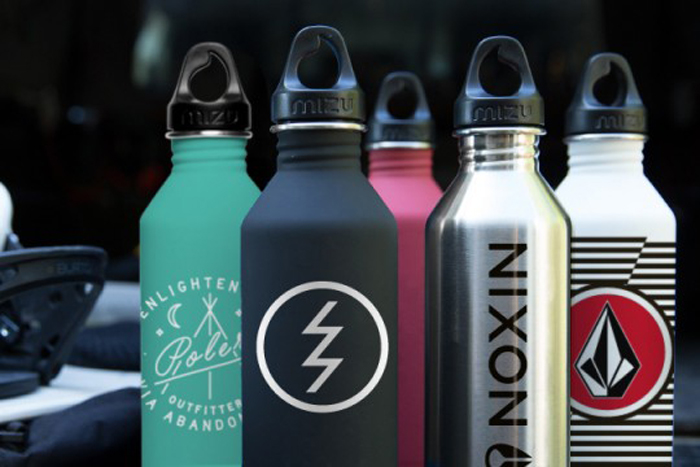 Encinitas, CA. – At Mizu, we believe that water is nature's original energy drink. We've been on a mission to reduce single-use plastic since 2008, when the company was established by pro snowboarder Jussi Oksanen and friends to reduce the plastic bottle trail that followed them on their travels. Where Mizu has been producing bottles for several great action sports brands since inception, these new licensing agreements now allow Mizu to sell these brands directly to retailers.
"All of us at Volcom are excited about expanding our relationship with Mizu, and building this program along with a great group of complementary brands," says Dutch Schultz, Volcom's VP Merchandise and Design.
This program is designed specifically for action sports retailers that are new to the reusable container market by offering top-quality bottles under the best-selling brands already in their stores: Volcom, Electric, Nixon, Poler, with more to come.
"It's exciting to see these marquee names coming together to make a difference on this level," explains Mizu CEO Tim Pogue. "For the first time, retailers can easily get involved in this fast-growing new accessory category with product from some of the industry's best known brands, all from a single source: Mizu."
The new retail initiative includes a custom display rack that holds the bottles in a stylish, secure manner backed up by an aggressive service and restocking program. Retailers looking to really make a statement also have the option to purchase a Mizu Water Cooler and offer chilled, filtered water.
Sample lines are ready for preview now and in stores June, 2013.
US retail prices range from $18.95 - $32.95. All bottles will be available in three sizes to suit any activity. Partial proceeds will be donated to a water-related cause chosen by each partner.
Retailers, reps and distributors interested in getting involved with this exciting new program should contact [email protected].
About Mizu:
Mizu is the original action sports water bottle brand, providing innovative reusable containers that help reduce waste created by single-use plastic bottles and cups. The Mizu family includes action sports industry veterans, skate legend Arto Saari; pro snowboarders Nicolas Müller, Loiuf Paradis, Jeremy Jones and Kazu Kokubo; and pro surfers Alex Gray, Liz Clark, and Taylor Knox. We are unified by our passion for our sports and respect for the oceans, mountains and parks we play in. At Mizu, our core mission is to give you smart options over plastic containers so that you can go out, have fun and feel good about it. Our lifestyle is our inspiration. Sustainable design and individuality are important to us. This is Mizu Life.
---