Back to News
B$Z: Louis Garneau and Cycling Canada Renew Partnership
January 31, 2013
Louis Garneau and Cycling Canada Renew Partnership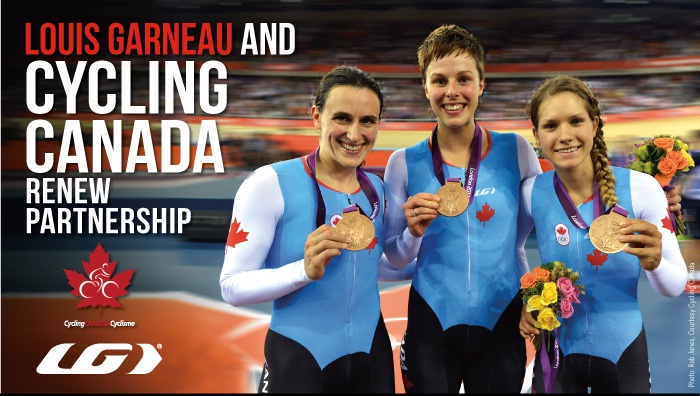 St-Augustin-de-Desmaures, QC – For the past 30 years, Louis Garneau apparel has played a key role in the performance, success, and professional appearance of the Canadian Cycling Teams at 8 Olympic Summer Games. Louis Garneau and Cycling Canada announced today the renewal of their partnership as the Official Cycling Apparel Sponsor of Cycling Canada for an additional four-year term, and subsequently the cycling apparel provider for the Canadian Cycling Teams at the 2016 Olympic and Paralympic Games in Rio de Janeiro, Brazil.
"Our role in the future of Canadian cycling is an essential component of our company's DNA. From a historical perspective, the relationship between my company and Cycling Canada stems back to my participation in the 1984 Olympic Games and my son's participation at the 2008 Junior World Championship. As we look towards the future, in a time when the sport of professional cycling is volatile and its merits are being contested, this partnership pertains to the investment in the future of cycling and the athletes that will continue the sport that has been my passion and livelihood," remarks President and Founder Louis Garneau.
"Our cycling performance wear has been proven, through research and development, to improve speed and performance at the high-level competitive stage these athletes compete in," said Louis Garneau Global Marketing Director Pierre Perron. "A key element of our multi-year renewal is based on continuing this legacy of close collaboration on product design through access to world-class athletes, scientists, aerodynamicists, wind-tunnel facilities, and real-world testing. Because of this, Louis Garneau is known for its commitment to driving innovation for the future and pushing technology even further."
"We are delighted to benefit from the renewed partnership with Louis Garneau for the next four years. Both Cycling Canada and Louis Garneau have always been committed to providing our cycling athletes with the best possible tools they require to perform at the highest international level. By working with LG to design state-of-the-art competitive clothing, our athletes will continue to perform on the international scene with the best apparel on the market," said Cycling Canada High Performance Director Jacques Landry. "Building on the success that Cycling Canada has had over the last four years by implementing a system to support our athletes' potential, the next four years will be devoted to focusing on the processes that will give our athletes the optimal chances to win medals at the Olympic and Paralympic Games in Rio."
Louis Garneau has outfitted the Canadian Cycling Teams in performance apparel since 1984 (the year Louis himself participated in the Los Angeles Games). Louis Garneau will continue to supply the teams with leading, technologically advanced apparel for optimal performances. Louis Garneau is known for its high performance apparel that outfits some of the top riders and athletes in the world. The Louis Garneau logo will be prominently featured on the Canadian Cycling Teams uniforms in international races every year.
Since the date of the original partnership in 1984, Cycling Canada athletes have won 10 Olympic medals and collected 65 UCI World Championships medals
---