Back to News
B$Z: Vans and IMG Sign Multi-Year Partnership for Prestigious US Open of Surfing
February 7, 2013
Vans and IMG Sign Multi-Year Partnership for Prestigious US Open of Surfing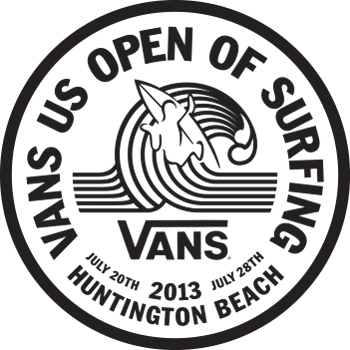 Huntington Beach, CA (February 7, 2013) – Vans® and International Management Group (IMG) today officially announce a three-year partnership encompassing Vans' title sponsorship of the US Open of Surfing. Re-igniting the future of surfing's most prestigious contest, Vans and IMG aim to engage the surf industry back to its roots, advocating an all-inclusive, world-class surfing competition and cultural festival.
"This is a big moment for the Open," says James Leitz, SVP of IMG and Executive Producer of the Vans US Open of Surfing. "The event has been growing rapidly over the past several years and Vans has stepped in, harnessed all that energy and with their authentic roots and inclusive vision, will help steer this massive happening for many years to come."
"Vans and IMG have been partners for the better part of two decades. Being able to continue this relationship via such an iconic platform, in our own backyard, is simply a perfect fit," says Doug Palladini, Vans' Vice President of Marketing. "We are really looking forward to bringing the entire surf and skate industry back to the US Open, leading by working with all of our peers, and inspiring a whole new generation of action sports fans. As we continue to grow our role in surfing, the US Open and the City of Huntington Beach afford us one of youth culture's most powerful events to share our spirit of Off the Wall with millions of people. "
The summer's biggest youth culture festival, the US Open of Surfing returns to "Surf City USA" (Huntington Beach, CA) July 20 – 28. 2013 marks the 20th anniversary of the prestigious surf contest, and 54 years of consistent, competitive surfing at the iconic Huntington Beach Pier.
The "Super Bowl of Action Sports," owned and produced by IMG, the global leader in sports and entertainment, is headlined by the world's best men's and women's surfers, professional skateboarders, musicians, and emerging artists. The nine-day event attracts crowds of upwards of one million people and showcases a 10-acre Action Sports' retail and brand experience. US Open spectators will enjoy an interactive festival featuring more than 100 exhibits, autograph signings, DJs, guest emcees and prize giveaways. Live webcast and consumer information is available on www.usopenofsurfing.com.
IMG
IMG Worldwide is a global sports, entertainment and media business, with nearly 3,000 employees operating in 30 countries around the globe. IMG's areas of expertise are diverse and wide ranging: IMG College; IMG's Joint Ventures in China, Brazil and India; IMG Media; IMG Events and Federations; IMG Fashion; IMG Models; IMG Art+Commerce; IMG Clients; IMG Academies; IMG Consulting and IMG Licensing. More information is available at www.imgworld.com Follow us on Twitter: http://twitter.com/#!/IMG_Worldwide and Facebook: http://www.facebook.com/pages/IMG-Worldwide/
Vans
Vans®, the original action sports footwear and apparel brand, is a brand of VF Corporation (NYSE: VFC). Vans collections, including authentic footwear, apparel and accessories, and snowboard boots, are sold globally in more than 170 countries through a network of subsidiaries, distributors and foreign offices. VF Outdoor, Inc. owns and operates more than 300 stores of the Vans brand in the United States and internationally, each offering a wide range of Vans footwear and apparel while communicating our brand and athletes' rich stories. The Vans brand promotes action sports lifestyle and youth culture through support of athletes on boards and bikes all over the globe and through progressive events such as the Vans Triple Crown of Surfing®, the Vans Downtown Showdown, the Pro-tec Pool Party and the Vans Warped Tour®. More information about the Vans brand can be found at www.vans.com, Twitter @vans_66 and www.facebook.com/vans.
---