Back to News
Malakye #Shmooz Video Homepage
February 1, 2013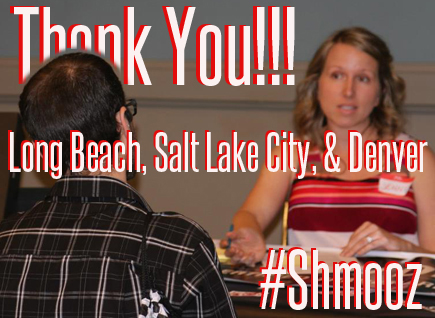 The 2013 Shmooz Winter Tour Brings Malakye.com to Life!
The Shmooz tour of Winter 2013 is now finally over! Thanks to all the companies and reps for supporting Malakye.com and thanks to all the candidates for coming out and participating! Be sure to keep an eye out for details on an upcoming #Shmooz near you!
Malakye.com just wrapped up a three-stop tour partnering with three industry-leading tradeshows (Agenda, Outdoor Retailer and SIA) to create three great opportunities for people and companies of lifestyle-driven industries to connect.
Are you interested in learning more on the Shmooz? Click the image above to check out a video recap of the 2013 Shmooz Winter Tour for a closer look at what goes on during Malakye.com's job fair & networking events. And take a look at the individual photo galleries from each of our past Shmooz events on Malakye.com's Facebook page.
---