BACK TO NEWS
EVENT: Nominees Announced For The 15th Annual TransWorld SKATEboarding Awards Presented By New Era
Nominees Announced For The 15th Annual TransWorld SKATEboarding Awards Presented By New Era
Winners To Be Awarded On February 27, 2013 In Hollywood, CA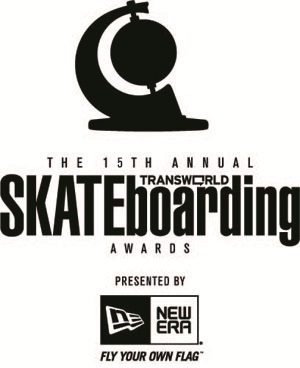 Carlsbad, CA – Since its inception, the TransWorld SKATEboarding Awards have become the premier, go-to annual event for the skateboarding industry. Now in its 15th year, the TransWorld SKATEboarding Awards Presented By New Era will officially recognize and honor the year's top skaters and video as voted on by the TWS editorial staff. Thousands of TWS readers will also have the chance to vote online to determine the winner of the only award in the industry picked solely by skateboarding fans themselves—the New Era Readers' Choice Award. In addition, TWS will be presenting the Eric Stricker Memorial Award, in memory of the late Eric Stricker, former editor of TransWorld SKATEboarding, and the TWS Legend Award, recognizing deserving recipients who have dedicated their hearts and souls to skateboarding. All winners will be announced and awarded with their trophies during the invite-only live event on February 27, 2013 in Hollywood, California.
Directly following the awards presentation, TransWorld SKATEboarding will host the world premiere of its 25th full-length skate video, Perpetual Motion, the newest film by Jon Holland and Chris Thiessen. Additional public video premiere locations will be announced at a later date.
The official nominees for this year's awards are (in alphabetical order):
Best Rookie
• Gilbert Crockett
• Nick Garcia
• Jake Johnson
Best Team
• Chocolate
• DGK
• Element
Best Video
• Parental Advisory
• Pretty Sweet
• The Cinematographer Project
Best Video Part
• Austyn Gillette, Austyn Unlimited
• Marc Johnson, Pretty Sweet
• Guy Mariano, Pretty Sweet
The New Era Readers' Choice nominees, TWS Legend, and Eric Stricker Memorial Awards recipients will be announced at a later date. The 15th Annual TransWorld SKATEboarding Awards is presented by New Era and is proud to be supported by its additional sponsors—Red Bull, GoPro, and Pabst Blue Ribbon.
For more information on TransWorld SKATEboarding and the awards show, go online to TWSKATE.com. Stay tuned to TWS's social feeds at @transworldskate (#TWSAWARDS2013) for all the up-to-the-minute updates on this year's awards.
For special referral rate room accommodations in Hollywood during the event (booked between February 25-28), please contact The Hollywood Roosevelt at 1-800-950-7667 and request the TransWorld SKATEboarding room rates. These rooms are limited and rates are based on availability.
Event Contact: Stephanie Finkel
---