Back to News
CHICABRAVA Q&A with Ashley Blaylock, Owner/Founder
February 6, 2013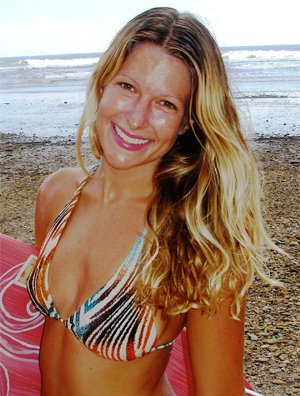 CHICABRAVA Q&A with Ashley Blaylock, Owner/Founder
CHICABRAVA is an all-girls surf camp in San Juan del Sur, Nicaragua founded by former Texan Ashley Blaylock which specializes in truly empowering women through surfing. Last year, during the final week of November, CHICABRAVA joined forces with the House of Hope foundation in Managua to host Camp Bella, a five-day program for women rescued from human trafficking which included surfing, yoga training, sailing and more.
The life-changing event, which was held from November 26-30, was a huge success for everyone involved. CHICABRAVA, together with local sponsors, was able to raise more than $3,000 to help cover costs for the event and provide additional financial support to give back to local women in need.
"Camp Bella was a monumental and impressionable success, not only for the wonderful ladies who made new memories, but also for the people and business that helped along the way," explains Ashley. "We have been touched by this experience and are looking forward for the next opportunity to impact lives through the power of surfing."
Ashley and staff plan to bring back Camp Bella this winter, and are looking forward to continue hosting stoked groups of women from all ages and backgrounds in 2013 and beyond. Read on to learn more on Ashley, CHICABRAVA and Camp Bella.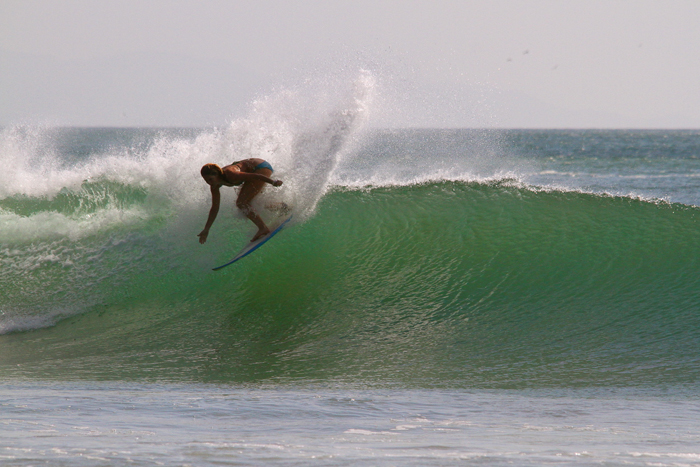 Ashley Blaylock, CHICABRAVA Surf Camp founder and owner.
What was your inspiration in starting Camp Bella at CHICABRAVA?
We have one professional goal and it's answering the question, "what can we do for these girls that really need this kind of thing?" The inspiration was basically just that, we knew that there was a need to present our special gift, which is empowering women. It is almost therapeutic. We knew that we could expand that to women who are less fortunate, like these young girls that were rescued from sex trafficking and human trafficking. So I'm kind of working on the same theme as the director of the House of Hope as she was interested in sending some of the girls and it just kind of all made sense. We were inspired by seeing how our program positively impaceted everyday women and we knew that it could be really effective for troubled girls as well.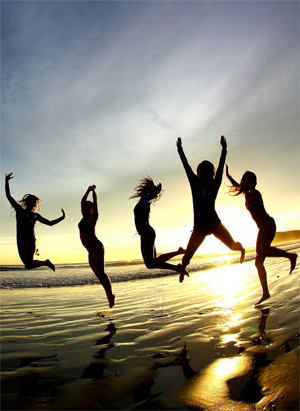 Right yeah, that definitely makes a lot of sense. And you mentioned the House of Hope shelter there in Managua; how did you get involved with them and will you continue to work with them as you make this an annual event?
Yes actually the director contacted us after the event and she was passionate about the programs success. After this we thought, "We want those girls back right now" you know? I mean we started thinking about how we could make it happen more frequently and then right away we got a message from April saying how wonderful it was for all the girls and how they felt the same way. She asked, "Would we be able to make this a yearly event?" And we said, "Absolutely, we were just thinking the same thing." Originally our goal was to kind of expand it to even more groups because there are a lot of groups in Nicaragua obviously. Our main focus is women but there are also a lot of women's groups in need. But with April's group at the House of Hope it was just this particular segment of the society that was just amazing to see the effect that we had on them. It's so amazing to see the look on these girls faces. In that private moment when they are living with us, learning to surf, it's totally pure and their smiling and their smiles are just amazing and looking at this, you would never in a million years know the past that they actually have endured. So, it is really special for us and I think it was really transforming for them and if nothing else, just for that week, we were able to just bring back a little bit of their innocence and make them be fun-loving, free spirits again.
You had support from local sponsors to help run the event. When the camp ended, were the girls given any kind of equipment from your sponsors to continue surfing if they wanted to?
Well, you know the House of Hope is located in Managua which is a little bit over two hours from where we are. So that's where we are and they're over an hour from their closest beach and there's not really a huge surfing scene where they are. We sent them home with a bunch of goody bags full of stuff that we gave them and that some of the sponsors donated. We sent them home with a big CHICABRAVA beach bag with a huge beach towel and water bottle, and they also got a rash guard and shorts. Then when they left we gave them going away packages which included a CHICABRAVA tank top and stuff like that.
It sounds like they definitely went away with great memories and a true feeling of support. Can you speak on the sponsors that you had locally that helped you run the event?
Our sponsors local businesses like a Yoga studio, Zen Yoga, that donated their space and we were able to do the body awareness class with the girls. And we had support from Nica Sail & Surf who put on a catamaran tour for the whole group. We had Pan de Vida, which is the local bakery. They taught the girls how to make pizza – and some of the girls would form their dough into a heart shape and it was so precious. Of course all of our instructors donated their time in doing the event and we also had massive help from one of the local restaurants, El Timon, who donated dinners for the girls on a couple of the nights. They were really nice dinners so it was special for them. We had a fundraiser about a month before the event to get the additional funding we needed and likewise, we had local businesses donate prizes for a raffle. A majority of the funds we got from previous guests just by an e-mail campaign that we did, raising awareness for Camp Bella, so most of those funds came from previous CHICABRAVA clients - I would say like eighty percent. The other twenty came from friends, family and people within the San Juan community who donated at the fundraiser and also the raffle ticket sale. We had all these prizes and people bought a bunch of raffle tickets and we were able to raffle off some really great stuff like free surf lessons, free yoga lessons, and free meals everywhere. It was touching how many people came out in support of the cause.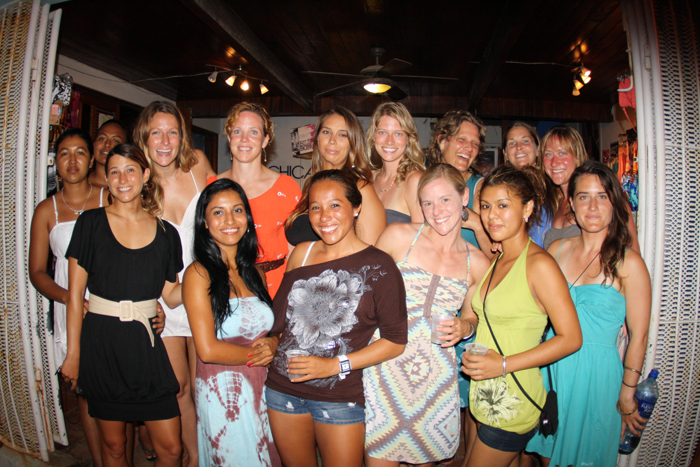 What is striking is the response you had from your previous guests at CHICABRAVA, that's amazing you say 80% of the fundraising was directly from an email blast.
I would say about eighty percent, it could be seventy-five, but I would say closer to eighty. It is kind of touching because it shows that this was a cause that people want to support, but I think also in their donation it indicates that our previous guests know there was value in the experience they had at CHICABRAVA. This is their way of sharing that experience with these girls in making it possible for them to have the same experience.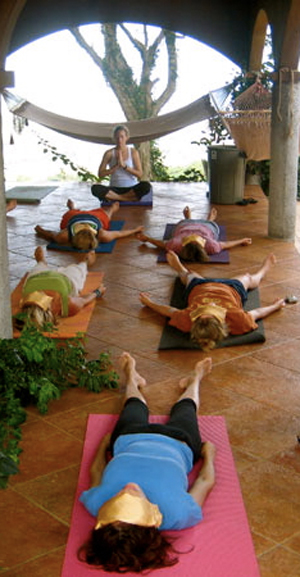 Right, it's a great endorsement for the camp itself. Can you speak on your typical guests at CHICABRAVA, for the girls participating in Camp Bella, most of them didn't know how to swim at the start, is that typical for an average guest at CHICABRAVA?
Most of our guests know how to swim although the majority of them don't know how to surf. We have camps for all levels – beginner, immediate, experienced. We take all guests and we have enough instructors and vehicles and resources that we can host different levels within the same week. So sometimes we have a couple of experienced girls at the same time as we do total beginners. We just split them up and they have separate beaches in different cars and different instructors, that kind of thing. Originally we wanted to mainly cater to the female surfer because all of us girls, we're all experienced surfers and it is really fun to be able to go and surf with other girls instead of guys, no matter what level you are. If you are out there in the water with a bunch of girls, you are going to be supported and pushed more. It's a real healthy kind of competition. Like "she can do it, I can do it too." So we started the camp and then I realized there were a lot more girls who wanted to learn how to surf than there are girls who actually already know. Some people think it's only for teenagers but I guess we have girls at camp in their teens and 20s and we have had people in their 70s – we had two 70-year-olds this year. The average age is mid-to-late 30s and into the early 40s. We also have a mid 40s plus camp and that's exclusively for women in their 40s. I still don't think anyone else is offering a camp like CHICABRAVA and these women weren't ever approached and never were being offered the surfing experience. We have so many groups of these 40+ women a year. I mean these ladies are in their 50s and 60s and like I said, we had two 70-year-olds last year. We still cater to younger women as well, and we do offer teenage camps. If you look at our guest list on any given day we gave doctors, lawyers, anesthesiologists, reporters, journalists, psychologists, university teachers, filmmakers, artists, writers, all kinds of amazing women and they are all serious about learning to surf and love traveling in a foreign environment. They are being empowered together and being around like-minded women, so that's really cool.
You've had amazing guests come through in the past it seems and are sure to meet great people in the future – can you speak on any plans you have for CHICABRAVA in 2013?
For this year we definitely want to keep doing Camp Bella so we will do another camp for sure. Another thing that we are looking into for later this year would be to start offering tours to new locations. Like, Panama for example for a week, we want to make that happen because we have guests come back year after year. Some of them have four years in a row and they want to keep participating in the program but they would also like to see a new spot. Some of them are like, "Oh, I went to Panama last year and you should have been there." So we are looking to expand, by not necessarily establishing another location, but by hosting special destination trips.
Well that sounds like a lot of fun. So just one last question now that you bring up surf travel, where is your favorite place to surf and where have you gotten the best waves?
Well definitely my favorite place in the world to surf is Nicaragua, that's why I live here. I love the people and the scenery and we have consistent surf, more than anywhere I've ever been in the world. I think particularly in southern Nicaragua as opposed to central or northern Nicaragua although you can surf all up and down the coast 300+ days a year so as long as your west of those big lakes that you can see on the map, it creates off shore conditions. Where we are, we have perfect conditions almost year round. So even if the swells are only chest high, there are still perfect waves and then of course when it's get to head high it's still off shore and it's just incredible. In terms of consistency and wave conditions, Nicaragua is by far my favorite. Apart from that, I did a boat trip in the Mentawai Islands a few years back and of course that's like surfing mecca right?
Right, absolutely. Ashley, thanks so much for taking the time to speak with me. I really appreciate it and I had a great time speaking with you.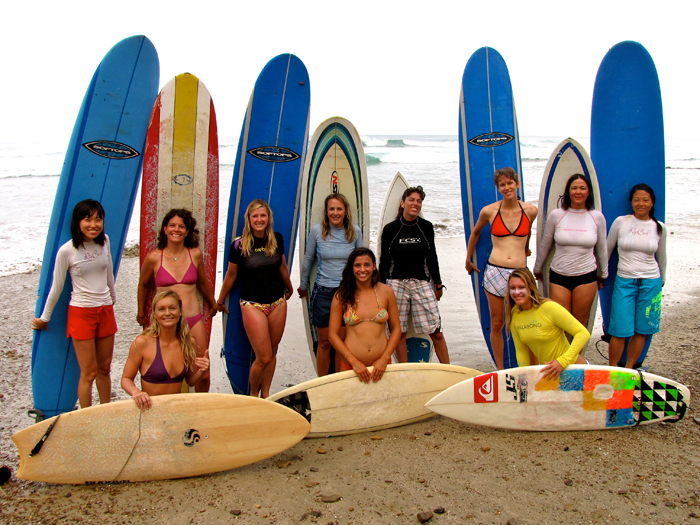 Camp Week Donors (a list of the local companies that donated services/meals/products for the girls during the actual camp week):
Pan De Vida - Pizza Night
Zen Yoga - Body Awareness Class
Nica Sail & Surf - Catamaran Trip
Restaurante El Timon - Dinners
Hotel AnaMar - Pool usage
Wrap and Roll - Lunches
Christian Surfers - Entry fee to Jesus Statue
Biblioteca Móvil - Allowing girls to volunteer by taking books out to an impoverished school in the "campo"
Hobie, San Clemente - surf trunks and rashguards
OceanStar Gifts - Journals

Fundraiser Donations (a list of the local companies that donated raffle prizes and support for our fundraiser event):
DSS
Bonnie Lassie Spa
Banana Hammocks
El Gato Negro
Pelican Eyes Sailing
Zen Yoga
Maderas Village
Barrio Cafe
Jugoso's
Republika
Black Whale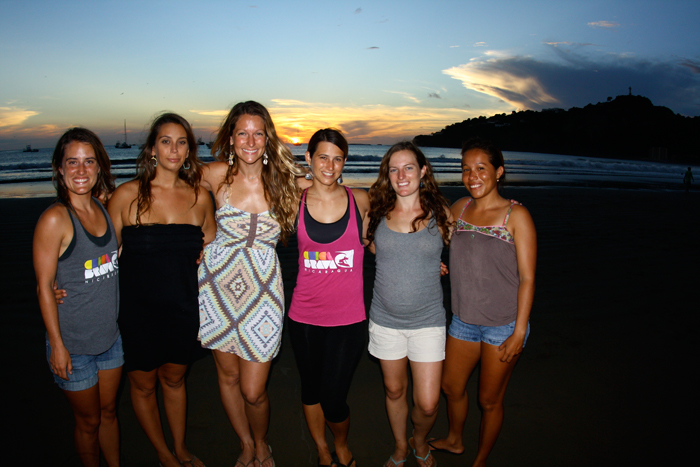 ---