Back to News
Tim Bean, Owner/Founder of Driven Agency, US Distributor for Transform Gloves
February 8, 2013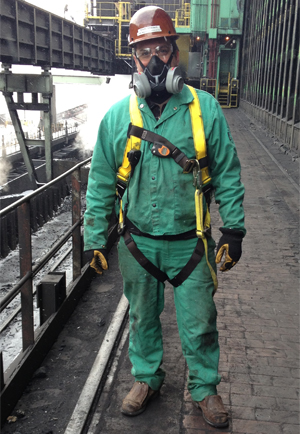 Tim Bean, Owner/Founder of Driven Agency, US Distributor for Transform Gloves
Tim Bean is an action sports industry veteran and has worked with top industry athletes and for industry-leading companies. Over the years, he has experienced his fair share of ups and downs, from working at Bataleon Snowboards with great people and amazing riders, to starting Hatch socks with a buddy, where they had signed Broc Tickle and Greg Lutzka and had co-ops in the works with Rock Star before reality hit that the company was broke.
"Action sports are like the mafia," explained Tim in an e-mail interview. "Once you're in you can never leave, they keep pulling you back..."
Now, Tim wears many hats and among several other gigs, he is serving as the U.S. Distributor for Transform Gloves, which was started in the UK by Tom Kingsnorth about five years ago and offers a European twist in a largely U.S dominated industry.
Tim recently signed Nick Visconti, who rode for Bataleon while Tim was there, to the Transform team. And looks to continue growing these the company "at an easy pace with the right dealers, tight online restrictions and realistic growth."
Tim has lately found a way to straddle both his love for the action sports industry and his need for a consistent source of income. Currently, he is growing Driven Agency, his distribution company, working to grow Transform Gloves domestically while opening a cafe racer motorcycle shop and still working full time in the steel industry.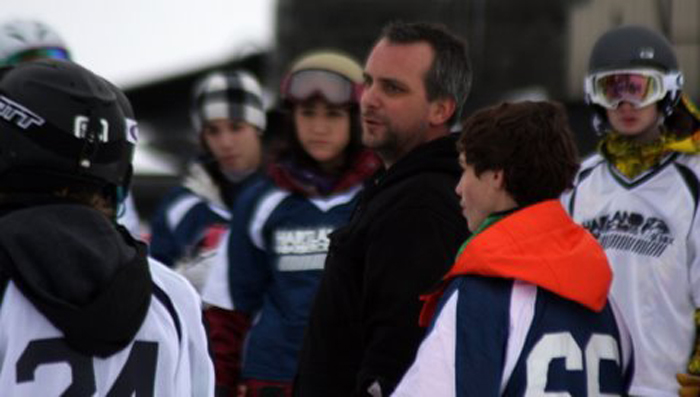 Tim Bean works hard and plays even harder.
What is your current position at Transform Gloves and how long have you been with the European-based company?
Right now I am the exclusive distributor for the US. I run all aspects of the operations here which include sales reps, stocking inventory and limited marketing. My deal with Transform is pretty new, it came about last year as a reference from a friend of mine, Steve Jones, who is good friends with Tom Kingsnorth, the owner and founder of Transform Gloves. It really came out of nowhere like most stuff in my life, I started talking to Tom through an introduction and it snowballed from there. We're just starting our first selling season in the US.
What inspired you to get started in the snowboard/action sports industry and how & when did your career begin?
Well I started snowboarding in 1986 and back then there was really no "industry" of sorts so I was in early with a lot of the sales guys. My first job I guess was with Vents Goggles when I was in High School, I worked there as a co-op job with Todd Nesler the owner. I pretty much came to him one day and said I was going to work for him and he didn't know what to do. I was a kid in his neighborhood and he did the goggles out of his basement. He was a great guy and taught me a lot. From there my first snowboard sales job was with a company called Famly Snowboards in 1992, they were based out of Laguna Beach and was owned by Geoff Falzone who builds off road trucks now in So Cal. Really my formative years were spent snowboarding around the states so it kinda came as a natural transition for me, like most the action sports industry is a passion and a lifestyle more than anything, I grew into it and had the opportunity along the way to be mentored by some great people like Bob Klein, Glenn Brummage and Billy Jacobs when his family used to own Spyder.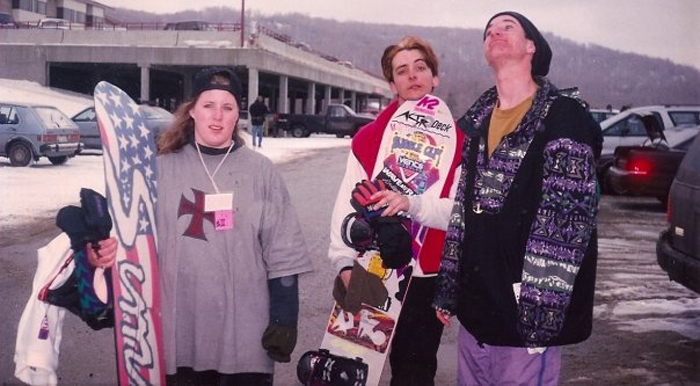 Tim and friends circa 1992.
How are you able to juggle your duties with Transform along with running your own distribution agency while opening a cafe racer motorcycle shop and working full time in the steel industry?
Somehow I have secretly found a way to squeeze 26 hours out of a day. It honestly is insane sometimes and I sit back and wonder what the hell I'm doing. There are times that I just wonder if I should go work at Home Depot and that's it so when I get off work I don't have to worry about someone calling me because they can't find any nails or plywood. I deal with phone calls and emergencies 24 hours a day. Luckily with the distribution company which is really Driven Agency and Brown Bag Distribution combined, runs pretty smooth and I have things scheduled way in advance like trade shows, when inventory comes in etc. Phone calls are easy and I handle them all day long. The café bike shop is a deal that I am part of with Doug Bickle who has been a business partner and friend of mine for about 20 years, he handles the "dirty" part of the business and the cool design stuff. I do all the nerd stuff like book keeping, managing paper work and telling him to powder coat his rims flat black and not gloss black. He never listens though. I make sure the shop is legal and mechanics are up on their certs and stuff, deal with the state paperwork. Real exciting stuff. That and I ride an awesome CB750 that pulls chicks wherever I go, but I'm married so it's kind of a waste. As for the steel industry I am a technical sales engineer for my dad's company as well as working for his former business partner. We service the manufacturing side of steel making, the real nasty dirty deadly part of the business. You mess up at work and you die. I wear steel toe boots and FR greens most of the day at the plant and I buy lunch and bring donuts and tell people how I'm going to get them out of a jam when the multi-million dollar machine broke down. They lose over a million a day when their machines are producing steel. With all that it's just time management, something that I still struggle with every day. I live and die by my planner and my phone. If I don't set reminders for myself on my phone I'll forget stuff all the time. Having people you can rely on is key and to be honest I only have 1 or 2 people like that around me so it can be tough at times but I honestly love working in stressful situations. I get satisfaction from pulling through tough situations. Having a supportive family is also key which I definitely have with my wife understanding that sometimes I'm home at 4:30 and sometimes I sleep in my car because it just makes sense instead of traveling all the way back to the house to sleep for 2 hours.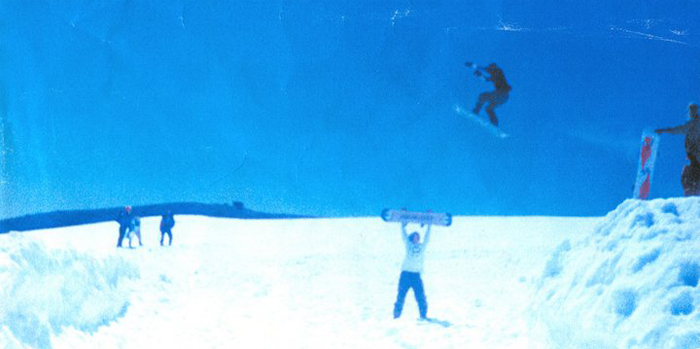 Taken during the summer of 1995 at Mt. Hood - "Back then the jumps were about 50' max I think and they built a series of super kickers that were 30', 50', and 80'. We all hit the first two and then I got the idea to poach the big one first. I hiked up farther than anyone else tucked it and went for it. Keep in mind I was riding a Famly 146 with baseless PBS bindings with no highbacks (Tarquin Robbins days….) I stuck that jump like a roasted pig." Photo: Fran Russo
What's a day in the life like for you?
Wake up at 5:30 say by to the wife and kids, grab a monster and two honey crullers from Tim Horton's and get on with my day. From there it varies but I typically go to the plant 4 times a week which is a 60 mile one way trip, go to our machine shop early and take care of quoting jobs and making sure production is on schedule for our current PO's. When I'm on the road I am on the phone constantly, either dealing with an athlete, setting a roster for my High School SBX team that I coach or talking with reps about what's going on. I try not to talk with dealers as much anymore unless there is an issue. I like to leave that to a rep, I'd probably screw something up for them anyway. Call Doug Bickle and the two of us will bitch about either our jobs, a stupid driver on the road,and then we spend 20 minutes coming up with a new idea that someone else will inevitably come out with before us. From there I either finish up at my office on paperwork, emails etc. and either go home and spend time with the kids or go snowboarding with the team. I am emailing nonstop all day about the distribution company, talking via email to Tom at Transform about what needs to be done or new ideas. I also own a powder coating company so about 2 days a week I am painting stuff for companies, I just did a bunch of parts for Kalitta Motorsports DHL sponsored NHRA Funny car. I literally live by the seat of my pants.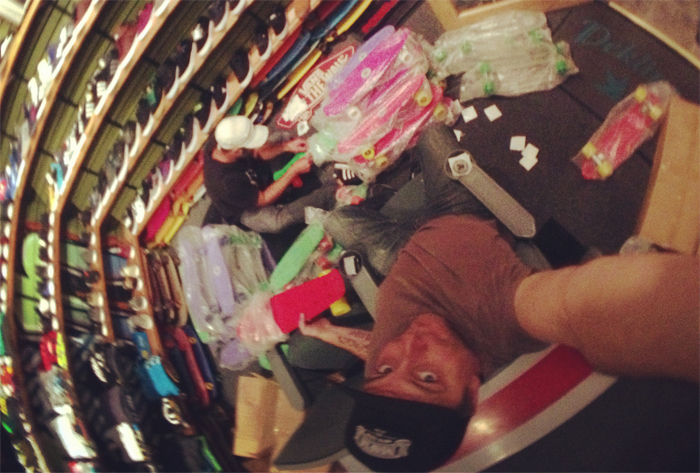 Tim at Skater's Advocate in Howell, Mich.
For the past several years, you have gone back and forth between an outside industry and the world of action sports - how have you managed that transition time and again?
Action sports are like the mafia, once you're in you can never leave. They keep pulling you back, as much as I've tried to say a big FU to all the BS I have dealt with over my career I still love it and will always be involved. I have always been good at keeping in touch with my customers and companies in the action sports world and that is a lot easier when you're actually a participant and not just some schmuck from the computer industry who bought his way into the business. I would like to think that I still maintain some sort of credibility because I have never really left a company on bad terms. I try to be honest and open with anyone I am dealing with and in my mind that goes a long way. The automation and steel industry is a little different, I worked my way in and have always had a very strong mechanical aptitude for industrial process. I worked for an automation distributor in the Detroit area and that is really where I learned what it really meant to provide superior customer service. If I had not had that opportunity I would not had the experience necessary to go to the next level, I worked for them for about 7 years all while repping snow stuff on the weekends. I have also been very fortunate to have my dad as a mentor, he has been nothing short of the best person to work for. I could never have accomplished what I have without him and my mom, she passed away almost 2 years ago and always supported whatever I did.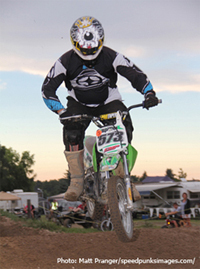 What lessons did you take from working at Bataleon that you're able to apply in your current role with Transform?
First of all I have nothing but good things to say about the crew at Bataleon, I still talk to all of them today and they're great bunch of guys although everyone knows I can surf better than Dennis Dusseldorp. What I did take from that is how to effectively manage a sales force, manage and forecast inventory and deal with international shipments, especially the things that can go wrong. I almost took my broker's license when I was at Bataleon which would have helped a lot with shipments but I really know the ins and outs of dealing internationally which is a must when you're importing products and more importantly samples. You need to know how to receive that stuff so you don't pay taxes on products that are not being resold. I'd like to think the guys at Bataleon and I learned together how to run and manage customer service software which was a huge part of my time at the automation company in Detroit. The most important thing I think we did was set up early a CRM/CSM software that would grow with the company and allow us to keep track of all the sku history and management from the beginning, as opposed to starting with a simple system like QuickBooks and then 4 years down the road going to something like Net Suite which is what we started with.
What keeps bringing you back to the world of action sports?
My wife asks me that all the time...the only thing I can think of is do what you love and love what you do.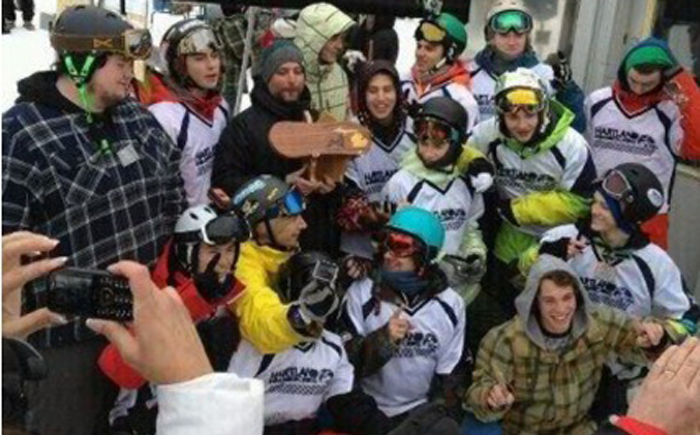 Tim coaches a high school bordercross team which just won the Michigan state champs for the 2nd year in a row.
You've had the opportunity to work with some top athletes in the world of action sports, like Greg Lutzka, Broc Tickle and Nick Visconti - what is it like working with world-class talent?
Those guys are all class acts, which is the main reason Nick was the first person I called when I put the deal together with Transform, his dedication and professionalism is incredible. I worked with him at Bataleon and he's grown so much and is such an intelligent guy to work with. I like to think he's a friend first and we see eye to eye so that's why I wanted to work with him and his Danger Zone project. Working with Brock was great and we got spoiled with him, he was one of the first athletes I signed when I started Hatch and he went out and scored podiums all season long, We did his first custom helmet for him through Tag at Tagger Designs. I still talk to Greg and I'm actually trying to set him up with stuff. Working with these guys is fun but really they're normal people like you and I. People say that all the time but it's true. In my mind you don't need to be famous to be an asshole, that's pretty obvious. Through Driven Agency I've had the opportunity to work with some pretty cool athletes on all levels and the NASCAR guys are pretty fun. I started working with Brian Keselowski, Sprint Cup Champion Brad Kieslowski's older brother a number of years back and then I worked for another team that Brian used to drive for. We had Scott Speed drive for us which is funny because it shows how small the world is. I grew up snowboarding with Scott's former roommate when he was an F1 driver and he lived in EU. Snowboarders are everywhere! All in all these guys are all cool and like to just chill like the rest of us. I know people talk about how some guys can be a little hard to deal with and their personalities but I personally have never run into that, I guess I'm fortunate in that aspect. Coolest thing ever though was when I was a Boy Scout (and I'm actually an Eagle Scout) I got to work with Steven Spielberg at a national jamboree and got to ride his personal bike from the ET movie alongside pro freestyle biker Ron Wilkerson during a show. That was cool.
What has been your biggest challenge since starting with Transform?
I would say getting Tom Kingsnorth to accept that I am never serious and will always mess with him. I sent him a mock logo that I told him would be cool for a t shirt and it was so lame, it had a clip art of an alien and some other dumb stuff just added to the logo. He didn't want to hurt my feelings and told me it was cool not just the direction he wanted to go. I was just laughing at my computer. Other than that the brand is so new in the states the challenge will be getting the dealers to understand that we're here to make them money. I hear about so many new companies that tell you how they're going to "grow the brand organically". What does that even mean? Are they going to use lettuce to pack their product with? Come on guys what that really meansis you don't have the money to sell out to a major internet site yet so we're going to have to wait. My biggest challenge will be EARNING the dealers trust when I tell them I will support them now and down the road. That means no special deals for shops that don't have a solid brick and mortar presence.

Tim helping his son Jacob.
Speaking of challenges, can you speak on your time with Hatch - the defunct sock company you were involved with a few years back - how did you grow from that experience?
You know the thing is fool me once shame on you, fool me twice and I guess I'm an idiot. The deal with Hatch was we were duped. Period. A friend of mine, was approach by a couple of guys who had significant manufacturing ties in China and they wanted to start an action sports clothing line. So we (Adam Forman and Doug Bickle) met these guys at a NASCAR race I was working at Auto Club Speedway. These guys laid out money like it was Ritz crackers and we really believed they were funded. We told them the timeframe to possibly be out of the black which we told them could be a couple of years because of the amount of marketing they wanted to do and they hired me as the brand manager and contracted Doug and Adam as the art directors. We actually launched almost a full year before Stance was launched by Skullcandy and then 6 months into the project I could sense that things were going bad and it all had to do with a new helmet for Broc. They were complaining about a $400 price for a custom helmet which we were contractually obligated to provide and I knew something was up. It went downhill from there but the good thing is and the one thing I learned from my dad is ALWAYS HAVE A CONTRACT. I did and I told them they were bound to it. They even tried to just shut down Hatch but since they were not that bright they didn't realize they drafted the contract with their parent company so I didn't care if they shut down Hatch, I was employed to be a brand manager for their parent company and it was a 5 year deal. I settled out of court and learned a lesson to really make sure you fight for what's legally yours. The part I felt the worst about was that I saw my two friends get nothing out of the deal and that hurt, on top of that the athletes I worked like Chas Guldemond who did A LOT promoting our brand ended up almost not getting all the money he was promised. I fought for him and got him the money he was contracted for because I knew these guys were crooks and I was not going to get the reputation of a bad guy in the industry that I loved so much. That goes back to having a solid reputation in the industry by always doing the right thing. On the positive side I did learn a lot about China manufacturing and their process. You always have to take something positive from each experience otherwise you'll never grow. Lesson learned I guess.
And now you are growing your own distribution company with Transform and beyond - can you speak on any future plans you have with Driven Agency?
Driven Agency will always be my main company I do business under within the action sports community, as far as plans right now my full focus is on growing Transform Gloves in the US. Nick is going to be a big part of that for a long time I hope and I'm looking forward to his input so we can work together with Tom on bringing the brand to the next level. I'm talking with a snowboard company right now on running their brand in the US as well as a goggle company but that's top secret right now, can't even say what country they're from but hopefully it will happen in time for next years sales. The mass plan however is to buy a company that has a rich heritage of snowboard history that was started by snowboarders and then build them up, run a bunch of ads telling everyone how awesome they are and then shut them down. That's our long term goal.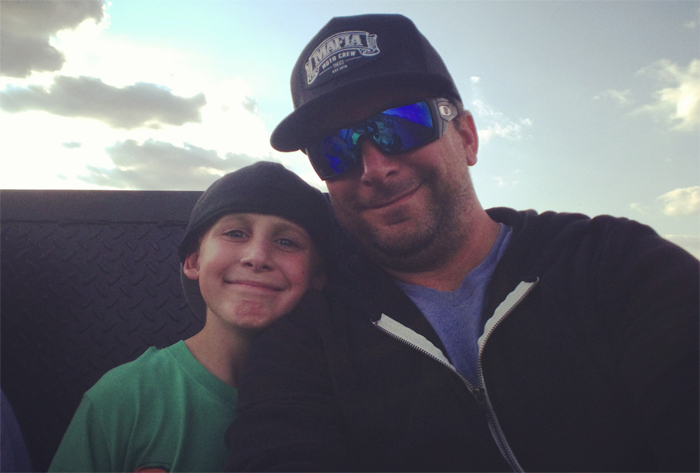 Tim with son Jacob.
What is the most rewarding part of your job/career?
My job is work, it's fun work but it's still just work it's not life. When I look back at it all so far it's nothing short of incredible the opportunities I've been provided with. Regardless of all the opportunities that I have had and some of them people really will never get to experience, I truly mean this when I say the most rewarding thing for me is watching my son and daughter succeed at even the simplest things and knowing that I have a wife that supports me no matter what. My family is always there and never judges.
Is there anything we may have missed that you'd like to include?
Only I guess that when you hear about these companies that are "snowboarder" and "skateboarder" run and owned there is almost always someone pulling the strings somewhere else, it's the nature of business management. I can honestly say that I run 100% of my company with NO outside interest or financing. Period. This deal is all me and I know at the end of the day when I succeed it was because of my efforts and the efforts of the people I choose to surround myself with. That to me means more than anything. I would rather fail a hundred times on my own than succeed by someone else's hand. Oh and I had all the ideas for Star Wars...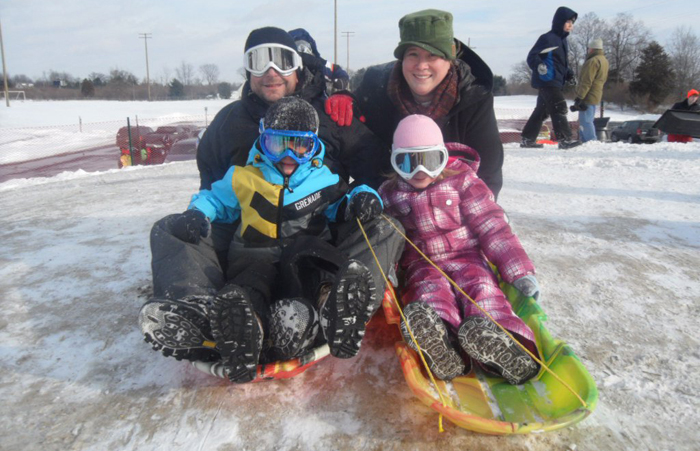 Thanks for your time Tim - Good luck in 2013 and beyond!
---