Back to News
VIDEO: Sanuk Launches World Premiere of 'Sherm's in the Band'
February 14, 2013
Sanuk Launches World Premiere of 'Sherm's in the Band' - Exclusive Short Film Profiling Musician Donavon Frankenreiter's Tour
World Renowned Surf and Skate Photographer and Documentarian, Steve Sherman, Joins Sanuk's Growing Community of Artists
IRVINE, California – Sanuk, a division of Deckers Outdoor Corporation (NASDAQGS: DECK), today released the world premiere of 'Sherm's in the Band,' a fur real production, featuring surf-musician Donavon Frankenreiter on his European "Start Livin" tour. Directed by Steve Sherman, the exclusive short film offers a glimpse of the behind the scenes look on his journey with the band and documents life on tour with Frankenreiter, giving viewers an intimate look at life on the road with family, friends and fans.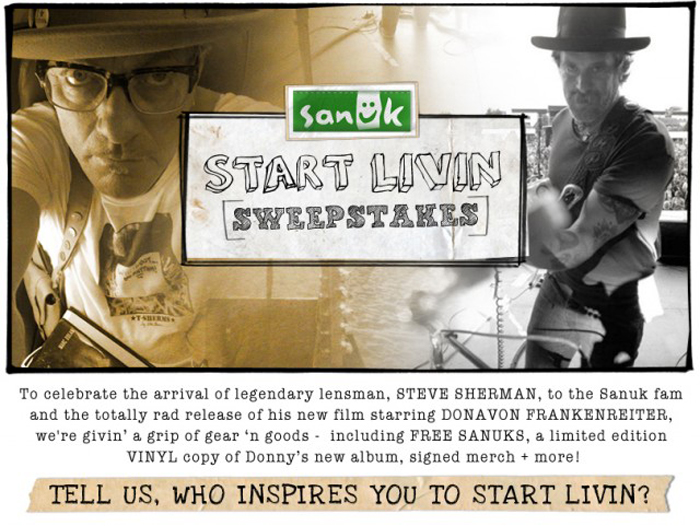 Sherman, a renowned surf and skate photographer, is the latest to join the Sanuk family of artists, athletes and musicians, which also includes Donavon Frankenreiter, Jeremy Jones, Dave Rastovich, Matt Meola, Chris Sharma and Sierra Blair-Coyle, among many others.
"Going on tour with Donavon was a stellar experience. We've been friends for a long time and both have a passion for music and photography, so when he asked if I could go on tour, I was on board." Sherman said. "As an artist myself, I hope to bring fans closer to the stage and share the experience. This takes "I'm with the band" to a whole new level."
'Sherm's in the Band' is the latest short film released by Sanuk's production team a fur real production, known for its videos interviews with athletes and all things Sanuk for the world to ride along and enjoy the experience. Fans can visit Sanuk.com to see the film and view Frankenreiter's tour life through the eyes of Sherman.
"Things happen fast when you're on the road," Frankenreiter said. "I'm so glad Sherm was able to ride with me and help me take a step back, embrace those who are close to me and capture the experience."
Sanuk, known for its creatively inspired and distinctly designed footwear, has been supporting the surf and art community since its inception.
"At Sanuk, we believe in the power of fun," said Michael Minter, Global Director of Marketing for Sanuk. "We know Sherm and Donavon were a great match and could bring this project to life. Our fans are their fans and we are so excited to share their exclusive experience together on the road. So sit back, relax, and smile…pass it on."
To view the exclusive world premiere of "Sherm's in the Band" featuring Donavon Frankenreiter and Steve Sherman – click here: Sanuk: SHERM'S IN THE BAND (with Donavon Frankenreiter)
About Sanuk
Twice recognized at the SIMA Image Awards as the 2007 and 2010 Footwear Product of the Year, Sanuk makes creatively inspired and distinctively designed footwear for the global outdoor community. Taking its name from the Thai word for fun, the brand is best known for its Sidewalk Surfers, often referred to as "Not-A-Shoes", for their patented sandal construction which allows your feet to bend and flex in natural comfort. Founded by Southern California native and surfer Jeff Kelley, Sanuk sponsors a spectrum of premier athletes, including surfers Donavon Frankenreiter and Dave Rastovich and rock climbers Chris Sharma and Daniel Woods. Sanuk products are now distributed in nearly 70 countries worldwide. Learn more at www.sanuk.com. Smile…Pass It On!
# # #
Find Sanuk Online:
Facebook: www.facebook.com/sanukfootwear
Google+: https://plus.google.com/106013374917758619744
Twitter: https://twitter.com/sanukfootwear
Sanuk Tumblr: http://sanukfootwear.tumblr.com
Pinterest: www.pinterest.com/sanukfootwear
Video: www.youtube.com/sanuk
Photos: www.flickr.com/photos/smile_pass_it_on
Website: www.sanuk.com
---