BACK TO NEWS
EMP: OTZShoes Names Bob Rief CEO
OTZShoes Names Bob Rief CEO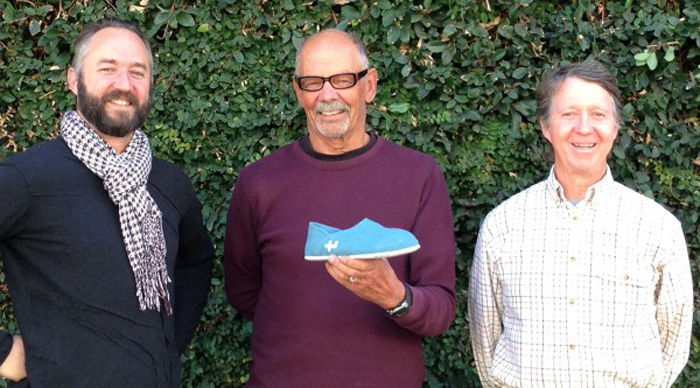 Ludovic Malmoux, OTZShoes president and creative director, Bob Rief, CEO, and Skip Murgatroyd, COB.
(Malibu, CA) February 14, 2013 – OTZ Shoes,Inc. today announced the appointment of industry veteran Bob Rief as its new Chief Executive Officer. Rief will take over the position from OTZShoes Founder Ludo Malmoux, who will move into the role of president and creative director.
Rief has decades of experience in the footwear and action sports industries having served as the President and CEO of Reef, CEO of Sanuk Footwear, and most recently COO of Boardworks Surf. His extensive experience taking emerging footwear brands to the global level is ideally suited for OtzShoes growth path in the marketplace.
"I am very pleased to join the OTZShoes team and help explore the brand's opportunity in the contemporary comfort shoe category," noted Rief. "The styling is amazing, with a great palette and the minimalist construction has a fresh look with a very functional fit system. OTZShoes is perfectly suited to own a special place in the lifestyle health and sustainability community, among others."
Founded in 2009 by sneaker industry creative Ludo Malmoux and partner Skip Murgatroyd, OTZShoes has fast become one of the most prominent players in the comfort shoe category. The brand has experienced 300 percent growth year-over-year since 2009. OTZShoes is currently distributed in more than 500 doors in the United States, and in 20 countries worldwide.
"Bob is one of the most well-respected and tenured names in the industry," commented Murgatroyd. "His proven experience in realizing brand potential will bring enormous value to our company and we're confident the transition into the OTZShoes family will be seamless."
OTZSHOES is the premium maker of modern comfort inspired from the past. Cork footbeds are integral to every shoe engineered to gradually mold to your individual footscape. For further information visit our website www.otzshoes.com or call 310-456-9100.
---