Back to News
WEB: Network A's Alana: Surfer Girl Season 2 Kicks Off With Alana Modeling
February 18, 2013
Network A's Alana: Surfer Girl Season 2 Kicks Off With Alana Modeling In The Sports Illustrated Swimsuit Edition
"Alana: Surfer Girl" is a 10-episode video series posting each Monday on Network A
New York – Today Network A, the online action sports channel, releases the first episode of "Alana: Surfer Girl," season two starring professional surfer and 2013 Sports Illustrated Swimsuit Model, Alana Blanchard. In this episode, Alana gets the news that she's been chosen to appear in the Sports Illustrated Swimsuit Edition, travel with Alana to Las Vegas and go behind-the-scenes during her bikini photo shoot. After her whirlwind experience in Las Vegas, Alana heads back to the North Shore of Oahu to hit the surf with friends.
Watch the first episode of "Alana: Surfer Girl" on YouTube here: http://bit.ly/XV8zeH
Filmed on the North Shore of Oahu, Hawaii during the big wave and contest season, "Alana: Surfer Girl," follows Alana and her friends, Camille Brady and Leila Hurst, as their lives unfold at the epicenter of professional surfing.
"I'm so excited about the second season of Surfer Girl. I love that this show shares the experience of surfing with people around the world," said Alana. "The first episode takes you on an adventure with me that includes traveling from Hawaii to Las Vegas for the Sports Illustrated photo shoot and shows some of my latest bikini designs for the Rip Curl Alana's Closet collection."
Produced by Bedrocket Media Ventures and 8 Side Productions, the 10-video series officially launches today on Network A, with new episodes releasing every Monday.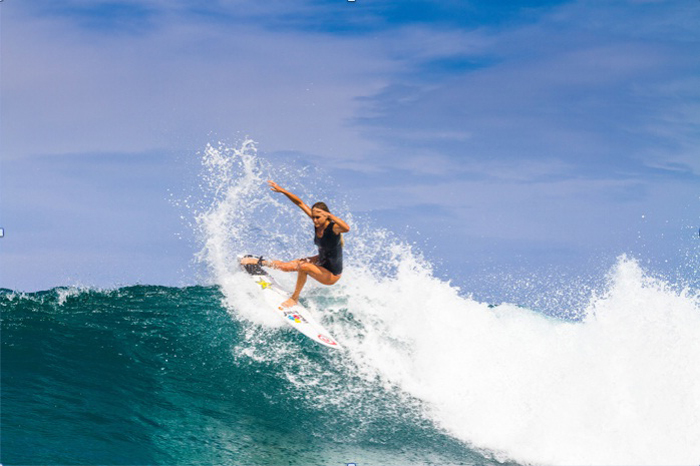 Watch Season One: http://bit.ly/U5c50t
About Alana Blanchard:
Alana Blanchard is one of the most popular surfers in the world she has combined technical skills and natural beauty to enhance her profile and enter into the mainstream. A three-time World Championship Tour qualifier, Alana's history with surfing goes back to her childhood in Kauai, Hawaii where she first learned to surf at the age of four with her father. Alana, 22, made her SI Swimsuit debut in 2013 and maintains a signature swimwear collection with Rip Curl and eyewear collection with Spy Optic. She has been previously named one of Sportsnet magazine's '30 Most Beautiful Athletes on the Planet,' Men's Health 'World's Sexiest Athlete,' and one of Rolling Stone's 'Hottest Women'. Her sponsors include: Rip Curl, Spy Optic, Reef,GoPro, Sticky Bumps, Future Fins, Rockstar Energy, Channel Island Surf Boards, and Royal Hawaiian Orchards. Follow Alana online: @alanaRblanchard, Facebook.com/AlanaBlanchardFanPage, or
Alanablanchard.com.
About Network A:
Network A (http://www.youtube.com/networka) is the new home for action sports content online. Network A is the only editorially-independent channel dedicated solely to action sports, with new snow, ski, surf, skate, moto, and BMX videos released daily. Network A is part of Bedrocket Media Ventures, a next generation media company.
About Bedrocket Media Ventures:
Bedrocket Media Ventures is a next generation media company that creates innovative video content networks for all screens. Founded by Brian Bedol, founder of Classic Sports Network (now ESPN Classic) and College Sports Television (now CBS College Sports), and Ken Lerer (co-founder of The Huffington Post), Bedrocket is focused on high quality programming and interactive technology platforms that revolutionize the way entertainment is created and distributed, and interactive programming that presents a new way of storytelling.
Visit Bedrocket.com for more information.
---