Back to News
B$Z: The NSSL announces Tilly's return as title sponsor for the 2013 season
February 20, 2013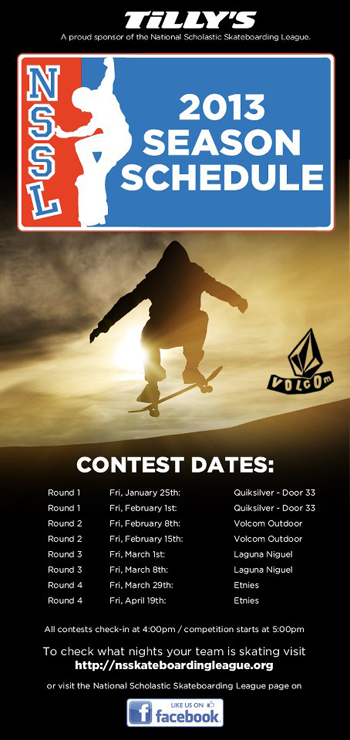 The National Scholastic Skateboarding League announces Tilly's return as title sponsor for the 2013 season
NEWPORT BEACH, CA - The National Scholastic Skateboarding League (NSSL) is pleased to announces that Tilly's, a leading U.S. action sports retailer based out of Southern California, has returned as the official title sponsor for the league's 2013 season.
On Friday night, during round two of the NSSL's competitive season, representatives from Tilly's presented league Founder and President, Katrina Foley with a giant check for $10,000. "Tilly's financial commitment brings with it a pledge to support the NSSL school skate clubs on campus with activities and product," said Foley. "It will also allow us to provide coaches and equipment for our teams in low-income neighborhoods. Tilly's support has been instrumental in allowing the league to expand to more than 300 skaters this year."
With Tilly's pledge of support through the league's 4th season, they join other NSSL sponsors including; Volcom, Etnies Skatepark, Quiksilver, Pukka, Inc., InkGenda, Dr. Mogavero Orthodontics, The Foley Group, Elite Health, Concept 73, Stance, S-One Helmets, OC Skateboarding School, and the City of Costa Mesa.
"Tilly's is very excited to once again support the efforts of the National Scholastic Skateboarding League," said Cheryl Rudich, Tilly's Vice President of Marketing. "We hope our sponsorship will help the league continue to grow, giving students the ability to positively explore their talents on and off their boards."
Round 3 of NSSL competition will begin on March 1st at Volcom's outdoor skatepark in Costa Mesa. Middle school teams participating are from Corona Del Mar, Sowers, Dwyer, Ensign, and South Lake. Competing High School teams include Corona Del Mar, Edison, Huntington Beach,Newport Harbor, and Irvine.
About Tilly's
Since 1982, Tilly's has been the premiere retail destination for action sports & lifestyle fans around the globe. Inspired by surfing, skateboarding, motocross, music, art, fashion and individuality, Tilly's thrives on creating a unique and inspiring experience for our generation, offering the best brands and largest assortment. For additional information on Tilly's, visit tillys.com.
About The National Scholastic Skateboarding League
The National Scholastic Skateboarding League (NSSL) is a non-profit charitable organization founded in March 2010 as the Orange County Skateboarding League (OCSL). In September 2011, the name was changed to the National Scholastic Skateboarding League and the San Diego Skateboarding League (SDSL) comprises its newest region. The NSSL supports high school and middle school skateboarders, along with student skateboard programs and facility improvements. Created as a way for students, age 11-18, to showcase their individual talents while participating in non-traditional school sports programs, the league allows skaters to gain experience in competitive skateboarding. For more information on NSSL, visit nsskateboardingleague.org and follow us on Twitter and Facebook.
---