Back to News
B$Z: Making Surfing More Than a Hobby
February 20, 2013
Making Surfing More Than a Hobby
Article by Angie Marcos, Sourced from orangecounty.com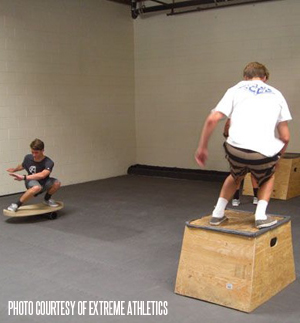 Although a rarity, it's always admirable when someone is able to convert a lifelong passion into a successful business. Take a look inside Paul Norris and Jonathan Brown's Extreme Athletics training facility in Costa Mesa and you'll see just that – two guys with a passion for surfing aiming to provide fellow surfers and athletes with more than just a place to work out. Specializing in what Norris refers to as "land-based surf-specific training," what began as an idea between two longtime friends while out surfing on a sunny SoCal day, became a reality with the opening of Extreme Athletics in February 2012.
"We honestly didn't know where we would be a year from when we started," Norris, who holds a degree in exercise science and was previously the director of human performance for a professional surf team in Huntington Beach, says. "We were actually a little naïve coming into it. We put our own money in, we built our own business plan, we held our meetings at a coffee shop and kind of just went from there."
Training anyone from the inexperienced to the professional surfer, Extreme Athletics offers both group and private training. "It's sport-specific training. All of the muscles you use surfing, we're going to use in here. We really focus in on movements that you're going to do out on the water," Brown, a professional trainer with a degree in kinesiology, says. "When my surfers come in and tell me they're surfing better than they have in years, that's what really drives me – helping people and seeing them do well."
Extreme Athletics currently offers an evening adult surf class that, according to Norris and Brown, is turning into an industry class. "That's something that no one is really doing right now – helping your average surfer, the older guys," Brown says. "These guys are good, a lot of them are winning contests. This is something that has been fun for us because these guys are our age so we can relate really well with them."
Regardless of age, anyone interested in surfing is welcome to join the training program. "It's funny because the younger kids are just all over the place, bouncing off the walls," Norris says. "But it's fun. You can throw games in and they don't realize that they're working on improving their surfing because you're making it fun for them."
In addition to training surfers, Extreme Athletics runs daily boot camps. These classes, however, are not for the easily intimidated. Boot camp sessions are an hour long and typically consist of a 15- to 20-minute dynamic flexibility warm-up, circuit training, strength training, power training, and a five-minute cool down. It's recommended that participants attend boot camp sessions two to three times a week in order to really get the benefit and see results.
Fridays consist of a more laid-back training approach, where even yoga is involved. "During the week everybody gets their butt kicked in the classes, whether it be surf or group classes, and then on Friday they come in and get stretched out," Brown says. "It works really well for surfers because they usually have contests Saturday mornings. It gets the muscles firing."
So where do Norris and Brown see themselves in a year? "Hopefully opening up another facility," Norris says. To date, the location of that facility is still unknown. One thing that is certain, however, is that the founders will not venture far from where their real passion lies – surfing. "Surfing is our niche," Brown says. "It's what we love to do. We're both surfers and we both like to train surfers. The group classes are fun and something that we both know how to do, but surfing is where our hearts are."
With about 50 regular clients and 20 surfers, including local pro Courtney Conlogue, Norris and Brown are certainly on their way to creating a fun and unique training trend for Orange County athletes.
For more information on their various programs, visit extremeathleticsoc.com or call (949) 548-2900.
---