Back to News
BIKE: Kranked Launches New High Performance Off Road Electric Assist Mountain Bike
February 20, 2013
Kranked Launches New High Performance Off Road Electric Assist Mountain Bike and Creates New Category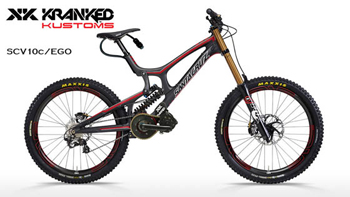 Los Angeles, CA – At the ultra plush Terrenea Resort as part of the first annual Interbike Electric Bike Media Event, Kranked unveiled the Kranked Kustoms SCV10 Carbon/EGO electric assist performance mountain bike.
Utilizing the 2012 World Championship Santa Cruz V10 all carbon downhill bike and a custom engineered interface with the high performance off road EGO electric assist, the Kranked Kustom SCV10c/Ego is a state of the art shredding machine.
The SCV10c Dh bike is the most advanced performance mountain bike in the world. It is the lightest and strongest downhill bike in production today. The VPP suspension offers 8.5-10 inches of World Championship winning suspension technology.
The EGO mid mount electric assist system is the world's highest performance off road electric assist system. It is engineered in Austria and Germany and delivers incredible performance with the 1200watt system. The system can be custom tuned, to optimize for weight, performance, and riding styles.
Kranked Kustoms has engineered a custom interface to optimize the performance of the SCv10c/Ego. The interface is designed to compliment the design of the V10c and Ego and preserve the aesthetics of the bike. Technically the interface optimizes the wiring, tuning, heat dissipation and flex and stress on frame.
Bjørn Enga, founder of Kranked, "We have created what I consider to be the pinnacle of high performance, off road electric assist mountain biking. It's exciting to be creating a brand new category, one that has such potential. I have always dreamed of nitrous boost while riding my bike and now it's pretty close!"
Chris Rothe, CTO, Kranked Kustoms, " This technology allows me to continue to ride a high performance mountain bike the way I love to ride. Due to many serious injuries over the years, such as broken back, broken arms, blown knees etc, I can't ride the epic trails I love, with this technology I am back in the game. In fact I have lost 30 lbs test riding these. How awesome is that!"
Kranked established a name for itself in 1997 with the first of many award-winning Kranked mountain bike movies that helped launch the adrenaline-based free ride movement. Since 2008 Kranked has been developing itself as a brand with a mission to inspire more people to embrace the cool, conscious, adrenaline lifestyle that mountain biking represents. To achieve this goal they developed a line of entry-level mountain bikes, helmets, and other gear that are sold in one of Canada's biggest retail chains.
Now Kranked has created a brand-new category, high performance off road, electric assist mountain biking and is set to lead the charge! (pun intended).
Kranked Kustoms sells these bikes direct to consumer at http://www.krankedbikes.com/kustoms
---