Back to News
Matt Gormley, Account Manager for Stanley
February 22, 2013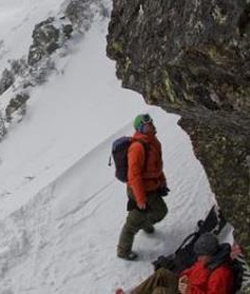 Matt Gormley, Account Manager for Stanley
Matt Gormley got his start after graduating from UMASS at Waterville Valley Ski Area in New Hampshire, on its marketing team, with "the coolest gig ever" nearly 20 years ago. Since then, he's moved to the west coast and for the past few years has been working as an Account Manager, at Stanley based in Seattle, Wash., maker of thermalware food and beverage gear.
The Stanley brand has a rich 100 year history and recently celebrated its' anniversary at the Outdoor Retailer Winter Market show in Salt Lake City, Utah; which saw over 300 guests and brand fans pack its' booth to toast the centennial.
Matt was on hand that chilly day is SLC, meeting with customers and enjoying the music. He says the marketing team did a great job in organizing the event, and admits his new role in account management, after spending significant time in marketing, has taken him out of his comfort zone.
"At first it was really overwhelming, but the company spent a lot of time training me and our culture really encourages you to ask questions," explains Matt. "I'm still learning on a daily basis. I think that is part of why I find it so rewarding."
We got a chance to chat with Matt about his beginnings, his current role at Stanley, and how he got to where he is today.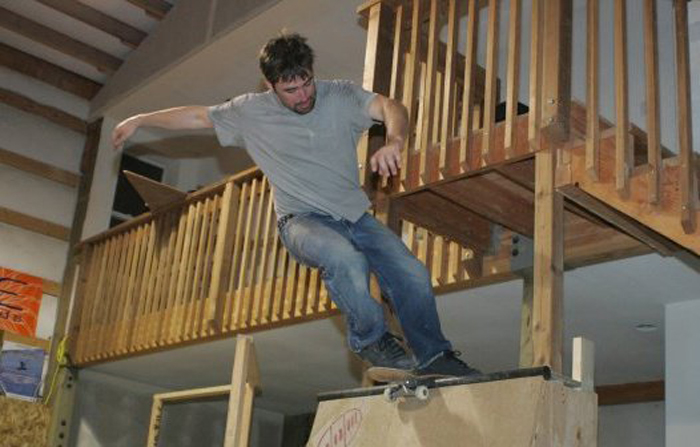 Matt Gormley, rock-n-roll.
When did you first get involved in working in the Outdoor Industry?
I had worked for Eastern Boarder and Snowboard Jones during and just after college in retail. I had also taught snowboarding on the small hills of Massachusetts: Wachusett, Nashoba Valley and Blue Hills Ski Area. After college, I was invited to work at Waterville Valley Ski Area in New Hampshire to build their terrain park and snowboard marketing program. That was pretty cool and still remains the coolest gig ever. I can't believe that was almost 20 years ago.
Your career began nearly 20 years ago, and now the company you're currently with is celebrating its' 100th Anniversary. How did you get started with PMI and how long have you been an Account Manager there with Stanley?
I started at Stanley about 2 and half years ago. I've been an Account Manager the entire time, and it's a position that really takes me out of my comfort zone. Pacific Market International is the parent company that owns the Stanley and Aladdin brands. PMI is an awesome company, and I support the Outdoor and International teams. It's challenging and varied, which is awesome. I have to problem-solve constantly. I get to work with all the different divisions at the company. It's way cooler than I ever could have expected. It's been a great opportunity to learn this business.
Stanley recently held an anniversary party in SLC celebrating 100 years as a company at OR – how did that go?
Our Stanley 100 year anniversary celebration at the OR Show was a huge success. Our marketing team really outdid themselves. To have over 300 guests at our booth and toast our centennial with a shot of High West whiskey was amazing. Stanley is fortunate to have such a large, diverse fan base. I really enjoyed seeing the cutting edge crowd from Spacecraft and POW Gloves rubbing elbows with some esteemed heavy hitters like Skip Yowell from Jansport. We're honored to have brand fans from so many generations. I think everyone on our Stanley team thought the event was a great success. The Ugly Valley Boys played as well and they really knocked 'em dead. It was a great time, for sure.
It was a great time, thanks for the invitation. Switching back to you, can you tell us what your last position was before starting with Stanley?
Prior to joining the Stanley team I worked as promotions and outreach specialist for a public transportation agency. That was a great experience as I really learned a lot about working outside the action sports world. It's a bit more conservative and the marketing budgets are a lot bigger! Before that, I was the youth marketing and special events manager at Stevens Pass Ski Area. That was also right up there as one of the most challenging and rewarding positions I've had. I worked for Chris Rudolph who was one of the smartest people I've ever worked with. Culturally, he really embodied the vibe of Stevens Pass with his welcoming attitude to everyone. On the back end, he had a brilliant analytical mind, was really collaborative and was a budgeting wizard. He was so giving and open. I learned so much from his attitude and approach to things.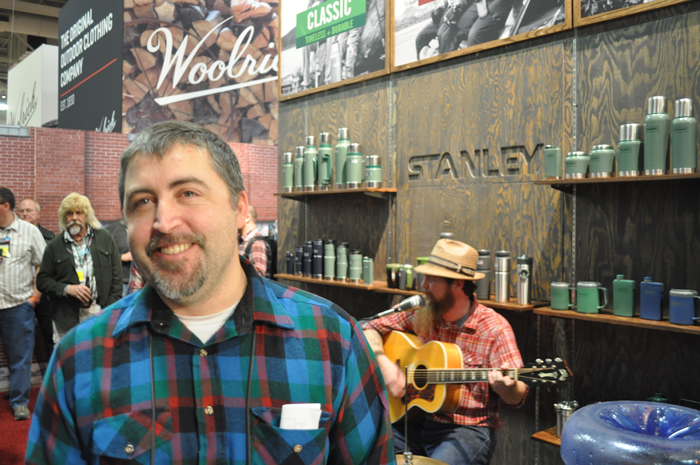 Matt at Stanley's 100th Anniversary celebration at the Outdoor Retailer Winter Market show in Salt Lake City, Utah.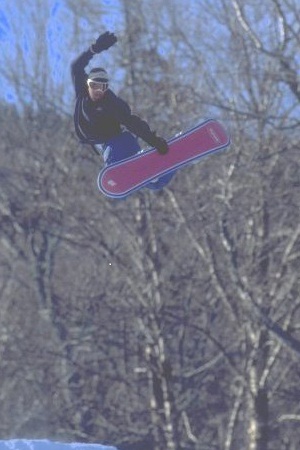 What aspects of your previous work experience have enabled you to succeed in your current role and what are the main differences between your previously held positions and the duties you are currently responsible for with Stanley?
I think my previous experience in sales and customer service has helped me be successful in my role as an Account Manager. While the scope of the work is much different, all my positions have always kept a focus on the customer. When I was younger, Woody Jones spent a lot of time teaching me sales and customer service. Working in the public sector, I was asked to teach non-English speaking residents how to ride public transportation. That really gave me a sense of humility. I just try to stay positive and flexible. At Stevens Pass, we aimed to create a great customer experience. Each step along the way has helped in one way or another. I put the customer first and everything else takes care of itself.
Account Management is different in the sense that it is very detail driven, with a lot of Excel work and data analysis. There are so many elements to learn like customer pricing/margins, logistics and vendor compliance, forecasting and inventory management, prospecting, and more. At first it was really overwhelming, but the company spent a lot of time training me and our culture really encourages you to ask questions. I'm still learning on a daily basis. I think that is part of why I find it so rewarding.
What are your primary duties and responsibilities as an Account Manager?
My primary duties as the Account Manager is make things run smoothly. I get to help make sure the product moves through the pipeline to the customer correctly. On the Outdoor side of things we have 400 accounts and several distributors that we work with. I support two sales managers and 20 field reps. My role is to get everyone everything the need, hopefully before they even ask. We process orders, coordinate samples, analyze sales data, submit the forecast in Demantra. It's a bit of a sales operations hybrid. It requires a lot of time management and reacting late breaking opportunities. Some days I'm slammed and look up to see it's already past 5pm. There's always something that needs to be done.
On the international side, I support our international sales manager for Mexico and South America. For Stanley, we're looking to grow our thermalware sales and expand our retailer base. This is a new addition to my responsibilities so I'm excited for the opportunity. I have a lot to learn about this market so I'm excited to help grow that territory.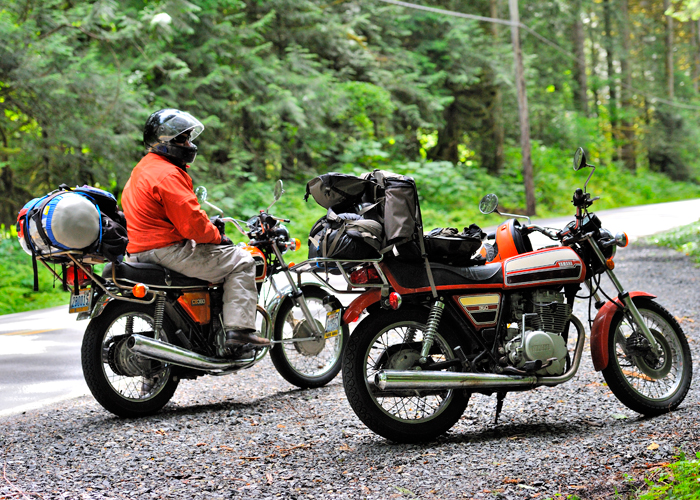 " I really love making the impossible become possible for a customer opportunity...everyone here is shooting at the same target: grow profitable sales for Stanley and always do right by our customers."

What does the management aspect of your position consist of?
I have a support team of 2 sales assistants based out of our Manila office. Aissa Sanchez is my right hand and keeps me on task. She's the backbone of the Outdoor customer service side of things. She's super detail driven and is always two steps ahead of me. I would be seriously lost without her. Michael Marquez is my left hand and he's great with our customers, ironing our wrinkles and helping to grow our international customer base in South America. I really appreciate them both because they work really hard and do a great job.
I also manage a lot of customer and sales rep relationships. Our smaller customers will often call about promotional opportunities or have questions about new items. It's really cool to hear from the retail floor how our sales and sell through are. During the back to school and Q4 holiday rush it is absolute chaos. For new customers I'll present the line and offer suggestions on an initial assortment. If I do my job well, the hand off to the outside sales rep will go smoothly, with a first order already on the books.
On the rep side, our sales reps might need samples for an upcoming regional show or key retailer visit. Other times reps might be looking for some cool give away items for retail employees after a clinic. We're super fortunate to have a great group team in the field representing Stanley. We have a new team in the Rockies, Campbell Hough and Chad Bambrough. Those guys are such a great addition to our lineup. They have the best attitude and really do a great job for us.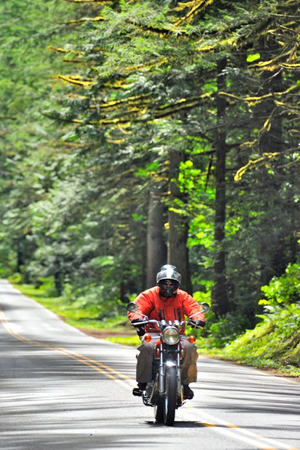 What's the best part of what you do for Stanley Outdoor?
I really enjoy spending time with our reps and buyers at the Outdoor Show. It's great to get feedback from the reps about what's working well, and what we can improve. It's the only time might get to meet face to face with a retailer, so it's always great to have that time to grow the relationship. I also learn a ton from watching the sales managers. The energy and people at the OR Show is awesome. There aren't too many miserable people in the Outdoor Industry, so the smiles and hugs are heartfelt. I love it when a new account comes by and asks if they can get started with Stanley. I really enjoy qualifying the customer, finding out about their store and matching them with the right products from our assortment.
The other "best part" of what I do is this opportunity to learn the outdoor business from a perspective that I haven't been privy to before. It's really a huge eye opener to learn how products are developed, how they get tested and made, shipped, warehoused and delivered to the customer. It's great to learn about our different customers, how they order and how to meet their requirements. Some require pre-tickets or master cartons of certain size. I have to make sure we deliver the goods in a compliant and timely fashion so we don't get chargebacks. I think the best part is the opportunity to work with so many different teams on a daily basis, both internally and externally. I really love making the impossible become possible for a customer opportunity. Our sales managers are out there hustling, so they rely on me to beg, borrow or steal units if a program isn't in the forecast. It can be really frenetic and mildly stressful at times, but everyone here is shooting at the same target: grow profitable sales for Stanley and always do right by our customers.
Can you run through a typical day for you – are you generally in the office 5 days a week or are you required to travel for work?
I'm in the office for the most part, driving my desk. I get to travel to the Outdoor Retailer Show twice a year, and I might help out at other events or shows if need be. I'm usually in the office around 9 AM and check in with my team. I'll usually check in with Aissa and Michael first to see what our order tracker looks like. Aissa will usually give me a list of things I need to address, and I'll map out my day. I'll scan my emails for any fires that need to be put out, and then check in with my sales managers. I usually talk with one or two reps each day, and I'll field calls from customers a few times a day as well.
The thing is, there isn't a typical day. Each day is different in terms of what I'll be doing. During budget season we'll be building the forecast for the upcoming year. During show season we'll be getting our all our collateral out to our teams. When there is free time, I keep a hit list of stuff to tackle: new account targets, a prospecting mission, improving the sales reports, checking excess inventory levels and updating our closeout sheet... On any given day I can be pulled in about 100 different directions. I have to prioritize and delegate accordingly. I always joke with my boss that it's never boring.
What has been the biggest challenge since you began with PMI?
For me, the biggest challenge has been learning new systems that I had no prior experience with. We operate using Oracle systems, so I had to learn Demantra for forecasting, EBS for order processing and CRM for maintaining customer information. It felt like drinking from a fire hose. So much of the sales support and analysis work is in Excel. I had to learn how to build/pull reports from our data cube. It's funny now because I feel moderately proficient, but some folks here at PMI are Excel wizards. I'm constantly learning new things, which have helped me be more efficient with my time.
When I first started I had to build flash cards to learn all product item numbers and configurations. I would sit on the bus and try to memorize them during my commute. It really paid off though. It felt a bit like high school all over again but it worked for me.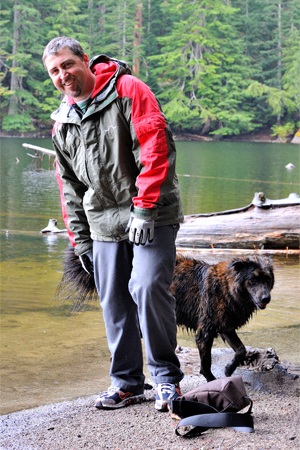 What has been your working relationship with Malakye.com?
Malakye has been great! I've had a resume and profile on Malakye for a few years now. I've received invitations to interview for different positions after folks have found me on Malakye. I've used Malakye as a reference for what type of work I'd like to do, plus as a source to rate companies that I think I would like to work for.
It's funny; Malakye helped me score this gig even though it wasn't posted. I had applied originally for a position on the Stanley marketing team through Malakye that I didn't get. I received a call back a few weeks later asking if I could come in and talk with Neil Burch.
Neil has been with PMI for years and heads up the Stanley Outdoor Division. He was on my original interview panel for the position I had applied for, and asked if I would consider working as his Account Manager. When I pointed out that I wasn't qualified and lacked the requisite skill set, he said he'd help me learn the role and that the company would teach me the skills in needed. He saw some potential in me and I'm indebted to him for that. I have great job and PMI is a great company. I really appreciate that somebody looked beyond my resume and what I've done to help me discover what I could do.
How important has it been for you personally to maintain an up-to-date account on Malakye.com and how often do you check the site?
I receive an email alert every morning to my inbox from Malakye. I have key search words set for Marketing and Seattle, and I have always liked to keep an eye on what gigs pop up. Part of me is always hunting for that dream job in marketing, but my wife has a great career here in Northwest so we're planning on staying in the Seattle. On the flip side it reminds me that hunting for a job is so tough and competitive, that the good job I currently have is priceless. It's a daily reminder that I'm only going to have one shot at today, so I better make the most if it and do a great job. I plan to be with this company for a long time. I'm stoked to be here.
What can you share with members of our audience that could be useful in their own job searches?
I would offer to Malakye users that are job hunting to cast a broader net than what they would initially. If you spread your parameters out a little bit into areas that you might not be strong in, you could score an interview. If you are passionate and willing to learn, some companies will take the time to help you learn new skills. I consider myself a marketing guy but here at Stanley I have a totally different role and a new career path. If you're open to new opportunities, make sure you convey that you're quick to adapt, learn and contribute.
Care to add anything we may have missed?
Please invite everyone to check out the Stanley line up of thermalware at their local retailer or on the web at www.stanley-pmi.com. Thank you for taking the time to speak with me.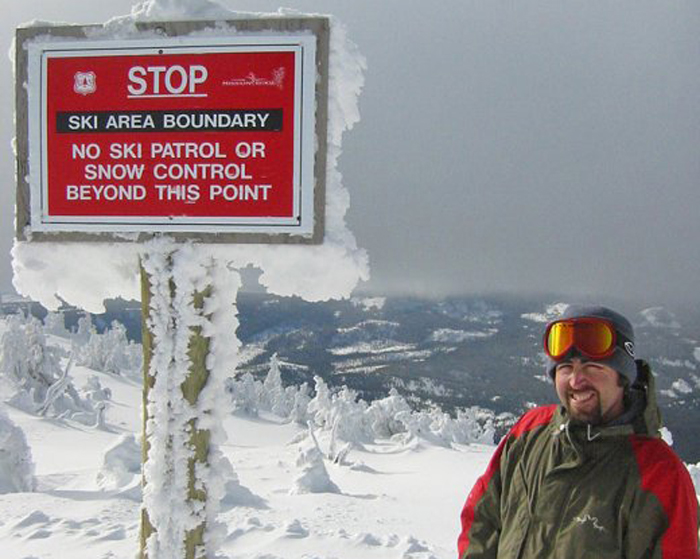 Thanks for your time Matt - Good luck in 2013 and beyond!
---