Back to News
MOTO: This Week in Monster Energy Supercross: Atlanta
February 22, 2013
This Week in Monster Energy Supercross: Atlanta
Live Coverage Can be Seen Saturday on SPEED Beginning at 7:30 PM ET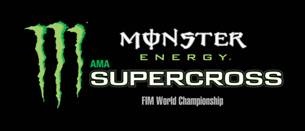 AURORA, Ill. (February 22, 2013) – Monster Energy AMA Supercross, an FIM World Championship, will make its first trip to the Eastern Time Zone tomorrow as Atlanta's legendary Georgia Dome hosts the eighth race of 2013 season. One week ago, Monster Energy Kawasaki's Ryan Villopoto became the winningest rider this season by capturing his third victory of the year and moving into sole possession of third place in the 450SX Class standings. Once again, Villopoto and the rest of the field will be chasing Rockstar Energy Racing's Davi Millsaps, who returns to his home state for the first time in his career as the points leader.
Broadcast coverage of the entire night of action in Atlanta will air live tomorrow night, beginning at 7:30 p.m. ET on SPEED. SupercrossLIVE!® will stream three hours of practice and qualifying at www.SupercrossOnline.com beginning at 2 p.m. ET.
Millsaps posted a runner-up finish for the third time this season, following Villopoto across the line inside Cowboys Stadium in Arlington, Texas. In seven races, Millsaps has finished on the podium six times, with a worst result of fourth. He also boasts two victories and carries a 21-point lead over Ryan Dungey heading into his home race in Atlanta, where he captured his first career 450SX Class victory during the 2008 season.
"It was a fabulous, wonderful, amazing 20 laps [in Arlington]," said Millsaps. "I won my Heat Race, then got the holeshot in the Main Event and got second. I'm very happy about that. I can't wait to head home to Georgia next weekend."
Villopoto's third win of the season came at a pivotal time for the reigning back-to-back champion. Despite possessing the most wins in the 450SX Class, Villopoto also has one finish outside the top 10 and two finishes outside the top five. When compared to his championship counterparts, those results leave him 24 points out of first, sitting third in the standings. Villopoto is looking to gain some momentum on Saturday at a venue he's won at once before.
"Consistency is the key right now," said Villopoto. "I think Atlanta will work in my favor because the dirt is usually really good there with tons of traction. The goal is always to win, but with the field being so stacked, as long as we stay up front each week we'll be happy."
Making his return to action on Saturday will be Villopoto's Monster Energy Kawasaki teammate Jake Weimer. The Idaho native suffered from a case of pneumonia earlier in the season, which forced him to miss races, and upon his return to action suffered broken ribs in a crash on the opening lap of a Main Event, causing him to sit out the last two weekends. With very little race time over the past month, Weimer is hoping he can return to the form that had him sixth in points before misfortune struck.
"I'm looking forward to getting back behind the gate in Atlanta," said Weimer. "After breaking my ribs in Anaheim it's been tough because it's an injury that requires a lot of rest, but at the same time I didn't want to fall behind with my training. After two weeks off, I'm back riding during the week and feel ready."
Red Bull KTM's Ryan Dungey has done well to keep with the impressive pace being set by Millsaps in the championship. Dungey is enjoying a four-race podium streak that includes a win. This weekend, he heads to the site of some of his most successful races, including victory one year ago. With a 21-point deficit to Millsaps and just three points separating he and Villopoto, Dungey recognizes the importance of keeping the podium streak intact tomorrow night.
While he hasn't had the results he was hoping for in recent weeks, Team Honda Muscle Milk's Trey Canard still maintains possession of fourth in the 450SX Class standings after a seventh-place finish last weekend. A strong ride, and potentially even a win, would quickly turn Canard's fortunes around and make him a true player in the title fight. Canard has won before inside the Georgia Dome in the 250SX Class, and hopes good fortune will come his way tomorrow night.
"The night [in Arlington] was okay overall. I got out of there safe," said Canard. "This year if you don't get a good start, it is hard to be anywhere in the front, which was definitely the issue in the Main Event. I put my head down to try and save as many points as possible and make the best of the situation, which is what we did."
Canard's Team Honda Muscle Milk rookie teammate Justin Barcia didn't fare much better in Arlington, finishing just one spot ahead of his teammate. With one win already this season, Barcia has the speed to win and this weekend marks his return to his current home state. Barcia has prevailed for the past two years inside the Georgia Dome in the 250SX Class and hopes that will translate to success in the 450SX Class as well.
"The track was really challenging [in Arlington] with the traction," said Barcia. "The last two races have been pretty tough with the tight track, so I need to get used to that. I was on the way outside of the gate in the Main Event and got a good start, but got pushed out into some tuff blocks and basically had to play catch up from there. I pushed it as hard as I could, but I'm really looking forward to heading to my home race in Atlanta."
TwoTwo Motorsports Honda's Chad Reed showed a lot of aggression in the early stages of the Main Event in Arlington. The former champion positioned himself behind Villopoto in second for the early portion of the race, but eventually gave way to Millsaps. Once in third, Reed began to engage in battle with Dungey for the position and was unable to fend of the challenge, narrowly missing out on the podium in fourth. Reed hasn't won a race in over a year and would like nothing more than to return to the top of the podium on Saturday.
"It was a little frustrating and not exactly the result I was after," Reed explained. "I got a great start and was fighting it out up in front. Millsaps got past me in the whoops and then with six laps to go, Dungey put in a block pass and I nearly went down. We have come away with some good points. The focus is to keep moving forward."
After an emotional season thus far in which he lost his ride and was forced to start his own team to keep racing, veteran rider Andrew Short experienced some good fortune this week when it was announced that he would ride for BTO Sports KTM for the remainder of the season. Short has been solid all season long despite his circumstances and will hope for bigger and better things with the new opportunity.
"Andrew is a great rider and he is one of the biggest names in the sport," said team owner/manager Forrest Butler in a press release. "He is also known as one of the nice guys, and that is something that is very important to team BTO and BTO Sports in general. We work hard to surround ourselves with good people, and I truly feel that Andrew will bring a lot to our team, our fans and our loyal BTO customers."
Another rider that found a new home during the week was Kyle Chisholm. After an up and down season and a recent injury, Chisholm was selected to fill in for an injured Josh Grant at Toyota/Yamaha/JGRMX. With Grant being forced to undergo surgery to repair his shoulder, Chisholm will look to take advantage of a tremendous opportunity with one of the championship's top teams, beginning this weekend.
"I am really excited," exclaimed Chisholm. "I can't thank Jeremy, Coy and the whole JGRMX team enough for giving me this opportunity. I can't wait to get on the bike, get out there and do my best! I also want to wish Josh all the best on his recovery."
Chisholm's Joe Gibbs Racing teammate Justin Brayton will likely have a lot to share with his new teammate after a strong run of finishes recently. In Arlington, Brayton captured his best finish of the season in fifth, withstanding the pressure of Justin Barcia throughout the Main Event. Brayton moved into eighth in the championship by virtue of his top-five effort and is looking forward to this weekend.
Team Yohsimura Suzuki's James Stewart suffered from arguably his most heartbreaking moment of the season in Arlington. After posting the fastest lap in practice, Stewart captured an impressive win in his Heat Race, catching and passing Ryan Villopoto for the victory. However, as he prepared to line up for the Main Event, it was discovered that his clutch was broken, leaving the former champion unable to start the race.
"The day went pretty good and we had some good practice times in Arlington," said Stewart. "The Heat Race was awesome. I got a good start on the Yoshimura Suzuki RM-Z450. We changed some stuff up during the week and it was great. I was feeling confident and really great – I hadn't felt that great since I was 16. I was sitting at the gate, ready to go and we had something happen with the clutch. I tried to see what we could do to fix it but it was internal. Health wise, I feel really great and now we'll go to [Atlanta] and get it done."
With the retirement of Kevin Windham earlier this season, GEICO Honda will welcome a new, yet familiar face to the 450SX Class on Saturday night when Eli Tomac assumes Windham's duties for the remainder of his time off from the Western Regional 250SX Class Championship. Tomac is familiar with racing aboard the 450cc machine and is excited about the chance to compete alongside the fastest riders on the planet.
Cowboys Stadium was the host of the opening race of the Eastern Regional 250SX Class Championship last Saturday night. For the next seven races, the talented young group of riders will be a focal point of the season. With Barcia graduating to the 450SX Class, there is sure to be a new title holder for the 2013 season.
Monster Energy/Pro Circuit/Kawasaki's Dean Wilson entered the Eastern Regional Championship as a heavy favorite following three impressive seasons as a pro. Last Saturday, Wilson made a statement with his performance and made it clear that this is his championship to lose. The Scottish rider led all 15 laps of the Main Event and eagerly awaits his return to the Georgia Dome to keep the momentum going.
"The dirt in Atlanta is always awesome," said Wilson. "I have the same goal as I did last weekend and hopefully I can get the same result. I just have to stay focused and confident."
Fellow Pro Circuit rider Justin Hill made his professional debut in Arlington and battled back from a slow start to the evening to finish fifth.
"I'm looking to improve on last weekend," said Hill. "I got the first race jitters out of the way and I am looking forward to racing at the Georgia Dome. I hear the crowd is pretty crazy, so I'm excited."
Rockstar Energy Racing's Blake Wharton always looks forward to the opportunity to compete in front of his hometown crowd. After misfortune in his Heat Race left him in the LCQ, Wharton was able to secure his spot in the Main Event. After an impressive start, Wharton quickly moved into second behind Wilson, which he carried through to the finish to bring a good ending to what could have been a tough night.
"I've been watching in the west, but it's been a while since I've raced," said Wharton. "It's always nice to get that first one out of the way. Arlington is nice because I know a lot of people here, but it's supercross so it's always intense. Practice was a little rough, the Heat Race was a little rougher. I had to go to the LCQ and no one really ever likes that. I think you lose life when you go to the LCQ. It's not healthy even if you win. I feel like I've aged. Fortunately I won that. I went to the Main with a bad gate pick. I guess I wouldn't say bad gate, but no one is going to go there with their first choice. I somehow almost got the holeshot, so that was pretty good. I just rode a solid 15 laps. I'm going to do things different next weekend, but I still want to be up there."
GEICO Honda's Wil Hahn showed tremendous speed in his Heat Race and would like nothing more than to potentially capture his first career victory this season. In Arlington, Hahn overcame a mid-pack start to fight his way into third and give him some momentum heading into Atlanta.
"It was all-around a good night," stated Hahn. "I made a few mistakes on the first three laps of the Main Event and didn't stick to my game plan, which hurt me. I need to show those guys I deserve to be up there and not let them push me around. The track was slick, so you had to be pretty patient when passing. Overall I am happy with a podium, and I'm looking forward to next weekend. I am going after this championship full force."
Fellow GEICO Honda rider Zach Bell made his pro debut in Arlington and looked to be on his way to a surprise Heat Race win. However, after hitting his foot off the takeoff of a triple jump, Bell let go of his bike and suffered a frightening fall. After getting cleared by the Asterisk Medical Crew to continue racing, Bell surprisingly returned for the LCQ and qualified for the Main Event. In the Main Event, Bell suffered more misfortune en route to a DNF.
Red Bull KTM's Marvin Musquin was another rider mentioned as a title favorite for the Eastern Regional 250SX Class Championship. In Arlington, Musquin fell in the first corner of the Main Event, starting dead last. After an impressive ride through the field, Musquin salvaged a solid sixth-place finish and likely enters Atlanta knowing he has what it takes to make some passes if needed.
Supercross LIVE!® is back in 2013 with a three-hour mid-raceday program from 2:00 – 5:00 p.m. local time. Hosts, Jim Holley, a former World Supercross Champion, and Kevin Barnett, a former member of the U.S. Men's Olympic Volleyball Team and professional broadcaster, will provide in-depth analysis of the afternoon's practice and qualifying sessions as the riders and teams prepare for the night racing, in addition to interviews and behind-the-scenes coverage. As the only place to follow live practice and qualifying coverage from Monster Energy Supercross, Supercross LIVE! provides fans with an inside perspective before the gate drops on the night's qualifying and Main Events. Additionally, there will be video snippets made available throughout the race day that can be viewed on www.SupercrossOnline.com, the official website of Monster Energy Supercross, or the YouTube Channel www.YouTube.com/SupercrossLive. To access the live streaming broadcasts, go to www.SupercrossOnline.com/SupercrossLive or subscribe to the Supercross LIVE! streaming channel at http://new.LiveStream.com/Supercrosslive.
For more information on the Monster Energy AMA Supercross, an FIM World Championship, please log on to www.SupercrossOnline.com, the official website of Monster Energy Supercross. To follow Monster Energy Supercross on Facebook, Twitter and Instagram, log on to www.facebook.com/supercrossLive www.Twitter.com/supercrosslive and www.instagram.com/SupercrossLive.com. Subscribe to our YouTube Channel at www.youtube.com.SupercrossLive. For all media requests, please contact Denny Hartwig [email protected] or 630-566-6305.
About Feld Motor Sports®
Feld Motor Sports, Inc. is the world leader in specialized arena and stadium-based motor sports entertainment. Feld Motor Sports productions include Advance Auto Parts Monster Jam®, Monster Energy Supercross, AMSOIL Arenacross and Nuclear Cowboyz®. Feld Motor Sports is a division of Feld Entertainment, the world's largest producer of live family entertainment. For more information on Feld Entertainment, visit www.feldentertainment.com.

---