Back to News
MOTO: Bel-Ray Continues Support of CLS Racing for 2013 Grand Prix Motocross Season
February 28, 2013
Bel-Ray Continues Support of CLS Racing for 2013 Grand Prix Motocross Season
Team rider Tommy Searle begins quest for MX1 Class Championship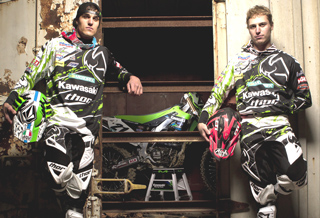 FARMINGDALE, N.J. (February 28, 2013) ¯ Bel-Ray announces its continued sponsorship of CLS Racing Kawasaki for the 2013 World Motocross seasons, following a successful 2012 debut season together. Returning team member Tommy Searle moves up to the MX1 class for 2013, while new team members Arnaud Tonus and Alessandro Lupino take over in the MX2 class.
Searle was a runner up in the 2012 MX2 class championship and makes his MX1 debut this season. Among his thirteen podium finishes in 2012 were six overall victories. If not for some bad luck in Latvia, Searle might have won the championship. He puts that doubt behind him with a move to the premier class in World Motocross racing this season.
Searle's departure from the MX2 class enabled the signing of two new racers to the Bel-Ray backed team. Italian Alessandro Lupino and Swiss racer Arnaud Tonus come to the team after eleventh and twelfth place overall finishes last season. Both racers are considered to be contenders for victory during the 2013 campaign.
The team will reply on the complete line of Bel-Ray high performance lubricants to achieve victories this season. Among some of the products are:
Blue Tac Chain Lube: the ultimate chain lubricant for all street, off-road and racing motorcycle chain applications including 'O', 'X' and 'Z' ring units. Uniquely designed to resist fling-off even in high speed applications while providing outstanding chain and sprocket life by reducing wear. Contains anti-rust agents to protect chains even in wet conditions.
Moto Chill Racing Coolant : an engine coolant that uses a special non-toxic propylene glycol formula designed for better heat transfer and cooler running engines. Protects from corrosion and extends the life of all motorcycle cooling systems including those using magnesium and aluminum components. The ultimate high-performance engine coolant — especially suited for racing conditions.
Silicone Detailer & Protectant Spray : a premium product specially formulated to provide a spectacular finish to all plastic and metal surfaces. This product is designed to resist the attraction of dust and dirt on the surface of parts treated with Silicone Detailer & Protectant Spray. It is formulated with inert chemicals that will not react with paint, metals or plastics but still binds well to surfaces.
"Bel-Ray is very excited to provide support and lubrication technology to the CLS Kawasaki racing team," said Bel-Ray Chief Operating Officer Jennifer Liquori. "It's been proven that Bel-Ray specialty lubricants perform at the extremely high temperature and pressure conditions of the 250 and 450 class machines. We're proud to assist these expert riders in achieving racing success this season."
To learn more about Bel-Ray specialty powersports lubricants, visit www.belray.com/powersports or call (732) 938-2421.
Follow Bel-Ray racers all season long at www.belray.com
---