Back to News
Tom Brown, Founder of Surfing for Life
March 1, 2013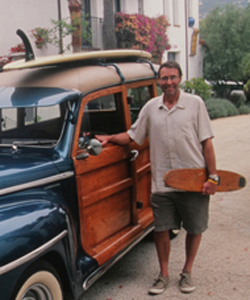 Tom Brown, Founder of Surfing for Life
In December of 2008, veteran industry sales rep Tom Brown was diagnosed with stage IV colon cancer. At the time doctors gave him 3 months to live.
Following four years of treatment, three surgeries and 28 rounds of chemo, along with trips to the ER due to effects from the chemo, Tom is still here - on a mission to spread awareness about cancer to the surfing community.
In 2012, Tom started the Santa Barbara-based Surfing for Life Foundation, dedicated to raising awareness about cancer – specifically being pro-active in the fight against getting it.
"I decided to have wristbands made and distribute them through surf shops for a small donation. I donate the proceeds back to various cancer organizations," explained Tom in a recent phone interview. "If I can affect one person to be pro-active against the disease – I feel as though I've accomplished something and I'm here for a reason."
We got a chance to chat with Tom about his start in the industry and how he is now applying the knowledge he's gained by giving back with his Surfing for Life Foundation.


How did you get started in the surf industry?
I actually started surfing back in the sixties. Surfing is one of those things that gets into your blood. I don't care if you're living in Kansas or the back country of Montana. As a grom - surfing was my life – I lived it, slept it and breathed it.
In 2004 I got involved with Shaun Tomson and his clothing line Solitude – a high-end clothing line that was eventually sold to JC Penney. Following its sale, we re-launched Instinct, an iconic surf brand originally founded by Tomson back in the mid-eighties. As a result of the sinking economy - in 2006 we closed the doors. I got involved with a couple of other major clothing lines, including the French sporting goods company, Oxbow, known for their legendary ambassador Laird Hamilton. I was a manufacturer's rep for the Oxbow brand and sold SUP boards as well as their clothing line. I also had the honor of working with Scott Bass at Sacred Craft for a few events as a surf appraiser. It was at this time I started an online surfing museum, Mr. Surf Junk Surfing Museum. I have loads of surf memorabilia and was trying to figure out a way to preserve it for future generations. There was no online source where one could go to find and learn about vintage surfing memorabilia. This has allowed me to stay in touch with many of the legendary surfers of the past.
It seems like you've worked with a lot of well-known figures within the surf world, which is amazing – how did you go from working as a sales rep with the industries' finest to starting a cancer awareness foundation?
My passion for the surfing lifestyle lead to a mid-life career in the industry. It opened doors to many well-known people who have made surfing their life too. There is a kinship within the surfing community. My goal was to bring the pro-active fight against cancer to "my" community. Most cancer can be prevented. Age-appropriate checkups, healthier lifestyle and diet, sunscreen – all small ways of protecting ourselves from disease. That was going to be the message I took, along with a wristband as a "reminder", to each surfshop, each surf event I attended.
I had been putting off an age-appropriate physical back in 2008. I was too busy, I was physically fit – the top of my game. I was surfing daily, riding my bike, walking on a routine basis. I felt great. Life was good. But I finally had the physical.
The next thing I know my doctor calls and says he wants to schedule a colonoscopy - just follow-up to the exam. At my age it is routine. So I scheduled it and had it done. If my message to the surf community can save just one person from the events that followed – I will feel an accomplishment. My colon tumor had been growing for 3 to 5 years with no physical manifestations. I had felt great. But in that time it had spread through my lymph nodes to my liver. Tumors that escape the host site and travel through the bloodstream to other organs is called Stage IV. The mortality rate is about 97% and that is within 18 months. It's been four years since I was diagnosed. If you were to look at me now you'd never know what I've been through. I live from blood test to blood test along with routine CT scans. So far I am keeping one step ahead of the disease. The SFL Foundation message is to stay one step ahead of getting cancer in the first place - or catching it in its early stages when cure is attainable.
What is the goal for the Surfing for Life Foundation?
SFL Foundation's mission is to get surfers wearing the wristbands as a pro-active "reminder" – for surfers, their partners, their parents, their friends. SFL wants to remind them about the importance of wearing sunscreen, having moles checked, being physically active and practicing good nutrition. SFL wants to spread awareness. Many cancers can be prevented if we eat a properly and stay active. The more people wearing the wristbands - the greater the awareness. We've all seen people wearing the yellow wristband and right away we think of Lance Armstrong, Livestrong and cancer – it's an automatic reaction. My hope is that surfers will wear the wristbands and be proactive against cancer. Every board shop I visit to tell my story and offer the wristbands has staff or owners with the same stories – everyone has been touched by the disease, whether it is a friend or family member. It's an insidious disease and the shared goal is to prevent it.
When did you begin the Foundation?
It was just over a year ago. I had just finished my last round of chemo in December 2011. The following month, January 2012, I hit the road. I took the first 100 wristbands around to local surf shops in Santa Barbara. The response was overwhelming – the wristbands were gone the first day.

It's great to hear that you're getting such a positive response; besides your story, how are you pitching the shops?
I have a philosophy that is based on five pieces:
1) The first one is diet and exercise – we've always known this is important. My diet has changed radically. I eat vegetables, fruit and whole grains. I stay away from sugar, white flour products and alcohol (because of my compromised liver). The AMA has finally acknowledged that sugar and processed foods feeds cancer cells.
2) Number two is the belief in some higher power. It's simply the acknowledgement that a power stronger than me exists. Call it the belief in hope.
3) The third point is the support from community - friends and family. People want to help. I wouldn't be here if it weren't for the support from my family, from friends past and present, and the people I've met through the foundation.
4) The fourth is modern medicine and doctors. Chemotherapy and surgery were necessary to keep me alive. But I also believe you've got to take responsibility as an individual and educate yourself about your disease. It's your body, you must be your own advocate and ultimately decide what is right for you.
5) The final piece of the puzzle is staying positive. Avoid negative energy and negative people. Take time in your life to do what you love. Look forward and set goals.
My best day is walking into a surf shop, sharing a wristband and my story with a young grom. Then asking him or her to go home that night and remind their parents to get their routine exams. Asking them to put on their sunscreen and eat a piece of fruit once in a while. Kick cancer in the ass.
With such a great response from the community, how many wristbands would you say you've distributed in the first year?
There are almost five thousand wristbands now in circulation. We have 145 shops, over 100 online supporters and we have shipped to 16 countries. We ship about 100 wristbands a week. The word is out and the message is spreading. If SFL can save one life, we've accomplished something great. I've personally been rewarded by people telling me their stories and hearing about positive outcomes from others. I'm always stoked when I see the wristbands pop up on people on websites or on Facebook.
What events did you participate in last year?
SFL was involved with the Paddle for Daisy event last September. The Paddle for Life/ Relay for Life last April and the Surfing for Hope two-day surfing event and health fair last November in Pismo Beach.
Can you break down the financials of how you are able to manage the foundation?
The shops donate $2 for each wristband. At the end of each quarter SFL donates 100% of their contribution to various cancer organizations. Some of the shops have personal requests for their donation funds and we honor that. We've distributed to the American Cancer Society, but also to smaller cancer awareness organizations who are involved with the surf industry. We've donated to the Pablobe Foundation/Daisy Merrick Trust, Boarding for Breast Cancer, Teddy Bear Cancer, the Skin Cancer Foundation and First Decents. I donate my time and travel expenses.
Do you still surf?
Yes! Last year I got the opportunity to join First Descents (based out of Colorado). They offer a surf camp for cancer patients and survivors ages 19-39. A camp was held locally in September and I volunteered for that. It was a joyful event, humbling and uplifting. Some of those participants are no longer alive.
Any upcoming events?
I'm going to be teaming up with O'Neill in July. They've invited SFL to their one-day skin cancer awareness event up in Santa Cruz. Dermatologist from the Santa Cruz area will do free skin checks. Skin cancer in the surfing industry is a huge problem.
SFL will be back in Pismo Beach for the Surfing for Hope event benefitting the Hearst Cancer Resource Center. We will join Paddle for Hope/Relay for Life again this year.
I hope to participate in the First Descents Surf Camp event this summer, which is done through Surf Happens, Santa Barbara.
How can interested peoples get involved with SFL?
Contact me. I can get wristbands out to them. We'd love to see the wristbands in shops across the world.
People can help in many ways – wearing their own wristband, distributing them to friends and family or simply writing a check to the foundation. If there's an event going on and they want SFL to get involved - I would love to show up and talk or just distribute the wristbands. Our goal is to deliver a pro-active message to the surfing community – let's kick cancer in the ass.
Do you own a shop or online retail outlet? Are you interested in volunteering for SFL? Contact Tom at [email protected]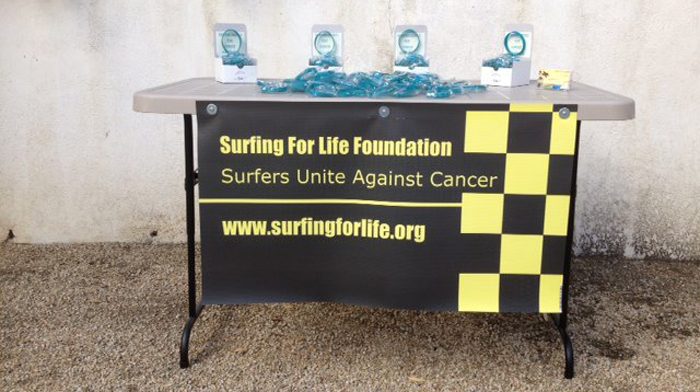 Thanks for your time Tom and for sharing your story - Good luck in 2013 and beyond!
---