Back to News
B$Z: Volcom Launches Footwear Collection for Fall 2013
March 4, 2013
Volcom Launches Footwear Collection for Fall 2013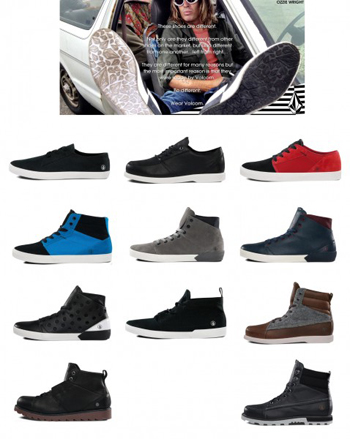 Costa Mesa, CA - Today, Volcom, leading lifestyle apparel brand with a heritage in skateboarding, snowboarding, surfing, art, and music, announced they will debut their first ever closed-toe footwear collection after twenty-two years.
Following the acquisition of the Volcom brand in 2011 by PPR, a global company in the luxury and sport and lifestyle sector, presented the opportunity for Volcom to launch a legitimate footwear program. Volcom's introduction of footwear is set to enhance the iconic brand's product offering and expand its reach into new demographics and markets worldwide.
This launch marks a significant milestone for the brand—completing its footwear product offering by adding a complete range of shoes and boots to its already successful sandal category. The new collections for both men and women showcase Volcom's unique point-of-view and continued dedication to style, quality and comfort. This dedication goes 360 degrees by leveraging the footwear expertise and the sourcing and manufacturing synergies of the PPR family. These advantages have helped empower Volcom with the confidence to execute truly unique designs that are complementary to the overall brand but also offer an authentic and fresh perspective in the current market
Volcom's Fall 2013 footwear collection features a variety of colorful styles in an array of assorted fabrics ranging from waterproof leather to classic canvas, catering to a diverse taste range for both men and women. The men's line offers up a selection of sneakers, slip-ons and boots, each suited for maximum wearability. "Looking to the collection, we've built upon the success of our open-toe products by offering on-trend styling at key price points. Subtle queues to angle and asymmetry have kept the styles fun, yet unmistakably Volcom." shared Jason Graham, Senior Director of Accessories/Footwear at Volcom. Though sneakers and slip-ons are also present in the women's collection, platform wedges and boots lend a sensible, stylish take that expands on the vision of contemporary footwear.
Valuing comfort without compromising on style, Volcom cleverly constructed their debut footwear collection to include Recliner Comfort Foam ™ technology, cold-press molded texture. RCF™ was first introduced with the 'Recliner' sandal in 2012 and given its success, has now been infused into the DNA of every closed-toe shoe in the men's range.
"I've been very passionate about Volcom since its inception in 1991. When I got my first T-shirt, it was all I wore for months and I still have it to this day. That pure stoke and intensity reminds me of how I felt when I first saw the footwear. I'm genuinely ecstatic with the results and look forward to sharing them with our customers," said Ryan Immegart, Volcom's Senior Vice President of Marketing.
Volcom is approaching this category with a determined yet humble state-of-mind, built on a long-term strategy with infrastructure and investment to back it up.
Volcom's Fall 2013 footwear collection will be available July 2013 at select retailers nationwide and online at www.volcom.com.
For additional information visit www.volcom.com/footwear
ABOUT VOLCOM, INC.
Volcom is a modern global lifestyle brand that embodies the creative spirit of youth culture. The company was founded on the principles of liberation, innovation and experimentation, and this is uniquely expressed in premium quality clothing, accessories and related products under the Volcom brand names. For more information, please visit www.volcom.com. Volcom is a wholly owned subsidiary of PPR S.A., www.ppr.com
---