Back to News
B$Z: Kona Brewing Invites You To Hang Ten
March 6, 2013
Kona Brewing Invites You To Hang Ten
New package configuration of ten 16-ounce cans hits shelves this week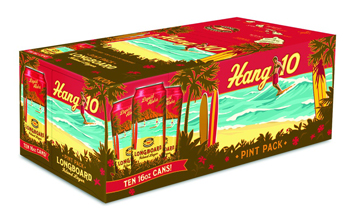 Kailua-Kona, Big Island of Hawaii, March 5, 2013...Kona Brewing Company's new Hang-10 Pint Pack will be firing its way onto store shelves this week. The new Hang-10 Pint Pack, named after a classic longboarding maneuver, is a new configuration of 16-ounce cans sold as a 10 pack. The Hawaiian brewery, who recently announced expanded distribution to five new states the Midwestern US, will make the Longboard Island Lager Hang-10 Pint Pack available in all 36 mainland states where Kona beer is sold. The Hang-10 Pint Pack will be available in better grocery stores, specialty beer stores, regional chains and convenience stores.
The name takes it cues from a classic longboard surfing stance in which a surfer inches or cross-steps his or her way to the board's nose while the surfboard is propelled by the wave with all ten toes hanging off the edge.
"The name suits our Longboard Island Lager perfectly, and this pint pack gives craft drinkers another occasion to enjoy our Liquid Aloha," said Kona Brewing company president Mattson Davis. "The 10-pack occasion is great for small gatherings because you can quickly grab it and head to the beach or barbecue knowing you've got enough brews to share. Plus each can is a full pint, which means more Longboard per can and more time to talk story with friends and family, like we do in Hawaii."
About Kona Brewing
Kona Brewing Company was started in the spring of 1994 by father and son team Cameron Healy and Spoon Khalsa, who had a dream to create fresh, local island brews made with spirit, passion and quality. It is a Hawaii-born and Hawaii-based craft brewery that prides itself on brewing the freshest beer of exceptional quality, closest to market. This helps to minimize its carbon footprint by reducing shipping of raw materials, finished beer and wasteful packaging materials. The brewery is headquartered where it began, in Kailua-Kona on Hawaii's Big Island. For more information call 808-334-BREW or www.KonaBrewingCo.com.
---