Back to News
WEB: The Bike Cooperative Introduces Social Media Content Sharing Program for Retailers, Brands
March 11, 2013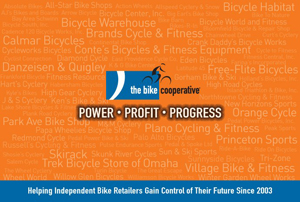 The Bike Cooperative Introduces Social Media Content Sharing Program for Retailers, Brands
Manchester, NH (March 11, 2013) — The Bike Cooperative has launched a new automated platform enabling retailers to share social media content easily and consistently to their followers. With its new One Stop Social program, The Bike Co-op is providing dealers with original content that they can automatically post on their stores' Facebook and Twitter accounts (or if the store prefers they can first customize the message then share with the click of a button). The One Stop Social platform also gives brands the power to reach more end users through social media, by making it easy for their dealers to share the content that brands are already posting.
The new program has been well received by the members who signed up when it was first introduced at Interbike. John Reischutz from Pedal Power Bike & Ski (Acton, MA) said, "One Stop Social is especially valuable for those of us (like me) for whom social media is not natural. This program makes it easy for my customers to feel connected with the store. The Bike Co-op provides postings for dealers and notifies you by email, and all you need to do is press a button to share it. That's it. No muss, no fuss, no work, and you have reached out to your customers. Some of these postings have been very popular, and I can also fully edit the content if I want to add a thought or my own spin."
Brantley Smith from Ride-A-Bike Bicycle Shop (Lincolnton, NC) added, "I have embraced social media since I purchased my shop, but sometimes coming up with creative and engaging content is a challenge. One Stop Social has helped me be consistent in posting relevant and positive content on my pages to help customers interact and keep them aware that I exist."
With the program up and running for dealers, the Co-op is now focused on integrating suppliers and their dealer accounts into the One Stop Social platform. "This can be an extremely powerful tool for brands," said Bike Co-op president Scott Barrett. "Many are already posting great content, but it's only being viewed by their own audience of followers. One Stop Social takes it a step further – brands now have a way to take their content and easily funnel it down to the store level to reach the audience they want most: the retailers' customers."
Co-op director of marketing Tim Leaver added, "A brand may have a few thousand people see their Facebook post. But if that same post is also shared by 500 stores to their followers, within a matter of minutes that brand's social reach has grown exponentially. And while the brand is reaching a larger audience of end-users, dealers have access to more great content to engage their customers. When you have a program that benefits brand, dealer and customer, that's powerful."
The Bike Cooperative is a member-owned cooperative with a mission of improving the profitability of independent bike retailers. The Bike Cooperative provides members with exclusive product specials and rebates, consumer financing and credit card processing programs, comprehensive advertising services, and training in management and sales. For information on becoming a Co-op member, call TBC Member Services at 1-800-450-7595 or visit www.thebikecooperative.com.
---