Back to News
X-GAMES: Athlete invites announced for X Games Foz Do Iguaçu Brazil
March 15, 2013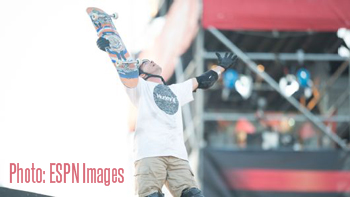 Athlete invites announced for X Games Foz Do Iguaçu Brazil
Three proficient Brazilian skateboarders highlight the invite list for X Games Foz do Iguaçu as they will go for gold in their home country next month.
Pedro Barros will defend his gold medal in Men's Skateboard Park, Bob Burnquist will also try to repeat in Skateboard Big Air, and Sao Paulo native Leticia Bufoni hopes to improve on her silver-medal performance in Women's Skateboard street.
But the locals will have a run for their money as X Games announced the full invite list on Thursday. Burnquist will be challenged once again by a crop of young Skateboard Big Air specialists led by Mitchie Brusco and Tom Shaar. While Barros has won nearly every competition he entered in 2012, Grant Taylor, Andy Macdonald, Raven Tershy and the rest of the field won't go down easily. And Bufoni will have to overcome defending gold medalist Alexis Sablone to top the podium in Street for the first time at an X Games.
Also invited are X Games mainstays Travis Pastrana, who is joining Ken Block and Brian Deegan in RallyCross; Jamie Bestwick will try for his unprecedented seventh-straight BMX Vert gold medal; And Ryan Nyquist leads the field in the return of BMX Dirt. Despite the cancellation of Moto X Best Trick, the moto field is strong with Nate Adams and Taka Higashino in the mix for Moto X Freestyle.
In addition to the on-site competition, several of the world's best surfers will be facing off in the debut of Real Surf for X Games Foz. Brazilian Gabriel Medina is sure to be the local favorite as he puts his aerial expertise on display in the popular video part bracket contest, but current ASP World Tour points leader Kelly Slater should have a few tricks up his sleeve, and high-flying Julian Wilson should contribute an epic part.
X Games Foz will be held April 18-21 in Foz do Iguaçu, Brazil.
X Games Foz Invite List:
BMX
BIG AIR: Steve McCann, Zack Warden, Kevin Robinson, Chad Kagy, Morgan Wade, Vince Byron, Colton Satterfield, Andy Buckworth
PARK: Scotty Cranmer, Ryan Nyquist, Pat Casey, Dennis Enarson, Drew Bezanson, Kyle Baldock, Daniel Dhers, Gary Young, Daniel Sandoval, Morgan Wade
DIRT: Ryan Nyquist, TJ Ellis, Dennis Enarson, Mike "Hucker" Clark, Kyle Baldock, Ben Wallace, Luke Parslow, Brandon Dosch
VERT: Jamie Bestwick, Vince Byron, Simon Tabron, Steven McCann, Chad Kagy, Austin Coleman, Francisco "CoCo" Zurita, Mykel Larrin, Dennis McCoy, Zack Warden
MOTO X
BEST WHIP: Nate Adams, Jarryd McNeil, Todd Potter, Jeremy Stenberg, Edgar Torronteras
STEP UP: Massimo Bianconcini, Brian Foster, Ronnie Renner, Josh Hansen, Bryce Hudson, Libor Podmal
SPEED&STYLE: Nate Adams, Jarryd McNeil, Libor Podmol, Mat Rebeaud, Ronnie Renner, Edgar Torronteras, Andre Villa, Massimo Bianconcini
FREESTYLE: Nate Adams, Remi Bizouard, Libor Podmol, Todd Potter, Levi Sherwood, Jackson Strong, Taka Higashino, Andre Villa, Rob Adelberg
ENDURO X - MEN: Taddy Blazusiak, Cody Webb, Taylor Robert, Mike Brown, Cory Graffunder, Kyle Redmond, Colton Haaker, Geoff Aaron, Kevin Rookstool, Gary Sutherlin, Destry Abbott, Bobby Prochnau, Max Gerston, Ryan Sandoval, Bryan Roper, Ryan Rodgers, Wally Palmer, Jack Field, Peter Weiss, Leandro Silva, Antonio Balbi, Nielsen Bueno, Romulo Bottrel
ENDURO-X WOMEN: Maria Forsberg, Louise Forsley, Chantelle Bykerk, Kacy Martinez, Tarah Gieger, Ashley Fiolek, Jolene Van Vugt, Rachel Gutish, Mariana Balbi, Marcella Gonclaves
SKATEBOARDING
BIG AIR: Bob Burnquist, Elliot Sloan, Jake Brown, Mitchie Brusco, Nolan Munroe, Rony Gomes, Tom Schaar, Edgard Pereira
VERT: Pierre-Luc Gagnon, Andy Macdonald, Bob Burnquist, Bucky Lasek, Sandro Dias, Danny Mayer, Marcelo Bastos, Tom Schaar
MEN'S PARK: Ben Hatchell, Ben Raybourn, Grant Taylor, Pedro Barros, Raven Tershy, Rune Glifberg, Aaron "Jaws" Homoki, Andy Macdonald, Kevin Kowalski, Taylor Bingaman
MEN'S STREET: Nyjah Huston, Paul Rodriguez, Ryan Sheckler, Sean Malto, Shane O'Neill, Chris Cole, Torey Pudwill, Bastien Salabanzi, Luan Oliveira, Billy Marks, Tommy Sandoval, Austyn Gillette, Ishod Wair, Matt Miller, Dylan Rieder, Mikey Taylor, David Gonzalez, Peter Ramondetta, Tom Asta, Chaz Ortiz
WOMEN'S STREET: Alexis Sablone, Leticia Bufoni ,Rachel Reinhard, Marissa Dal Santo, Lacey Baker, Jessica Florencio, Eliana Sosco, Elissa Steamer, Pamela Rose, Evelien Bouilliart
RALLYCROSS
Tanner Foust, Brian Deegan, Ken Block, Liam Doran, Toomas Heikkinen, Patrik Sandell, Bryce Menzies, Travis Pastrana
---