Back to News
Obermeyer Q&A with Robert Yturri, Senior Vice President of Product and Brand Management
March 20, 2013
Obermeyer Q&A with Robert Yturri, Senior Vice President of Product and Brand Management
Obermeyer is an American manufacturer of ski wear and outdoor clothing started in 1947 by the legendary Klaus Obermeyer. Klaus, born in in the small Bavarian alpine village of Oberstaufen, Germany, was 28-years-old and working as a ski teacher in Aspen, Colorado when he founded the industry leading ski wear production company.
Since its beginnings in the early days of the sport, the company has maintained its innovative spirit by staying current in researching and creating the latest technologies and developing its role in pioneering environmental and green power initiatives.
"This Fall/Winter, when it comes to product stories, you'll see and hear more from Obermeyer than you have in a very long time – starting with the overall concept of what works best in an outerwear piece for our sport," explained Robert Yturri, Senior Vice President of Product and Brand Management at Obermeyer via email.
"...we're tired of non-endemic (read 'Outdoor') companies that have come into ski/snowboard specialty telling our consumers that the way a mountaineer or ice climber dresses for our sport is right for us. Well, it's not."
We spoke with Robert about Klaus earning an Industry Achievement Award at SIA this year, Obermeyer's latest and most popular products and how the 66-year-old company is able to maintain its authencity while continuing to lead the industry in innovation.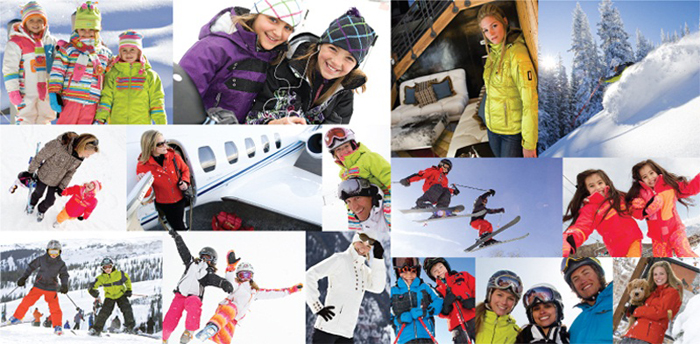 "With the most stunning and sought-after mountain laboratories in the world as our backyard, we have the ability to rapid-test outerwear prototypes and product technologies immediately. Not many, if any, brands in our industry can claim this - and that is special."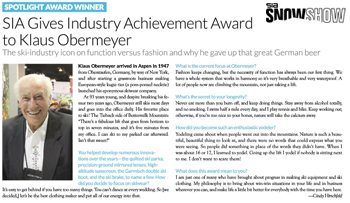 Can you share how it was at SIA this year with company founder Klaus at the show – particularly with him being awarded the Industry Achievement Award?
How great is SIA, I absolutely love it. It's our time as an industry tribe to be all together under one roof. Buyers, brands, vendors, media...everyone that's been somehow infected by the passion of wintersports and is doing their best to make a career in it. Plus all the hugs, the stories, the laughs - each show reminds me of why I got into this business in the first place. For Obermeyer, this being our 65th show season (founded in 1947) made it incredibly special - especially for Klaus.
The SIA show is indeed our company's favorite 4 days of the entire year, clearly visible in Klaus by his huge smile greeting most everyone coming through the main entrance of the show each day. It's his expression of life, for sure - but it's also his way of showing sincere gratitude to our customers (buyers) that have helped him to succeed for so long in business. I've honestly never in my life come across a person such as Klaus, he's amazing - I believe we all owe him a big thank you for his innovation and achievements in our industry since the very beginnings of our sport. He's an icon and an inspiration.
Keeping up with him is difficult, even at 93 years young – he skis every bluebird day, swims at least a mile per day (on top of skiing) and can light up a room with his warm friendly demeanor and sharp wit better than most entertainers in Hollywood. As a business man, he's just as sharp and wise as the best of them - but with far better instincts. Being given the Industry Achievement Award this year was indeed honorable for Klaus, and he accepted it on behalf of all the people that continue to dedicate themselves for the better of our industry. That's just how humble and modest he is.
What about the product line Obermeyer showcased at SIA? What can we expect this fall and winter, anything exciting in the works?
In my 25+ years (damn, has it been that long?) I've never been as blessed to be working with a product and design team as skilled as the group we have at Obermeyer – the talent caliber and passion level is, well, unsurpassed. And this coming Fall/Winter line is a huge step forward for the brand and for the company. Even from our most respected buyers, I've heard repeatedly 'best line I've ever seen from Obermeyer', so I'm hoping that's a good sign, and we're excited for what that means on the sales floor come sell-through.
This Fall/Winter, when it comes to product stories, you'll see and hear more from Obermeyer than you have in a very long time - starting with the overall concept of what works best in an outerwear piece for our sport. For starters, we're tired of non-endemic (read 'Outdoor') companies that have come into ski/snowboard specialty telling our consumers that the way a mountaineer or ice climber dresses for our sport is right for us. Well, it's not. Secondly, the over-emphasis on waterproof ratings has caused our consumer to be mislead that the 'higher the number', the 'better' the jacket is for them. Well again, it's not. What do we believe is most important? Finding the ideal combination of waterproofness and breathability in the 'system' of a jacket's full set of components (the choice of outer shell fabrics, the choice of insulation and what's most frequently forgotten, the interior fabrics). Thermal regulation and moisture management begin from the inside, and all of these pieced-in components need to be working harmoniously together to keep your core dry.
Think about what we do as a sport - it's a crazy unusual set of physical and environmental circumstances we dive into when we're having fun out there: in general, we ski/ride and vigorously burn hard downhill (anaerobic) for say 7-12 minutes a stretch; then we come to a dead-stop/sit on a chairlift for say another 7-12 minutes – all in a very cold high-alpine environment. You need one SMART jacket to be able to keep your core dry (so you don't freeze like an ice cube when you've stopped). This challenge is what we as a product team have put a ton of focused research and development towards over the past few years, and is what we've now come to market with. We've put together ideal combinations from the best raw material in the business, and I must admit – it's very exciting stuff. We're calling the overall concept 'Amplified Breathability' with an emphasis on different 'Dri-Core' components throughout our line.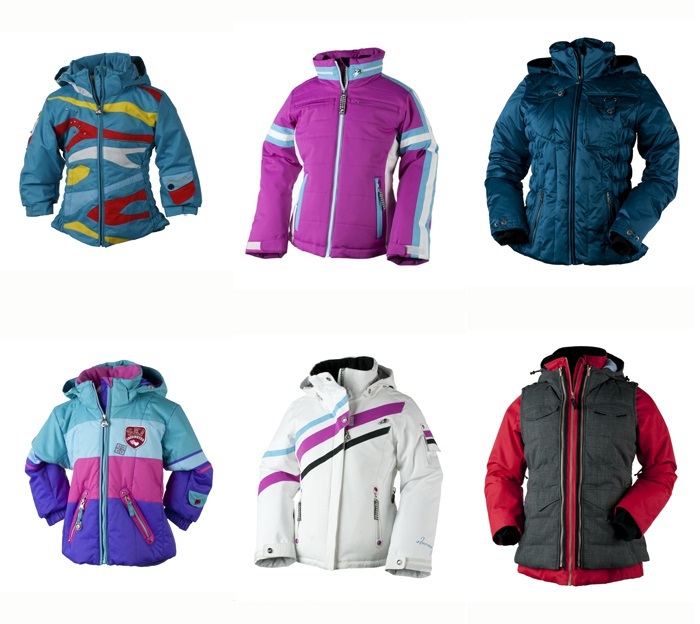 This season's most popular jackets for girls and women (l-r): kids - top: Kismet, bottom: Posh; teens - top: Aurora, bottom: Kensington; Women's - top: Leighton, bottom: Dylan
Can you speak on the kids lines - do you feel Obermeyer is unique in offering such a robust selection of product for both boys and girls, as well as toddler and teen wear?
We embrace the fact we're well known for our Kids & Teens lines - nobody does it better than Obermeyer in this market segment/demographic. Our approach is indeed unique since we treat this group as a separate business unit within our company - with its own timeline, designers & inspiration, product team, selling strategy, etc. We couldn't be more opposite from a brand that downsizes adults, uses their same raw materials and primary design, and calls it 'good.' I can't give up any of our secrets, but just know we realize our Kids & Teens lines own a good chunk of market share in wintersports specialty already, so we feel it's our own battle to lose at this point - and we don't plan on ever losing.
How is Obermeyer continuing to be a successful company?
I believe a lot of it has to do with Klaus' original company foundation grounded in the basics of good business. For instance, we take the words 'partner' and 'relationship' very seriously, since we believe it all starts and ends with our customers. I'm proud to say we've been repeatedly voted by the industry as being #1 in Customer Service because of it. Well-earned as our in-house customer service, sales reps and worldwide distributors are the absolute best in the business. Very important to us is the ability to really and truly listen. We're all very good listeners, and we listen closely - it's the simplest (yet most overlooked) part of a successful business relationship. Amazing opportunities surface out of simple conversation - just try not to always be the one talking.
I feel I work with the greatest group of people at Obermeyer. Every single person in the company is unique, creative and very different - with such amazing stories and varied backgrounds. We're all commonly passionate and dedicated in what we do. I've heard that once you've found a job you truly love, you'll never work another day in your life. Maybe that's our secret at Obermeyer in being successful.
What has been Obermeyer's impact in its 66 years in the industry?
Klaus is THE original ski pioneer, innovator and entrepreneur - I can't get enough of his stories about the first days of our sport, when very little for the sport even existed. From his importing the first ever dual-construction ski boots in 1947 to the invention of mirrored sunglasses, high altitude suntan lotion, 2-pronged ski brakes, lightweight tapered aluminum ski poles, the first down parkas, ski sweaters, turtlenecks, nylon wind shirts, Schoeller® stretch pants, waterproof/breathable GoreTex® shell linings and Obermeyer's original 'I-Grow' extended wear system, to name a few. The list of his [Obermeyer's] accomplishments is over-the-top impressive. So I'd say the impact is pretty huge. And talk about pressure to continually come up with ground-breaking innovation - we've got our work cut out for us.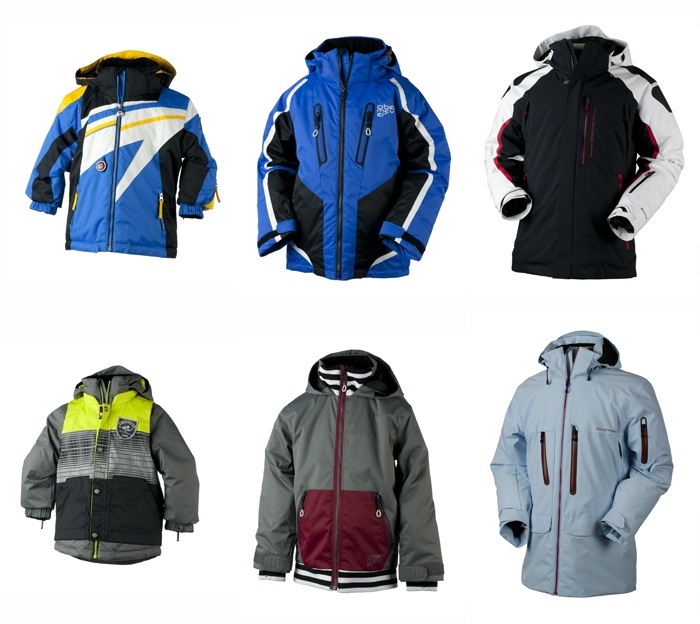 This season's most popular jackets for boys and men (l-r): kids - top: Super G, bottom: Slopestyle; teens - top: Mach 5, bottom: Parker; Men's - top: Charger, bottom: Oxnard
Can you share any significant milestones that represent success to the evolution of the company?
Most don't know about Klaus and Obermeyer having a long history in pioneering environmental and green power initiatives. Just as much passion and creativity went into the building we work in everyday. Built in 1980, our environmental award-winning Aspen HQ receives 60% of its heat from solar energy - and has a solar-heated on-site lap pool (one of Klaus' secrets to longevity - swimming at least a mile a day). We try our best to carry the same environmentally-friendly torch today by working closely with our raw material and production manufacturers in implementing environmental best-practices, as well as working with those that are Bluesign® standard certified. To us, this represents success just as much as timeline or monetary milestones, and we're looking forward to gaining many more in the near future.
What's special about Obermeyer as a company?
Let's start with location. Born in Aspen, Colorado in 1947, with no plans to ever move, I don't think you can be any more authentic. With the most stunning and sought-after mountain laboratories in the world as our backyard, we have the ability to rapid-test outerwear prototypes and product technologies immediately. Not many, if any, brands in our industry can claim this - and that is special.
Also being one of the last privately-held, family-owned and operated companies in the industry keeps us independent, honest, nimble, continually entrepreneurial and creative which I've found is exactly the type of environment I need to be successful.
Lastly, I strongly believe the culture of a company starts at the top, and that's no cliché. I have tremendous respect for Klaus' continued relentless dedication to the business and the industry. He comes to work every single day, 7 days a week, and offers incredible insight sharing his wealth of experience (and his upbeat, witty banter) with all of us. He's also implemented an official powder day '6-inch' rule that allows our employees to collect fresh tracks on days that have a 24-hour recorded total of 6 inches or more. It's in all of our hiring paperwork. Now that's legitimately cool.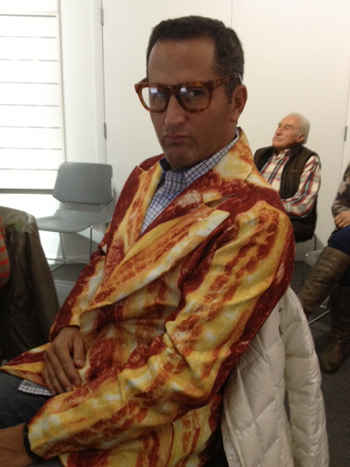 Can you speak on how the community of ambassadors and athletes at Obermeyer targets both the adult and youth markets?
Every single one of our athletes and ambassadors (we think of them all as brand ambassadors) are incredible. I can't tell you how much I appreciate all that they do for us. Not only are most killing it at the top of our sport, but they are all natural leaders, true role models, positive individuals and the perfect spokespeople for our brand and industry.
Covering a true cross-section of our sport, we have ambassadors of varied industry and life experiences, all with broad appeal; from Wasatch fiends Parker Cook, Skiing Mag's People's Choice video award winner/custom furniture creator, and Andrew Pollard, IFSA Junior Freeski Champ/Powder Mag's top 20 skiers 18 & under, to Chris 'Uncle E' Ernst, ESPN X Games Host/Olympic Ski Announcer, and Chris Klug, 3-time Winter Olympian & medalist/organ transplant survivor & foundation-creator. Please also be sure to look up Kiffor Berg, Bob Legasa, Dane Degruyter, Perry Martin, Riley Rose, Sean Richard, Taylor Lyman, Colin Vaykovich, Jason Astle, Jacqueline Pollard and Steve Karczewski - they all truly embody traits like Klaus in their own unique way and we're incredibly proud to have them as part of our family.
What makes Obermeyer a great company to work for?
I view Obermeyer as a company with blue-sky potential; our heritage, our story – it's true and authentic. We've taken the time the past few years to really study who we are, what we stand for, and where we want to be the next 65 years as a company. Product innovation, quality, superior performance, and meaningful with purpose are our #1 priorities, along with continuing to support our specialty wintersports retailers in every way possible. I can't tell you how happy I am to be with a brand that understands its DNA as well as Obermeyer does; it feels like home.
Can you share with us your personal favorite piece from the Obermeyer product line?
This one's tough. But if you're making me commit now, it's got to be the Men's Commando SoftShell Pant. It's the absolute perfect combination high-performance stretch softshell pant for dawn patrol tours, side-country stashes or pouncing powder pillows. We call it the Commando because the fabric is dense enough and the interior soft enough that you don't need a baselayer tight underneath. You literally ride 'commando.' I love it today; however, as Klaus always says, you never have it made, you're always making it. So I think the best is still yet to come.
Anything you'd like to add?
Thanks again for this interview. Before I sign off, allow me to get a little philosophical, just for a minute. I feel this is a most interesting and defining time for us all in our industry. When I think back to Klaus' beginnings in the creation of our sport, he was making it all happen when essentially nothing existed - and was making tough decisions bearing great responsibility on our future. Always conscious of every reaction derived from his actions, he thought first about the impact on nature before committing to a project. Nowadays there are so many choices in everything we decide - what to research, then design and finally produce. I believe it's now time for us to start making the hard decisions, choosing what's right for the generations ahead of us, especially when it comes down to the environment impact. We not only owe it to all our sports' founders before us, but we owe it to the group coming right after us. It's our turn to be the environmentally-driven pioneers of the future. Something to think about – and thanks for considering.
Lastly, and please only take this for what it's worth – I'm going to pass on some career 'nuggets' – tips I really wish someone filled me in on when I got started in the biz over 25 years ago. These may or may not work for you, but I've relied on them:

1. Dress Your Self – I've heard 'dress the part' as career advice when interviewing and such, and it's just plain wrong. It implies that you're acting, which is misleading – and you'll most likely be headed down the wrong path anyway. Trust me, you need to be yourself, be honest, true and most of all – dress yourself (after all, one of the most important values in our industry is individuality).

2. Be Multi-Dimensional – Sure you might be targeting a specific role in a company, but realize smart hiring managers value the fact you can wear many hats. All your experiences and talents are important. And most of all – never, ever stop learning or lose your eagerness to learn.

3. Find Your Filter – Be hyper-aware, focused and know your audience very well – especially before you speak. It takes a lifetime to build a reputation and about 2.5 seconds to blow one up.

4. Have Fun – Super cliché, but don't forget to play just as hard as you work. Sounds easy enough, right? But it's not – you have to work on it. And don't take yourself so seriously; smile often and laugh even more often.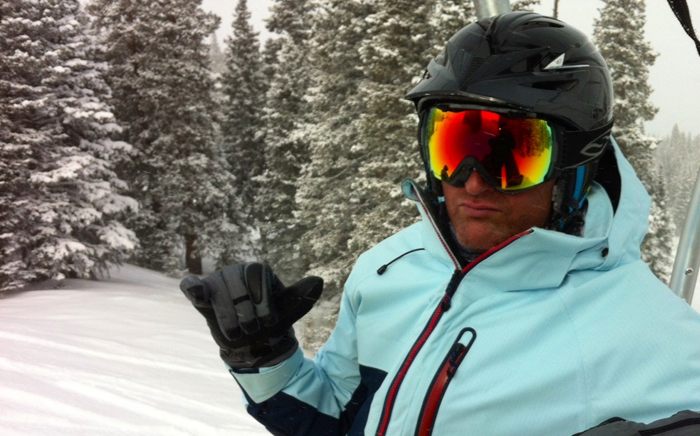 Thank you for your time and thoughts Robert. For more on Obermeyer, including company history and details on founder Klaus, head to obermeyer.com, or find them on Facebook, Twitter and Instagram.
---