Back to News
B$Z: HoodieBuddie unveils HBSuper collection featuring advanced HB3 Headphone Technology
March 20, 2013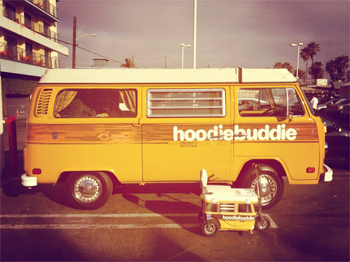 HoodieBuddie unveils HBSuper collection featuring advanced HB3 Headphone Technology
New York, NY — HoodieBuddie, a lifestyle brand known for its innovative apparel and unique integration of fashion and music, announces the launch of its new premium collection for Fall 2013, HBSuper. The HBSuper collection takes hoodies to a whole new level, and continues to evolve the brand by adding soft, luxe fabrics, crisp jackets and fashionable shells, highlighting HoodieBuddie's advanced technology ear buds, discreetly built into the ends of the drawstrings of each piece.
Inspired by the thrill-seekers who take their favorite hoodies around the world — from cold climates to scorching deserts and breezy seas — HoodieBuddie dreamed up a Fall collection that offers its most diverse and pragmatic offerings yet, complete with lightweight hoodies, varsity jackets, flannels, sturdy raincoats and fashion-forward, yet functional styles for the colder months.
Never ones to shy away from a challenge, HoodieBuddie also improved its sound to match these incredible new styles. The line features patented HB3 Technology™ headphones hidden within each garment's drawstring, allowing the wearer to easily plug into his/her playing device for a comfortable, hands-free listening experience. With crisp, clear acoustics - created by HBSuper's innovative Supersound technology - in a convenient, stylish package, music lovers can catch all their favorite tunes without skipping a beat. The Fall collection also offers new feature upgrades like HBconnect, an auxiliary input jack, which allows the hoodie wearer's friends to get in on the action by plugging their headphones into his/her hoodie. The new HBmic feature offers a microphone and remote control embedded in the hoodie's draw cord, allowing callers to reach out and call someone without losing their stride. The machine washable HB3 headphones make HBsuper an easy choice: Wear, Listen, Wash, Repeat.
ABOUT HOODIEBUDDIE
HoodieBuddie was created from an idea that was thought to be impossible. When we finally realized that we could put headphones in our hoodies we said...??YES" and made a bunch of them for you all to wear. Fortunately the headphones are washable (thanks to HB3 technology) otherwise the idea would be pretty weak.
HoodieBuddie knows it's not easy out there. That's why we continue to innovate and create rad things to help make your life easier. HoodieBuddie is located in Los Angeles, CA and is sold in stores worldwide.
---