Back to News
B$Z: ZEAL Optics Introduces E-llume, the World's First Bio Based Lens
March 21, 2013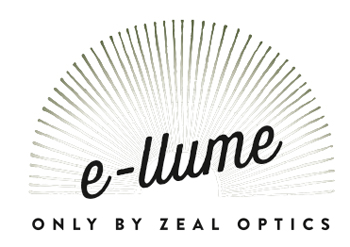 ZEAL Optics Introduces E-llume, the World's First Bio Based Lens
Boulder, CO – ZEAL Optics introduces the world's first and only plant-based lens, which upholds to the highest of optical standards for quality and clarity while minimizing the impact on the environment.
Unveiled globally today at the International Vision Expo in New York City, ZEAL Optics, debuted to the market the world's first lens using a plant-based bonding agent, thus replacing the petroleum-based bonder."We are so excited to present our new e-llume lens," said ZEAL President John Sanchez. "ZEAL has created a lens that will become the new industry benchmark for optical clarity with an environmental purpose."
Designed and crafted in Boulder, Colo., this lens is proof that environmental initiatives are not a deterrent to an incredible optical experience. ZEAL's engineering team has found a way to not only reformulate the bonding agent to eliminate crude oil, but to maintain a 38 Abbe value clarity in an active lens.
At ZEAL the brand principles of environmental and social responsibility, along with creating memorable life experiences, are driven by these type of innovative discoveries that push the boundaries of both the green movement and current optical stands. This is the first lens of its kind that can truly provide an ecological alternative to crude oil based lenses.
Currently ZEAL produces all their sunglass frames with Z-resin, a plant-based material that uses castor oil, eliminating harmful crude oil from the manufacturing process. With the new e-llume lenses, ZEAL will become the first company in the world to lead the way towards completely removing crude oil from sunglass production.
"Castor represents a renewable resource," stated Dick Auld expert in plant and soil science from Texas Tech University. "We commend ZEAL for taking the initiative to use a product that not only increases their sustainability, but also maintains the high quality of their product."
ZEAL Optics' patent-pending bio-based lenses offer unparalleled protection and prevention from UVA, B, and C as well as being able to identify and block a negative light range called High Energy Visible (HEV) light. This was recently cited as a possible cause of cataracts and macular degeneration. The ZEAL e-llume lens not only identifies this spectrum of light but helps to block it out. The e-llume lenses contain a special hard coating for scratch resistance, along with an exclusive high transmission polarized film for increased eye protection from harmful rays.
---