BACK TO NEWS
EVENT: Spyder Surf Fest Unites Industry's Greatest in Hermosa Beach on April 6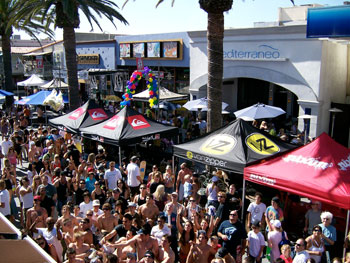 Spyder Surf Fest, the 30-Year Anniversary presented by Monster Energy Drink and Bud Light, Unites Industry's Greatest in Hermosa Beach on April 6
Industry and Local Businesses Join Spyder Surfboards to Celebrate 30 Years in the South Bay at Sixth Annual Event
March 27, 2013 (Hermosa Beach, Calif.) - Spyder Surfboards is celebrating a significant milestone in the South Bay with Spyder Surf Fest, the 30-Year Anniversary presented by Monster Energy Drink on Saturday, April 6 at the Hermosa Beach Pier Plaza. After the success over the last five years, Spyder Surfboards has again joined forces with the City of Hermosa Beach and the Southern California Surf Industry for another exciting Legends of Surf Weekend.
"It's hard to believe it has already been 30 years. We'd like to thank our partners, the City of Hermosa Beach and our friends of the industry for always supporting us and we attribute much of our success to our partnerships and personal relationships with them," said Dennis Jarvis, founder, Spyder Surf Shops. "The South Bay has been our home and we can't think of a better way to celebrate than with our family at the sixth annual Spyder Surf Fest and we're looking forward to many more years to come."

The weekend will kick off with B4BC's (Boarding for Breast Cancer) Ladies of the Industry Night on Thursday, April 4 from 7 p.m.-10 p.m. at Spyder Surf Women's on the Hermosa Pier Plaza. In celebration of women and girls, join B4BC for light drinks, appetizers and a fun shopping experience with 100 percent of the proceeds from B4BC's artisan-made silk wrap + gemstone bracelets to benefit the B4BC Survivorship Fund for breast cancer survivors. Spyder Surfboards will also offer a VIP 30 percent discount off all regular priced goods (excluding surfboards). For more information about the event, contact crystal@makewavescommunications.com and to learn more about B4BC, go to www.b4bc.org.
On Friday night, April 5 from 7-10 p.m., the Hermosa Beach Historical Society presents the eighth annual Surf Film Fest featuring the South Bay Premier of "Done," the new John John Florence biography. Food, drinks, movies, live music and a silent auction contributed by Spyder Surf will benefit the Hermosa Beach Historical Surfing Museum. A limited number of tickets are available pre-sale at Spyder Surf at both locations and at the door depending on availability.
Rounding out the week of events will be the sixth annual Spyder Surf Fest on Saturday, April 6. Beginning at 11 a.m., the City of Hermosa Beach will induct new honoree Mike Doyle to the Surfers Walk of Fame in a Pier ceremony. Doyle will be enshrined into the Hermosa Beach Pier with a bronze plaque to join the lineup of surfing pioneers and South Bay legends including Greg Noll, Bing Copeland, Hap Jacobs, Donald Takayama, Dewey Weber, Leroy Grannis, Dale Velzy and more.
From Noon-6 p.m. at the stage east to Hermosa Ave, the Pier Plaza will feature the industry's finest promotional teams and leaders including Hurley, Billabong, Quiksilver, Volcom, Electric, Rip Curl, Roxy, Sanuk, Toms and many more. There will be free giveaways, interactive games, meet 'n greets with star athletes of the surfing world, a killer band lineup including Tomorrows Tulips featuring pro surfers Alex Knost and Ford Archbold, and a fashion show presented by Spyder Surf Women's featuring brands across the industry modeling the latest 2013 trends on the 18-foot catwalk.
Spyder will also offer 30 percent off regular priced merchandise excluding surfboards) in honor of their 30th birthday on Saturday only.
For more information on the Spyder Surf Fest the 30-Year Anniversary presented by Monster Energy Drink and a detailed schedule of events, visit www.spydersurf.com.
About Spyderboards
Since 1983, SPYDER surfboards has enjoyed nearly 30 years of success in their hometown of Hermosa Beach. What Dennis Jarvis started as a single 850 sq. ft. retail store/surfboard factory on the corner of PCH and Artesia has grown to a 7,000 sq. ft. surf, skate and snow mecca. In 1997, Spyder Surf added a second 7,000 sq ft. location packed full of the best surfing fashions available at downtown Hermosa Beach's Pier. To date, some of the very best surfers in the world, from recent World Champions to pioneering legends have ridden or continue to ride Spyder Surfboards. www.spydersurf.com
---