Back to News
TV: Monster Energy Supercross Television Program from Salt Lake City Nominated for EMMY® Award
March 28, 2013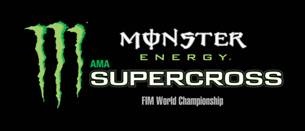 Monster Energy Supercross Television Program from Salt Lake City Nominated for EMMY® Award
Monster Energy Supercross Finals Broadcast on SPEED Wins Telly Award
AURORA, Ill. – Feld Motor Sports® announced today that the National Television of Arts and Sciences (NATAS), in the category of Outstanding Live Events Turnaround, has nominated the Monster Energy AMA Supercross, an FIM World Championship, broadcast from Salt Lake City's Rice-Eccles Stadium (2012) on CBS in this year's 34th Annual Sports Emmy® Awards. Additionally, the 2012 broadcast of the Monster Energy Supercross finals from Las Vegas on SPEED won a prestigious Telly Award.
More than 170 nominees were announced in 34 categories, including Outstanding Live Sports Special, Live Series, Sports Documentary, Studio Show, Promotional Announcements, Play-by-Play, Personality and Studio Analyst. The Awards will be given out at the prestigious Frederick P. Rose Hall, Home of Jazz at Lincoln Center located in the Time Warner Center on Tuesday, May 7, 2013 in New York.
Also nominated in the category of Outstanding Live Events Turnaround were: Down the Stretch (The Honda Classic); Games of the Olympiad; Inside the Headsets (28th NASCAR Sprint Cup Series All-Star Race); USA Pro Challenge (The Race of Truth).
At last year's race from Salt Lake City, Red Bull KTM's Ryan Dungey captured his third Monster Energy Supercross win of the season at Rice-Eccles Stadium in front of 40,548 fans.
"This is a milestone for Monster Energy Supercross' expanding television package," said Ken Hudgens, COO, Feld Motor Sports. "It's a true testament to the production value of the television we are producing and that the bar is being raised on supercross production."
"It is gratifying to see all the hard work from our extraordinary crew pay off," said Michael Prince, vice president of tactical marketing, Feld Motor Sports. "It is an honor to have the Las Vegas broadcast win a Telly Award."
The Monster Energy Supercross broadcast from Las Vegas on SPEED was selected by The Telly Awards and the Silver Telly Council to receive a 2013 Telly Award. The Telly Awards is the premier award honoring the finest film and video productions, groundbreaking web commercials, videos and films, and outstanding local, regional and cable TV commercials and programs. Founded in 1978, the Telly is one of the most sought-after awards by industry leaders, from large international firms to local production companies and ad agencies. The Telly Awards receives more than 13,000 entries annually from some of the world's most respected firms in the production business.
Supercross LIVE!® is back in 2013 with a three-hour mid-raceday program from 2:00 – 5:00 p.m. local time. Hosts, Jim Holley, a former World Supercross Champion, and Kevin Barnett, a former member of the U.S. Men's Olympic Volleyball Team and professional broadcaster, will provide in-depth analysis of the afternoon's practice and qualifying sessions as the riders and teams prepare for the night racing, in addition to interviews and behind-the-scenes coverage. As the only place to follow live practice and qualifying coverage from Monster Energy Supercross, Supercross LIVE! provides fans with an inside perspective before the gate drops on the night's qualifying and Main Events. Additionally, there will be video snippets made available throughout the race day that can be viewed on www.SupercrossOnline.com, the official website of Monster Energy Supercross, or the YouTube Channel www.YouTube.com/SupercrossLive. To access the live streaming broadcasts, go to www.SupercrossOnline.com/SupercrossLive or subscribe to the Supercross LIVE! streaming channel at http://new.LiveStream.com/Supercrosslive.
For more information on the Monster Energy AMA Supercross, an FIM World Championship, please log on to www.SupercrossOnline.com, the official website of Monster Energy Supercross. To follow Monster Energy Supercross on Facebook, Twitter and Instagram, log on to www.facebook.com/supercrossLive www.Twitter.com/supercrosslive and www.instagram.com/SupercrossLive.com. Subscribe to our YouTube Channel at www.youtube.com.SupercrossLive. For all media requests, please contact Denny Hartwig [email protected] or 630-566-6305.
About Feld Motor Sports®
Feld Motor Sports, Inc. is the world leader in specialized arena and stadium-based motor sports entertainment. Feld Motor Sports productions include Advance Auto Parts Monster Jam®, Monster Energy Supercross, AMSOIL Arenacross and Nuclear Cowboyz®. Feld Motor Sports is a division of Feld Entertainment, the world's largest producer of live family entertainment. For more information on Feld Entertainment, visit www.feldentertainment.com.
---