BACK TO NEWS
EVENT: RAEN x CONVEYOR @ Fred Segal - LAUNCH PARTY - April 4, 2013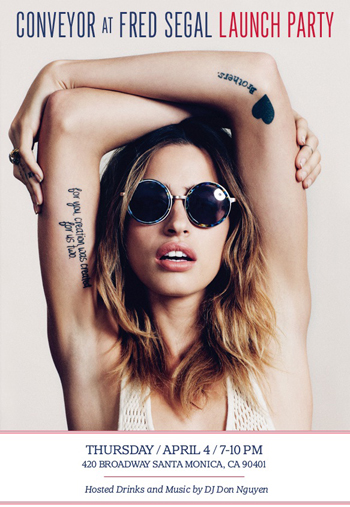 EVENT: RAEN x CONVEYOR @ Fred Segal - LAUNCH PARTY - April 4, 2013
Oceanside, CA – Starting in April, RAEN will be selling its handmade and heartfelt eyewear at Conveyor at Fred Segal.
To introduce the new retail space, RAEN is having a launch party on Thursday, April 4, at the Conveyor. From 7-10 pm, guests will enjoy hosted drinks and music by DJ Don Nguyen.
"We're excited about the party and our new collaboration with Fred Segal. We have always been a big fan of the modern retail space, so we think this is a milestone for the brand," says Justin Heit, Creative Director.
Along with the launch party, RAEN and Fred Segal are teaming up for a limited, 25-piece collection sold exclusively at the boutique. $250 MSRP.
"We found this vintage, European acetate rumbling through a stack of materials," says Heit. "We thought it fit perfectly for Fred Segal, so we wanted to make a collection of amazing eyewear with them."
Launch Party Details
Conveyor at Fred Segal
420 Broadway Santa Monica, Ca 90401
Thursday, April 4, 7-10 pm
For more information, go on the RAEN Facebook for more details: https://www.facebook.com/events/533702326682632/.
RSVP at info@raenoptics.com.
About RAEN
RAEN is a classics-driven brand, aimed at bringing intrinsic value and authenticity to the boutique eyewear market. Our goal is to provide timeless, tangible, quality items that function within our active lifestyles and those of our consumers. We are designers who are determined to continually bring new and innovative products to the marketplace; created for and inspired by the lives we live. For more information, visit the RAEN website: www.raenoptics.com.
---