BACK TO NEWS
EVENT: Switchfoot hosts 9th annual Switchfoot Bro-Am presented by Hurley
Switchfoot hosts 9th annual Switchfoot Bro-Am presented by Hurley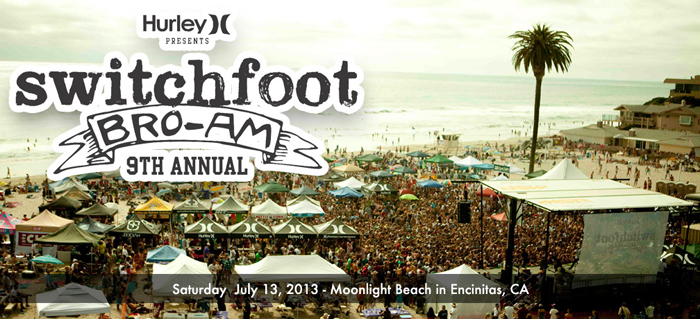 (Encinitas, CA) - The 9th Annual Switchfoot Bro-Am surf contest and concert returns to Moonlight Beach in Encinitas on July 13, 2013. The daylong event features a variety of activities including a charity surf contest, a nerf surf jousting exposition between surf contest heats, The Rob Machado Bro Junior, and a live concert with Switchfoot on the beach. The evening will round out with the annual Belly Up Tavern After-Party. Additional live performances on the beach as well as the Belly Up lineup will be revealed at a later date.
Bro-Am weekend kicks off on Friday, July 12, with an auction night event at which guests will savor signature dishes from the area's leading restaurants. The evening will also include a special live music performance by Switchfoot, stellar silent and live auctions, opportunity drawings, and an exclusive sneak peek of Switchfoot's debut feature film, Fading West.
An annual event near and dear to Switchfoot's heart, the Bro-Am was created to give back to the San Diego community while benefiting local children's charities through funds raised at the pre-event auction night soiree, as well as from vendors on the beach day-of, corporate surf team entries, sponsorships, and an after-party at the Belly Up Tavern. Since its inception in 2005, the Bro-Am has raised more than $715,000 for San Diego-based children's charities. Inspired by the success of the Bro-Am, Switchfoot created the Switchfoot Bro-Am Foundation to continue their mission of supporting local at-risk, homeless, and street kids throughout the year.
"The Bro-Am has been the band's favorite day of the year ever since we started it back in '05," notes Switchfoot's Jon Foreman. "To see our hometown come together to help out a deserving group of kids is an incredible experience - surfing, music, and the San Diego scene at its best."
This year's Bro-Am is proud to welcome back the 2nd annual Rob Machado Bro Junior. Open to youngsters ages 16 and under, the Rob Machado Bro Junior places a premium on the competitor having the most fun. Kids sign up to enter at the Solana Beach Surf Ride location, compete on one of Rob Machado's boards, and stick around for the day's festivities. Rather than a financial donation, entrants bring gently-used surf clothes to the beach on competition day as their entry fee.
Four-person corporate surf teams secure their participation via sponsorship donation to the Switchfoot Bro-Am Foundation. Throughout the years, the contest has featured riders representing Hurley, Billabong, Channel Islands, Transworld Surf, Surf Ride, Macbeth, Dragon, Surfer Magazine, the Encinitas Firefighters Association, and many more, as well as surf legends Tom Curren and Rob Machado, and members of Switchfoot.
Expanding upon Bro-Am's relationship with Hurley H2O, for the past few years, the Bro-Am beach experience has been a "single-use plastic water bottle-free event." Attendees are encouraged to bring a re-usable water bottle to fill up at the H2O station for free, and Hurley H2O provides stainless steel bottles with funds raised supporting nonprofit partners like The Ecology Center.
Continuing its eco-friendly efforts, the Switchfoot Bro-Am will again work with San Diego-based Alternative Power Productions to offer cutting-edge solar-powered sound and staging. Alternative Power Productions utilizes the renewable energy sources of the sun to deliver 100% pollution-free concerts. By using solar power rather than a diesel generator or grid power, the Bro-Am will avoid emitting approximately 1,000 lbs of CO2 into the atmosphere (the equivalent of not driving your car approximately 1,100 miles or the annual sequestration of 66 trees).
More information will be announced as the 9th Annual Switchfoot Bro-Am approaches.
www.facebook.com/switchfootbroam
ABOUT SWITCHFOOT:
SWITCHFOOT - comprising Jon Foreman (vocals/guitar), Tim Foreman (bass), Chad Butler (drums), Jerome Fontamillas (keys/guitar) and Drew Shirley (guitar) - won a GRAMMY for 2009's Hello Hurricane. The band's follow-up album, Vice Verses, earned Billboard's praise for its "powerful, anthemic rockers" and was hailed by Relevant Magazine as SWITCHFOOT'S "most unique" album yet. The band are currently working on a new album, as well as their debut feature film, Fading West, slated to be released in the fall of 2013. www.switchfoot.com
ABOUT HURLEY:
Founded in Huntington Beach in 1999, Hurley is a surf lifestyle brand which designs, markets and distributes industry-leading apparel, footwear and accessories. Fueled by innovation, inclusion and empowerment of youth, Hurley is a wholly owned subsidiary of Nike Inc. with headquarters in Costa Mesa, CA and offices in Tokyo, Sydney, Barcelona and Bali. www.hurley.com
---