Back to News
B$Z: 8 New Colors from Manic Panic by Tish & Snooky
April 2, 2013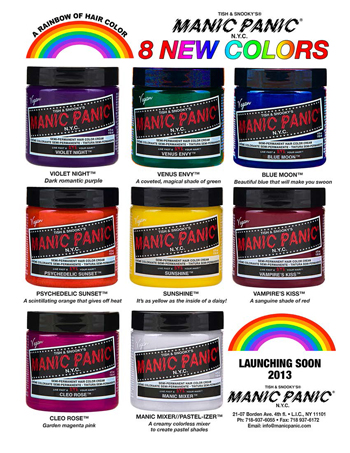 Lightening Your Hair This Spring? Check out these 8 New Colors from Manic Panic
One color isn't good enough these days! The biggest trend in hair is the dip-dye or ombre effect, where the ends of natural or blonde hair are colored with one or more MANIC PANIC® hair colors. Christina Aguilera, Demi Lovato, and Britney Spears are currently sporting this look.
The trend began in 1977 when two NYC-born sisters, Tish and Snooky, (at the time singers in the original Blondie lineup) added some extra ambition to their rock 'n' roll lifestyle by opening MANIC PANIC®; America's very first punk boutique on NYC's infamous St. Mark's Place. Now a household name, internationally-distributed MANIC PANIC® is best known for its hair dyes in every color of the rainbow.
MANIC PANIC® hair color is worn by the most glamorous of pop stars such as Katy Perry, Rihanna, Lady Gaga, Cyndi Lauper, and Nicki Minaj. Countless celebrity stylists use it on high-fashion models such as the beauties that walked the runway for Oscar de la Renta this past season. We see it in magazines, in movies, and just about everywhere on every type of person, age group, and demographic.
MANIC PANIC® Hair Color uses VEGAN ingredients, and is PPD-free. Our product is tested on celebrities, not animals!™
Tish & Snooky, "The Martha Stewarts of Punk Rock", still rock the MANIC PANIC® lifestyle. "We don't just sell it, we live it!"
---