Back to News
Drop MFG Q&A with Chris Gougeon, Senior Designer
April 3, 2013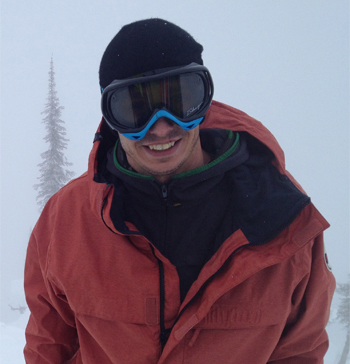 Drop MFG Q&A with Chris Gougeon, Senior Designer
Established in 1998 in Montreal, Canada and Essex Junction, VT, Drop MFG is a technically-driven accessories company run by a tight-knit crew with deep roots in the world of action sports that has been long known as one of the top glove brands in the industry. Being on the cutting edge of glove technology and style for nearly 15 years has provided Drop the opportunity to support a team of world-class snowboarders like Simon Chamberlain and Romain De Marchi.
Chris Gougeon, who grew up snowboarding and skateboarding in Montreal, Canada before studying graphic design at Concordia University, is the Senior Designer for Drop and has been with the company nearly since the beginning and is responsible for the company staying on course of its original plan of making the best performing and looking riding accessories possible.
"At Drop, our design department has always handled all aspects of the design, from marketing materials and packaging to product design and development," explains Chris in an email interview.
Drop is excited to be launching its latest products to be sold in stores starting Fall 2013 and particularly interesting is the all-new MG2 collection of gloves featuring three new styles, including Simon Chamberlain's latest signature model, that feature two brand new technologies; MG2 MadGrip Injection® palms and InSilk™ all-natural silk insulation.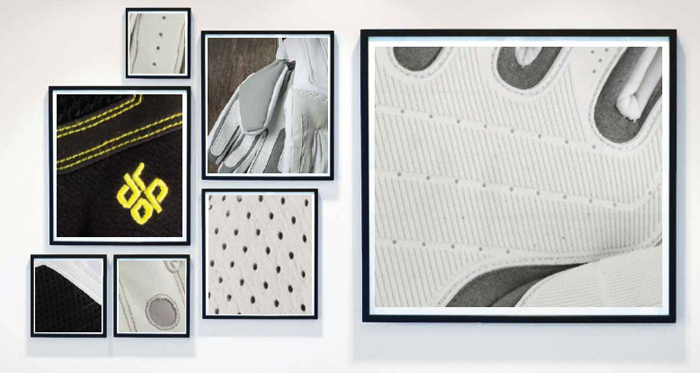 Drop MFG is a technically driven accessories company focusing on gloves. The company's main objective from day one has been to make not only the absolute best riding accessories on the market, but also make them the best looking.
When and where was Drop MFG started?
Drop was started in Montreal, Canada in 1998, but always had its head office in Essex Junction, Vermont. Most of the design and marketing has come from one office, while all logistics, warehousing and shipping has always been out of Vermont.
When did you get involved with Drop and how did you end up in California ten years ago?
I started at Drop in 2001 as an Assistant Designer, at the original Montreal offices. The move to California actually came about from a work opportunity my wife had in L.A. Drop's owners were really understanding of my situation and, after some discussions about the benefits a CA office could bring to Drop, I was able to set up our design office in L.A. and keep doing what I already was from there.
How have you seen the company evolve since you joined the team?
Having been with Drop nearly since its beginning, I've been able to see the brand grow into itself. It's more of a maturing than an evolution. Rather than evolving from one thing into another, we've stayed on course of our original plan of making the best performing and looking riding accessories possible. Our longevity has allowed us to trim the fat along the way, realize our weaknesses and focus on our strengths to bring out the solid, concise line we have today. There's something for everyone, without a lot of overlap.
Drop is currently headquartered in Vermont with offices in Southern California. Can you speak on the company's presence on both coasts?
As mentioned above, the Vermont office (Gordini USA Inc. headquarters) is where all shipping, warehousing and logistics come out of. It's an amazing facility that's crucial to our company. It's also the office that our sales manager, Sean Roberts, works out of. Having our design offices in California on top of the VT location gives us a broader understanding of what's going on across different markets. The fact is, a lot of the snowboard world still revolves around southern California and we're able to be in the middle of it as things are happening. We're also able to attend a lot of industry events, on any given day visit with many of our industry's top media outlets, etc. It helps a lot with brand awareness. Another plus is just keeping up on our personal relationships with team riders, as more of them tend to come through California than Vermont.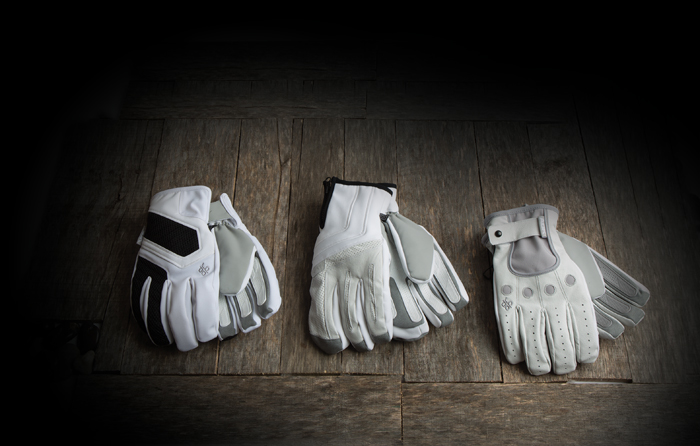 The MG2 Collection from Drop MFG, from l-r: Simonx2, Triggers, The Driver, out in stores Fall 2013.

What has changed with the release of the 2013/14 Glove line compared to product from last year and what's special about the MG2 Collection of gloves?
The biggest change is precisely that; the MG2 collection. It's a series of three styles, including Simon Chamberlain's new signature model. Each style contains two of the newest technologies; MadGrip Injection® TPR molded palms and Insilk® silk insulation.
The Madgrip Injection® palms feature abrasion resistant panels that offer better grip and more durability than any of the silicone printed palms currently available.
InSilk® is a hypoallergenic, all natural, renewable resource that is highly breathable, will not compress and features climate controlled properties; keeps you warm when the mercury drops and cool when temps rise.
Can you provide technical product details on the three styles comprising the MG2 Collection?
Simonx2: $55 -Simon Chamberlain's signature glove. Aquabloc® Waterproof, Windproof, Breathable insert, MG2 MadGrip Injection® palm, HalfCap finger tips, 80g InSilk™ insulation
The Driver: $60 - Aquabloc® Waterproof, Windproof, Breathable insert, MG2 MadGrip Injection® palm, HalfCap finger tips, 100g InSilk™ insulation
Triggers: $65- Aquabloc® Waterproof, Windproof, Breathable insert, MG2 MadGrip Injection® palm, HalfCap finger tips, 200g InSilk™ insulation, trigger fingers construction (½ mitt, ½ glove)
What has been the most popular glove design for Drop in the past?
By far, the most popular design through the years has been the multiple generations of our 'VAC' glove, now in its third or fourth incarnation (was once the 'NeoVac', then 'V.A.C' and now 'V.A.C II'). Part of our 'Lofat' series, it's a waterproof/breathable 'pipe' glove, with our Aquabloc® insert, molded neoprene/stretch twill shell, silicone printed palm and microfleece lining that has always sat around the 40-50$ US price point. I think it's always been at just the right price point for an image driven glove that offers the features most riders are looking for in a lightweight style.
How are you able to keep up with current product and graphic trends in the snowboarding and skateboarding markets?
I walk a lot of tradeshow floors, like Agenda, OR, SIA, etc. to see what's coming next, but I also live and breathe skating and snowboarding. To this day, that is still what I'm most passionate about and why I work in this industry. When you're a part of the lifestyle, a lot of product and graphic trends tend to happen organically. Year after year, no matter how original I think an idea is, I'm always amazed at how many designers and companies end up on the same tip and influenced by the same ideas, without ever having seen each other's work. It goes to show that sometimes there's just "something in the air" (as corny as that sounds).
Where do you draw inspiration?
If I had to pick one area that inspires me most I would have to say sneakers. I've always had a passion for kicks, and I mean all kinds. Not just Jordan 3s-6s (which I love, don't get me wrong), but skate shoes and more. When I was a kid, my bedroom was lined with sneaker ads, from Tony Hawk's original Airwalk to David Robinson's Nike Pumps (yup, Nike did pumps too) to Spike Lee as Mars Blackmon. I just loved and still love shoes. One side of it is for sure nostalgia, but the other side is that the big sneaker companies tend to have the deepest pockets for development and are able to show us what's really possible with different fabrics, molds, stitching/bonding techniques, etc. Plus, they do a great job with colors. I feel like my shoe obsession works well with glove design in particular. I really see gloves as shoes for your hands.
Are there plans to grow the apparel line or are there any other new products in development – watches, hats, boots, outerwear?
I guess the answer to that is never say never but for right now our focus is on our bread and butter; the glove line.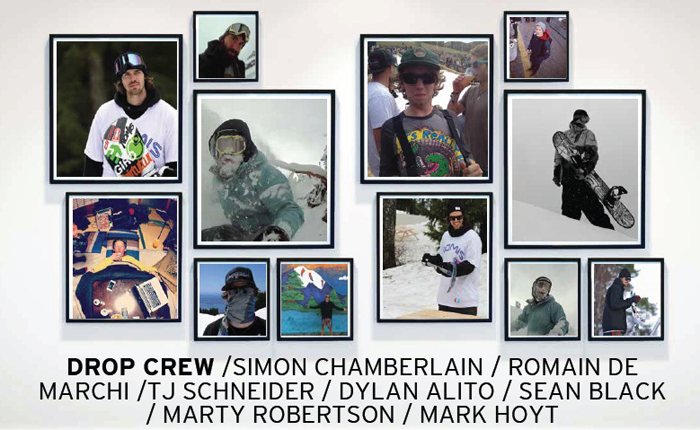 Where do you see the company in another 15 years?
On more people in more countries and markets, and continuing to help people enjoy more of the activities they love; including, but also beyond snow sports.
What makes Drop a great company to work for?
Number one is that I get to work within an industry I have a true passion for, plus I get to do it with people I respect and truly enjoy working with. I also love that I'm able to touch on so many different avenues of design at Drop.
Care to add anything we may have missed?
Keep shredding and having fun!

Thank you for your time and thoughts Chris. For more on Drop head to dropmfg.com and find them on Facebook, Twitter & Instagram.
---