Back to News
B$Z: WorldBlu Certifies NRI as a "Most Democratic Workplace" for 2013
April 9, 2013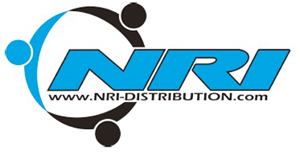 WorldBlu Certifies NRI as a "Most Democratic WorkplaceTM" for 2013
Kamloops, BC (April 9, 2013) – NRI has been certified as one of WorldBlu's "Most Democratic Workplaces" for2013.
WorldBlu, a company specializing in democratic workplace cultures, today announced it is has certified 51 organizations as part of the seventh annual WorldBlu List of Most Democratic WorkplacesTM, published annually on "Democracy in the Workplace Day." NRI Distribution is part of the list along with other great companies such as Zappos.com, Menlo Innovations, Podio& others.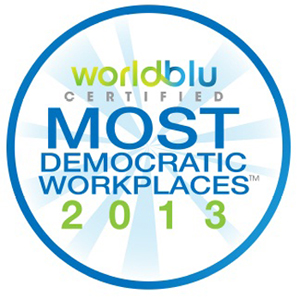 "Over the years, NRI has stayed focused on our core values. When we first heard about WorldBlu, we felt it was an organization that could help us to continue to improve our culture and ensure that NRI would always be a place where people would be happy to come to work." says Bruce Churchill, co-founder and CFO of NRI. "We were very excited to make the list of "Most Democratic Workplaces" with our first employee survey as it confirms our efforts to date have been effective. There is however still much to do and we look forward to working with WorldBlu and its members to become an even more democratic company."
Peter McKenna, NRI co-founder and CEO adds "The greatest insight often comes from inside. We are learning to listen and reaping the reward."
"People would rather work in freedom-centered rather than fear-based organizations," comments WorldBlu Founder and CEO, Traci Fenton. "WorldBlu-certified workplaces model how freedom and democracy unleashes human potential to build high performing companies that change the world for the better."
The organizations ranged in size from five to 50,000 employees representing over $15 billion in combined annual revenue. This is one of the largest and most diverse WorldBlu Lists to date, indicating a global trend towards freedom and democracy in the workplace.
See the full list here – www.worldblu.com
About NRI
Since 1997 NRI has been providing Boutique, Turn-Key Fulfillment services to the Apparel, Footwear, Action Sports, Outdoor and Lifestyle industries. Operating now in the USA and Canada, NRI offers 3PL Pick and Pack services, Inventory Management, Vendor Compliance, Freight, Returns & Repair Management, EDI, Customer Service, and a variety of Brand Support Services. NRI's custom built 3PL Software Suite offers clients access to superior technology and seamless integrations. With years of experience and industry focus – over 50 leading brands of the Apparel, Footwear, Actions Sports, Outdoor and Lifestyle industries entrust their business to the team at NRI.
http://www.nri-distribution.com/
---