Back to News
CLIMB: Kyle Dempster wins second Piolets d'Or Award in four years
April 9, 2013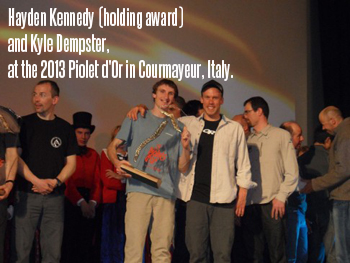 Kyle Dempster wins second Piolets d'Or Award in four years
Outdoor Research-sponsored athlete recognized for establishing first route on south side of Pakistan's Ogre.
SEATTLE, Wash. (April 9,2013) – For a guy who just won his second Piolets d'Or Award, Kyle Dempster remains remarkably understated about the difficult, cutting-edge climbs he's quietly been putting up around the world over the last few years.
Asked last year by a customer in his Salt Lake City coffee shop whether he was a professional climber, Dempster, behind the counter, said that, yes, he did get some money to go on climbing trips, so in that sense he could be considered a professional climber.
This past weekend, Dempster, who's sponsored by Outdoor Research, along with climbing partner Hayden Kennedy, won a 2013 Piolet d'Or Award for their ascent of the Ogre in Pakistan, a peak that has only seen three ascents since its first ascent in 1977. Dempster also won a 2010 Piolets d'Or Award for the first ascent of the north face of 6,422-meter Xuelian West in China.
Dempster and Kennedy's route was the third ascent of the 7,285-meter peak, and the first line climbed from the south. Gaining the upper south face involved a steep traverse across complete rubble and, higher, the team overcame hard sections of mixed ground.
2013 was a unique year in the history of the Piolet d'Or Award. This year, the jury, chaired by British climber Stephen Venables, gave an award to all six teams nominated, the first time that has occurred in the history of the award. They said the number of awards for 2013 recognized the groundbreaking level of the ascents that took place in the past year.
About Outdoor Research
Outdoor Research® is Designed by Adventure®. We provide Innovation and Inspiration for the Relentless Adventurer. Based in Seattle – with in-house manufacturing and prototyping capabilities at our company headquarters – Outdoor Research was founded in 1981 after a failed piece of gear on an Alaskan climbing expedition inspired ideas for a better design. Ever since that first product, the X-Gaiter, put Outdoor Research on the map, we have been dedicated to building better outdoor apparel, gloves, hats and an array of other outdoor accessories informed by real-world testing. We develop innovative, functional, bomb-proof products that are beautiful in their simplicity. Design abides by the maxim 'make it better, not just new or different,' and our gear is backed by our Infinite Guarantee®. We listen, value and empower each other and our fellow adventurers – we invite input from our customers, athlete ambassadors and the International Federation of Mountain Guides Associations Test Team. We're independent, letting us strive to provide the best value to our customers, not shareholders. We are committed to our core sports: alpinism, rock and ice climbing, hiking, backpacking, paddling, trail running, and backcountry and sidecountry skiing. We're growing, as a company and as individuals. And we're having fun along the way.
---