Back to News
B$Z: Goldcoast Cleans Up Its Act with New Brand Identity
April 11, 2013

Goldcoast Cleans Up Its Act with New Brand Identity
GoldCoast Skateboards is unveiling its new Brand Identity this month, a collaborative project with Portland based design firm Cinco Design. The project was started a year ago, as Design Director Dustin Ortiz wanted to bring the identity more in line with the brand as it evolved.
Ortiz says, "The new identity is a more accurate reflection of GoldCoast's brand pillars. Design is at the forefront of everything we do, so the new logo had to reflect that. It also has elements of a path that isn't always a straight shot or clear. Travel and finding inspirations in your surroundings is another big part of GoldCoast's ethos, we try to encourage people to be aware."
Matt Capozzi, product experience director at Cinco, was excited to work with GoldCoast on the project, he and his team helped GoldCoast define the elements of their brand that they wanted to translate into the new identity. Capozzi said, "Our whole design studio is driven by the creativity skateboarding inspires. This project was a great collaboration with the GoldCoast team helping crystallize a brand and product line strategy that gives them the tools to define a unique and own-able design focused space in the market. The new identity reflects the creativity of finding your own line in the world that GoldCoast enables through every facet of their brand."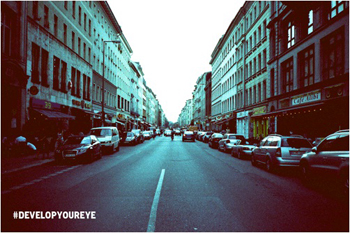 In conjunction with the new branding, GoldCoast is launching a campaign under its "Develop Your Eye" art project. Chris Brunstetter, GoldCoast's marketing director, explains, "'Develop Your Eye' was a photography show we held a few years ago that was unique because of its limited parameters, we asked a group of photographers from different backgrounds to share their perspective over the course of one roll of film, and the exhibit was one night only. Now with the proliferation of Instagram, the project is morphing into a global ongoing art show."
GoldCoast will be picking its favorite photos from the #developyoureye feed for spotlights on their website, social media outlets, and limited printed pieces. Check out this video from GoldCoast Skateboards on Vimeo for more info on the #DevelopYourEye project.
"We are really excited to share our new look with the world, and can't wait to see what they have to show us through the Develop Your Eye project," said Brunstetter. "We're a social group of people, and we want to use the 'Develop Your Eye' campaign to be the images of conversation GoldCoast has with our friends and fans."
About GoldCoast:
GoldCoast's founders, Brock Harris, Chris Brunstetter, Dustin Ortiz and Nate Coen, describe the ethos of the brand here: "Skateboarding and design are at the core of GoldCoast. These two things touch nearly every part of our lives. Design is the language of our creativity; it is the starting point for all our products. We appreciate awareness of little details in our surroundings, our products, and our designs. Our enthusiasm cannot be contained. We want to share stories, ideas, sessions and trips with our peers, and want them to do the same with us. The end goal is to have fun. We don't do what we do for trophies, fame, or titles – we take it easy. Seriously."
For more information, check out skategoldcoast.com.
About Cinco:
Founded in 1998 in Portland, OR, Cinco Design creates connected brand and product experiences for clients in lifestyle, sports, entertainment and technology markets. Cinco views every part of a client's brand, from products and services to communications, as a vital extension of their identity and a chance to tell their story the way it should be told.
---