Back to News
Chris Brunstetter, Co-founder and Sales & Marketing Director for GoldCoast Skateboards
April 12, 2013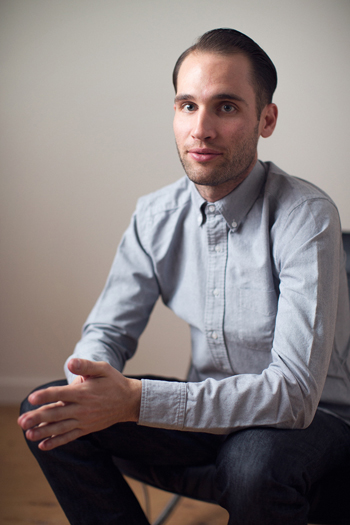 Chris Brunstetter, Co-founder and Sales & Marketing Director for GoldCoast Skateboards
Chris Brunstetter is one of the four founders of GoldCoast Skateboards, a Salt Lake City and California based company that specializes in creating fun products with four wheels and two trucks. Chris started working on the sales side of the industry as a rep after teaming up with Nathan Coan. This eventually led to the pair starting Coan Enterprises, a sales agency still involved with representing Electric and Nixon. Chris and Nate then teamed up with Dustin Ortiz (a former Senior Designer at Nixon who moved to Utah to snowboard) and Brock Harris (a former professional snowboarder riding for Burton) to start GoldCoast in 2009 as a celebration of skateboarding and design.
Along with being a company co-founder, Chris serves as Sales & Marketing Director and is basically the voice of the brand. His primary objective, as Chris explained via email, "is to share the GoldCoast vision of what the cruiser/longboard category can look and feel like."
Just this week, GoldCoast unveiled a new brand identity (complete with a new logo) in conjunction with the company launching a marketing campaign called #developyoureye. The company is asking fans to tag photos of things they love to create a unique and unified view of the world. The images will be shared on GoldCoast's website, Facebook, Twitter, Instagram and limited print pieces in the hopes of generating conversation as the campaign morphs into an ongoing global art show.
"I think we have a unique perspective for using skateboarding as a vehicle (pun) to get people thinking about design, travel, art, and their surroundings," said Chris. "We are really excited to share our new look with the world, and can't wait to see what they have to show us through the #developyoureye project."
#DevelopYourEye from GoldCoast Skateboards on Vimeo.
What did growing up in Utah mean to you personally and professionally?
Personally, growing up in Utah was pretty interesting. I came from a very small town in Washington State, where there weren't "cool" kids or "fashion" so when I got here, I was very much an outcast for not knowing what brands were in style. It made a pretty big impact on me, and I sort of made an effort to not get caught in that situation again, and started looking for "cool" brands and things that I could identify myself with. I think that mindset eventually led me to skateboarding and snowboarding. So, thanks to all the jerk ass kids at Edgemont Elementary for making fun of me for not knowing what "Girbauds" were. If it weren't for you, who knows where I would be.
Can you speak a bit on getting your first job at Salty Peaks at the age of 17?
This was a huge point in my life. Salty Peaks was where I would make my parents take me every week to go check out stuff and I would buy stickers and every so often, a T-Shirt. It's where I learned that there was such a thing as a job in skateboarding and it's where I met my first pro snowboarder in person (Brandon Ruff). I looked up to that generation of Utah snowboarders so much, Brandon Ruff, Jason Murphy, Tonino Copene were my idols, and I could actually run in to them at Salty's. I hung around so much that I got to know the managers and one day they told me I should go talk to Dennis (Nazari) about a job. I couldn't believe that I was finally cool enough that they would ask me to work there, little did I know that the only reason there was a job opening at all was all the guys that I looked up to had just quit to go work and ride for Milosport. Suddenly it was all about Milo - with Forum, JP and Jeremy just blowing up. I didn't care though. I was working at my dream job. Dennis did a great job trying to teach me about business, about the industry, and I am really thankful he gave me the opportunity. I was a terrible employee, but I really did love that job for a while.
When did you first get involved in sales within the industry?
I got to a point where Dennis and I weren't getting along very well (see "terrible employee" above) and I wanted to get out of the shop. I didn't want to get out of snowboarding and skateboarding though. So one day our Burton sub-rep, Nate Coan, came in to the store decked out head to toe in Foursquare and Forum gear and told me he just got a job as the Fourstar Distribution rep. I didn't know the first thing about reps, other than they were the people I would bust balls with during clinic season, but I told him if he ever needed any help, to give me a call. He did, and we started working together doing Forum, Foursquare, Special Blend and C1RCA. We later were offered Electric when they first started, and the next year picked up Nixon. From that point we started the sales agency, Coan Enterprises, which is still involved with representing Nixon and Electric, and has a great group of people involved with it.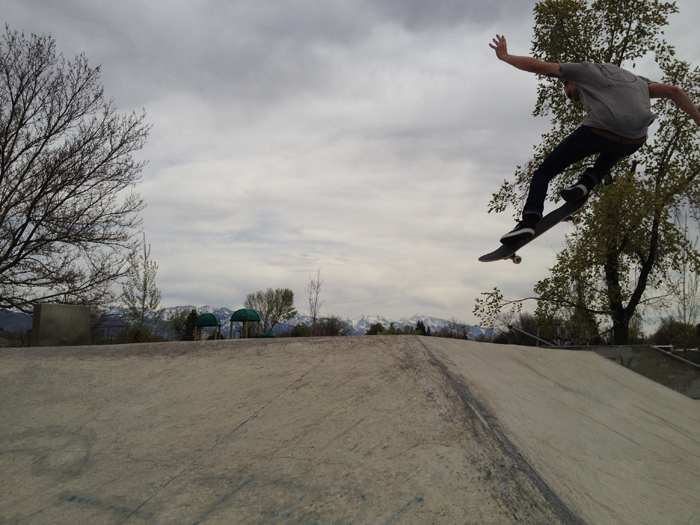 Chris hard at work.
What was your last position before joining GoldCoast Skateboards?
I was a managing rep for Coan Enterprises, handling the Program brands, C1RCA, Nixon, and Electric for the Intermountain/Rockies region. I was also doing most of the regional marketing and merchandising for those brands in Utah. It was an unbelievably fun and rewarding job. Nate and I really worked hard to establish the agency as a business, not just a guy at the top with a bunch of people working for him. We wrote our own company manual, put a lot of systems in place that they still use today, and had a formula that attracted and produced some really talented people in the industry.
What aspects of your previous work experience have enabled you to succeed in your current role and what are the main differences between your previously held positions and the duties you are currently responsible for with GoldCoast?
Having worked with some of the best brands in the industry from the time when they were very young, gave me some great insight in to what it takes to make a category-leading brand. Coming from the sales side of the business, we had great connections with retailers and reps that we wanted to partner with. The skateboard category was nice, because we were able to work with very established rep groups since we didn't conflict with their existing lines. The biggest difference between what I was doing before and what I'm doing now is mainly scale. Before I had a couple reps that worked for our agency that I was managing, now I am working with a US sales force and International Distributors. Before, I was trying to translate our brand's messages to a regional audience, now I need to convey GoldCoast's brand message globally.
What are your primary objectives as sales and marketing director for GoldCoast?
My main objective as the Sales Director is to make GoldCoast a category leader for our retailers, to be a good supplier, and to be a brand that sets the standard for what a good partner should be. As the marketing director, my primary objective is to share the GoldCoast vision of what the cruiser/longboard category can look and feel like. I think we have a very unique perspective for using skateboarding as a vehicle (pun) to get people thinking about design, travel, art, and their surroundings.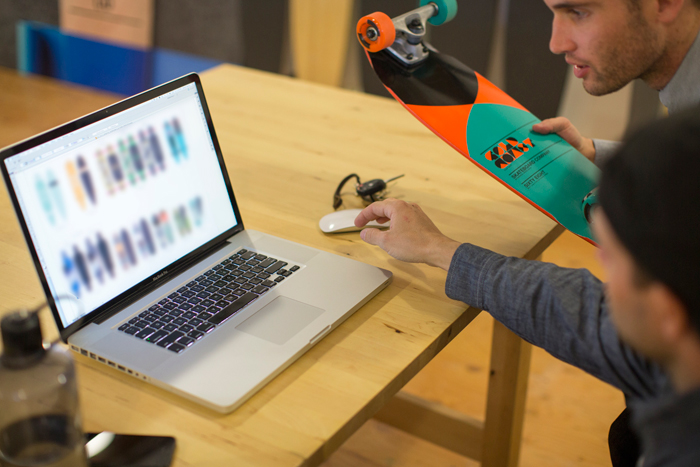 Chris at work on the GoldCoast collection.
What is a day in the life for you right now – are you generally in the office 5 days a week or are you required to travel for work?
It's a good balance; I'm in the office 70% of the time generally. The travel aspect is something I really love about this job and getting to work with people all over the world is something I have a lot of passion for. Dustin, our design director is based out of California, so we usually have Skype open all day, to chat about ideas, send files back and forth. It's not the same as having someone next to you, but it works out pretty well. We're a tight crew, so my days are spent working on different aspects of GoldCoast with everyone in the office. Operations, planning, and forecasting, with Nate (our CEO) looking at new prototypes and board designs with Brock (our product director), writing copy, naming products, planning tradeshows, talking with reps and distributors, lots of varied problems to solve. It's exciting.
What has been the biggest challenge for you in your position at GoldCoast?
Managing both the marketing and sales side of my brain. I think anyone who's had to manage both of these departments simultaneously can attest to the fact that it's very difficult to shift from the immediacy of sales, to the more future based timeline of marketing. They're so symbiotic that you need to feed both sides, or you're in trouble.
What is the most rewarding aspect of what you do?
Seeing ideas come from inside my head, into the real world, and having them impact people. We get emails from people sometimes that use verbiage that I wrote, or thanking us for inspiring them, and that makes me really stoked.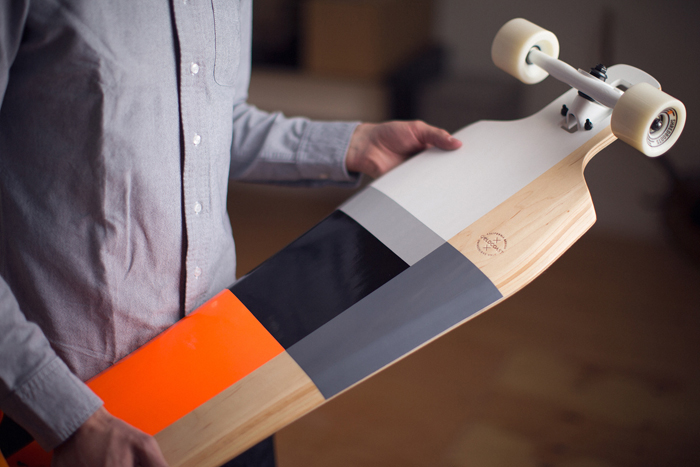 Chris with the GoldCoast Pressure Skateboard.
What are the most impactful lessons you've learned working in the industry?
Don't screw people over. This industry is small enough that if you are shady, people will know.
This is bigger than just a job. When you work in this industry, you have the power to make an impact on something that will live on with kids for generations. I get bummed sometimes that I was too young to ever have had the opportunity to work at "Big Brother", or at Girl when "Mouse" was being made, but I just tell myself, "You can do something that will affect someone else as much as those things affected you. "
What advice would you give to someone who is building a career in sales in the action sports industry, or looking to start one?
Go work for a brand you love, first and foremost. I know that's not always possible, but chase it anyway. It makes it so much easier to put in your best work if it's something you really believe in. Work at a shop. Get to know about buying, merchandising, selling, as much as you can about the whole process. That way you can really do the most for whatever brand you wind up working with. If you're not having fun most days, you're doing it wrong.
Which board is your personal favorite from the GoldCoast product line?
Right now it would be The Beacon. That thing is so fun!
Care to add anything we may have missed?
Thanks to all people who have supported, inspired, contributed to, and believed in GoldCoast. Thanks to skateboarding for being a constant source of fun for most of my life. Thanks to all the creative people that have shown me the immeasurable value of doing rad work.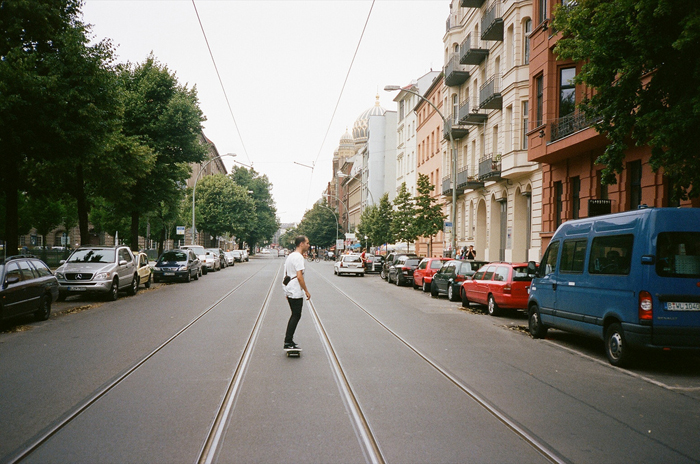 This image of Chris skateboarding is part of #developyoureye, the ongoing art show held by GoldCoast Skateboards.
---