Back to News
TRI: BH pro triathletes are set to dominate at the ITU World Triathlon Championships
April 15, 2013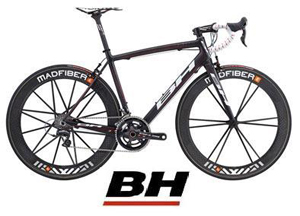 BH pro triathletes are set to dominate at the ITU World Triathlon Championships in San Diego, California
Foothill Ranch, CA – Leading Orange County fitness-equipment and bike manufacturer, BH North America announces that 3 of their professional triathletes; Fernando Alarza, Mario Mola and Joao Silva will be participating at the prestigious ITU World Triathlon April 17th–20th in San Diego's Bonita Cove in Mission Beach.
Experience firsthand how BH Fitness equipment and BH Bikes have made a difference in the training regimen of our pro athletes. Reigning 2012 U-23 Champion, Fernando Alazra who was also a winner at the European Cup of Triathlon, 2012 Olympians João Silva who took 3rd in ITU World Triathlon Auckland, and Mario Mola who had a 1st place victory at ITU Triathlon Pan America Cup in Clermont Sarasota and more recently had a 2nd place win at ITU World Triathlon Auckland.
Bob Whip, President of BH North America stated, "Our athletes are excellent Brand Ambassadors for BH. While the tri season just started, our athletes have consistently hit the podium at the last 4 global events. Training on BH Fitness equipment and BH Bikes makes all the difference in performance and we are proud to have contributed to this success."
The ITU World Triathlon Series is an innovative series that allows the world's top athletes to compete head-to-head on an ongoing basis and features eight world-class events including the exciting "Grand Final" of the elite men racing. The Elite Men's Race of over 70 world-class athletes is set to take place April 20th from 4 p.m. – 6 p.m.
For more product information visit www.BHFitnessUSA.com or www.BHBikes-US.com Photos and bio's of BH athletes can be accessed at www.BHFitnessUSA.com or on individual athlete's sites at: www.JoaoPedroSilva.net, www.FernandoAlarzaTri.BlogSpot.com, www.MarioMola.com.
About BH Fitness
BH Fitness is a multi-national company within the BH Group, headquartered in Spain and creating quality products for over 100 years. Built on a legacy of producing high end, user-focused fitness equipment for the home, light commercial and full commercial settings, BH Fitness manufactures and distributes treadmills, ellipticals, upright bicycles, recumbent bicycles, indoor training cycles, whole body vibration platforms and strength equipment. With distribution and operations in North America, Spain, Mexico, Asia, UK, Portugal and Germany, BH Fitness products can be found in more than 65 countries worldwide, making BH Fitness one of the most trusted and widely used fitness brands available today.
For more information visit www.BHFitnessUSA.com. The mark "BH" and the design mark BH Fitness are registered trademarks and used by BH North America Corporation under license from their owners.¬
About BH Bikes
BH Bikes is one of Europe's most prestigious bicycle makers and have built the brand into one of the most established and successful in the world of cycling. Since our inception, BH Bikes painstakingly engineers, designs, tests and builds bicycles that climb with ease, descend with confidence - always putting rider performance and comfort out front. It's no wonder BH Bikes won the first Vuelta a Espana in 1935, and has won it six times since. BH Bikes has also enjoyed carrying the yellow jersey for eight straight stages in the 2009 Tour de France.
Today, BH Bikes capitalizes on a history of more than 100 years of setting performance standards in an industry inherently driven to innovate what we ride and race. BH Bikes has developed a specific line of higher performance bicycles that are lighter, stiffer and more ergonomic than the competition. We manufactured the first monocoque carbon frame weighing less than 800g, placing our frames among the lightest and most efficient in the world and creating a new category - Ultralight Bicycles. For more information visit www.BHBikes-US.com.
---