Back to News
WIN: Could You be the next O'Neill stylist?
April 15, 2013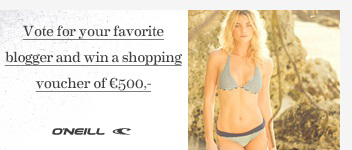 Could You be the next O'Neill stylist?
Warmond, The Netherlands - Calling all budding female fashion stylists! Do you think you've got what it takes to join the O'Neill fashion team helping to style our next fashion shoot? Enter O'Neill's Mix & Match, Style & Share contest and you could find yourself on a tropical beach location on the styling experience of a lifetime. If style and creativity flow through your veins and you want a chance to join top models, pro-surfers, an elite fashion photographer and one of Europe's leading fashion bloggers on our shoot, just follow these easy steps to enter the competition.
How to enter:
1. Log onto www.fashiolista.com/mixandmatch and LIKE O'Neill
2. Select your favorite combination of the new O'Neill MIX & MATCH bikini
3. STYLE the bikini up with any four other favorite items from Fashiolista – be it shoes, accessories or clothing
4. SHARE your outfit with your friends on Facebook
Five finalists
The O'Neill judging panel will pick their five preferred outfits and send these finalists a Mix & Match bikini to style up on themselves for real, using anything from their wardrobe. These five girls then need to email a photo of their finished look by 29th of May and the judges will decide on the winning look that shows the most individuality, creativity and style.
This is not a model competition and entries are not chosen based on model looks or a perfect figure! Creativity is most important and it doesn't matter how much/little of the bikini is on show in the outfit. Or just vote for your favourite blogger-look to win a €500,- shopping voucher If styling isn't your thing you can still get involved and win a €500,- shopping voucher at O'Neill eshop by voting for your favorite blogger-look.
Six top European fashion bloggers will also be styling up a bikini and posting their finished outfit on Fashiolista. The blogger with the most votes will join the contest winner on our fashion shoot whilst you could win your voucher by just for voting! So stylists, what are you waiting for? Get Mixing & Matching, Styling & Sharing and launch your fashion career! Or simply just get voting for your chance to win a bikini!
The rules
Competition runs until May 20, 2013 and all entrants must be over 18 & female.
ABOUT O'NEILL GIRLS
O'Neill Girls is dedicated to and inspired by the adventurous and free-spirited young female. Driven by O'Neill's heritage as the original California surf brand since 1952, O'Neill Girls stay true to its roots while offering a unique fashion perspective that is modern and fresh. Featuring a range of styles for all seasons, the O'Neill Girls range includes a blend of effortlessly cool dresses, tees, casual jackets, bikini's, Lycra's, wetsuits and accessories. Featured in hundreds of influential magazines and available in more than 85 countries around the world, O'Neill Girls reflects its personality through its innovative and fashion-forward collections, signature events, and exceptional athletes. With talented team riders including Malia Manuel and Sage Erikson in surf, the brand is committed to taking the active girl from the beach to the street in style and comfort.
---