BACK TO NEWS
EVENT: 14th Annual Newport Beach Film Festival Announces 2013 Action Sports Film Series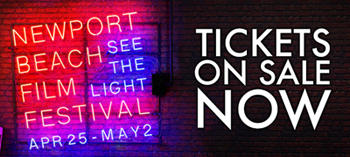 14th Annual Newport Beach Film Festival Announces 2013 Action Sports Film Series
ChopShop returns as co-producers for the fifth consecutive year.
Newport Beach, Calif. - April 18, 2013 - The Newport Beach Film Festival (NBFF) proudly announces its 2013 Action Sports Film Series (ASFS), an international showcase of films celebrating athletes, visionaries, filmmakers, cinematographers, pioneers, environmentalists, entrepreneurs, artists and designers who have shaped the action sports culture and cultivated its progression with their innovation, energy and creativity. Emerging on the forefront as the largest action sports cinema event in the nation, the NBFF Action Sports Film Series will take place during the week of the Newport Beach Film Festival (April 25 - May 2, 2013) in Orange County, CA, a location celebrated as the epicenter of the surf wear and action gear industry and the ultimate destination to experience music infused cutting-edge adventure on the big screen. Films will screen at Island Cinema (999 Newport Center Drive in Newport Beach), Triangle Square (1870 Harbor Boulevard in Costa Mesa), The Port Theater (2905 East Coast Highway, Corona del Mar) and at the Regency Lido Theatre (3459 Via Lido Drive in Newport Beach).
The Action Sports Film Series offers filmgoers an opportunity to experience breathtaking cinematography on the big screen, fascinating cultural journeys, in-depth portrayals and compelling stories that explore the physical, emotional, historical and spiritual realms of surfing, skateboarding, skiing, windsurfing, kayaking, base jumping and other extreme sports. Highlights include red carpet film premieres, spotlight screenings, post-parties, filmmaker panels, athlete guest appearances, autograph signings and the participation of action sports industry leaders.
Co-produced by the Newport Beach Film Festival and Orange County-based ChopShop, a leading film production company. The Newport Beach Film Festival Action Sports Film Series has support from Skateboarder Magazine, Surfing Magazine, Shop-Eat-Surf, Group Y, Malakye, International Association of Skateboard Companies and Board Retailers Association, the NBFF Action Sports Film Series will spotlight seventeen (17) films from around the world.
Tickets to the screenings are $14 for adults and $12 for seniors and students. Tickets are available at www.NewportBeachFilmFest.com
2013 NEWPORT BEACH FILM FESTIVAL ACTION SPORTS FILM SERIES LINEUP
Anything Sing
(2013, USA, 25 minutes)
Directed by Kai Neville, Victor Pakpour
Featuring: Luke Davis, Nick Rosza, Conner Coffin, Mick Fanning, Ford Archbold, Beau Foster, Shane Dorian, Alana Blanchard
The world is filled with distractions. Everything around us blinks, rings, sings, shouts, distracts, vibrates, reminds, likes, comments and downloads. The chaos and beauty of the world is overshadowed by technological distractions and tweets that possess no lasting significance outside the screen they're displayed. We seek to rise above that chaos by creating our own environments and settings. On different surfaces. New canvases. On concrete. On walls. On water. On arms, with ink. Permanently. Like moments.
Away
(2012, USA, 14 minutes)
Directed by Elisa Bates
Featuring: Katrina Del Mar, Jee Mee Kim, Mary Leonard
Explore the subculture of the New York City surfing scene through the lens of a few women, divulging the highs and lows of riding waves at Rockaway Beach, Queens.
BIRDMEN: The Original Dream of Flight
(2012, USA, 43 minutes)
Directed by Matt Sheridan
Featuring: Ellen Brennan, Matt Gerdes, Mike Steen, Palmer Pattison
For millennia, humans have looked to the sky and dreamed of arcing through the air, like birds. And now, after hundreds of thousands of years, the dream of human flight has become a reality: humans can fly. Wingsuit BASE Jumping is a dangerous and deadly sport that requires years of training, but a select few have committed their lives to the pursuit of the purest form of human flight.
Children of the Wind
(2012, USA, 95 minutes)
Directed by Daphne Schmon
Featuring: Gbenga Akinnagbe
The Bonaire windsurfers, a group of native kids under the mentorship of the remarkable Elvis Martinus, founder of the Bonaire Aquaspeed windsurfing club, overcame insuperable odds to dominate and revolutionize an inherently elitist sport. When Tonky, Tati, and Kir, three kids who refused to be defined by the limits of their circumstance, decide to attend windsurfing's North American Championship in Florida, they embark on an incredible journey that takes them from humble beginnings to international fame in the sport of windsurfing, transforming not only their tiny island but the face of the sport worldwide.
Congo: The Grand Inga Project
(2012, USA & Congo, 60 minutes)
Directed by Steve Fisher
Featuring: Steve Fisher, Tyler Bradt, Ben Marr, Rush Sturges
Legendary kayaker Steve Fisher and his elite expedition team battle seemingly insurmountable obstacles, navigate the maddening politics of a crooked country, and face their own worst fears in an attempt to be the first explorers ever to survive the Inga Rapids.
Cranberry Wake
(2012, USA, 8 minutes)
Directed by Alex Horner
Featuring: Ben Horan, Brian Grubb
What happens when wake boarder is pulled through a flooded cranberry bog?
Discovering Mavericks
(2012, USA, 96 minutes)
Directed by Josh Pomer
Featuring: Jeff Clark, Richard Schmidt, Flea, Peter Mel, Jake Wormhoudt
Mavericks is California's most notorious big wave and most people didn't even believe it existed. Not only is it off the coast of Northern California but it is one of the most dangerous and incredible waves that surfers can ride. With interviews from many of the pioneers of big waves surfing, this film gives firsthand accounts on the history, the danger and the excitement of catching one of the best waves in the world.
European Surf Journal
(2012, USA & Portugal, 53 minutes)
Directed by Peter Sterling
The epic journey through Europe featuring the best waves and surfers from 10 European countries that features adventure surfing to the extreme in Iceland, Scotland, Ireland, Germany, Denmark, Portugal, Madeira and Spain.
Wednesday – 5/1 – 6:00 – Island Cinema
Gauchos del mar- Surfing the American Pacific
(2012, Argentina, Chile, Costa Rica, El Salvador, México, Perú & USA, 59 minutes)
Directed by Julian Azulay
Featuring: Julian and Joaquin Azulay
Julian and Joaquin Azulay, two Argentinian brothers, travel from Los Angeles to Buenos Aires to follow their dream of surfing the American Pacific coastline. Their adventure takes them through different cultures, villages, food, people, and landscapes as the surf their way home.
HeartChild
(2012, Ireland & USA, 103 minutes)
Directed by Ben Duffy
Featuring: Crys Worley, Sasha Worley and Peter Karvonen
When Crys introduced her autistic son Sasha to skateboarding, she was surprised to see him not only instantly in love with the sport, but that he was able to function at the skate park better than anywhere else before in his life other than home. Inspired by the challenges that parents of autistic children face, Crys started a nonprofit organization called A.Skate - Autism. Skating with Kids through Acceptance, Therapy, and Education. Today, parents with autistic children line up to take part in the group activities, and are amazed with the results.
Isolated
(2012, Indonesia & USA, 106 minutes)
Directed by Justin Le Pera
Featuring: Travis Potter, Jenny Useldinger, Jimmy Rotherham, Josh Fuller, Andrew Mooney
A group of merciless surfers and modern day explorers embark on a journey to search for one of the world's last undiscovered waves in the journalist dead zone island of new Guinea. Their adventure becomes all too real as they encounter real life cannibals, uncover governmental genocide, expose highly unethical gold mining corporation and are followed by the military only to be later kidnapped by the rebel freedom movement. Enjoy never before seen footage of a dying aboriginal culture as well as one of the most epic wave discoveries of the past 20 years.
The Motivation
(2013, USA, 88 minutes)
Directed by Adam Bhala Lough
Featuring: Nyjah Huston, Paul Rodriguez, Chris Cole, Bastien Salabanzi, Chaz Ortiz, Luan Oliveira, Ryan Sheckler, Sean Malto, Rob Dyrdek
Eight of the world's best pro-skateboarders prepare for the upcoming Street League Championship in NYC. Each equally talented, they all must overcome unique challenges—family pressures, injuries, money, fame and their own internal struggles—for a chance to win $200,000 and the title of best street-skateboarder in the world.
The Signal Hill Speed Run
(2012, USA, 90 minutes)
Directed by Michael Horelick, Jon Cornoy
Narrated by: Ben Harper
In 1975, the Guinness World Records TV show asked skateboard promoter James O'Mahoney to stage a skateboard race which resulted in the world's first skateboard contest, known as the Signal Hill Speed Run. It soon turned into an annual event with crowds over 5,000 people along with television crews and national coverage. Signal Hill Speed Run shows the evolution of this downhill dash, which became notorious in its day and began attracting daredevils of all types. It became a singular microcosm of the exploding skateboard culture worldwide, until closing for good in 1978 when a stunt woman had a brush with death, crashing at 60mph.
Tempting Fear
(2012, Canada, France, Norway, Peru & USA, 25 minutes)
Directed by Mike Douglas
Featuring: Andreas Fransson, Bjarne Sahlen, Paul Roderick, Magnus Kastengren, Xavier De La Rue, Felix Hentz, Morgan Shalen
A Swedish skier, who is known for extreme adventures and his near death experiences, explores a place where fear overwhelms all emotions.
WE: A Collection of Individuals
(2012, Canada, France, Switzerland & USA, 65 minutes)
Directed by Cody Carter and Peter Alport
Featuring: Sean Petit, Pep Fujas, Karl Fostvedt, Bobby Brown, Clayton Vila, Dane Tudor, Leigh Powis, Banks Gilberti, Cam Riley, Sean Jordan, Sammy Carlson, Bene Mayr, Paddy Graham, Josh Stack, Charley Ager, Mike Henitiuk, Riley Leboe, Joe Schuster, Joss Christensen, Alex Schlopy, Alexi Gosbout
Venture behind the scenes of the life and times of the modern day skier. While long considered and individual sport, skiing is a collaborative art that takes the energy of many different venues and styles, the core remains within the crew of individuals that help scout, build, transport, struggle, and keep each other safe. Follow one season in the lives of several influential skiers as they travel the world in search of epic powder lines.
Where The Trail Ends
(2012, Argentina, Canada, China, Nepal & USA, 81 minutes)
Directed by Derek Westerland and Scott Bradfield
Featuring: Darren Berrecloth, Cam Zink, Kurt Sorge, James Doefling, Andreu Lacondeguy
The world's top freeride mountain bikers search for untraveled terrain around the globe, ultimately shaping the future of big mountain freeriding. This unparalleled story documents man's continued challenge of Mother Nature showcased through a cast of colorful characters. This is the most progressive and ambitious mountain biking ever attempted resulting in an entertainment adventure unlike anything experienced before.
Youth of Yangon
(2013, Myanmar & New Zealand, 12 minutes)
Directed by James Holman
Youth of Yangon documents the emerging skateboard youth culture in Myanmar. It is a new voice of new generation, one that is not restricted and shut out from the rest of the world. It is a struggle to find a place in a rapidly developing country, a struggle to be supported doing something they love.
ABOUT THE NEWPORT BEACH FILM FESTIVAL
The 14th annual Newport Beach Film Festival runs April 25 – May 2, 2013 and will spotlight over 350 films from around
the world. www.NewportBeachFilmFest.com
ABOUT CHOPSHOP
Orange County-based ChopShop is a film and video production company that specializes in creating content for the youth market. The ChopShop team of professionals takes projects from concept to completion for airing on broadcast, cable, web, mobile, events or DVD. www.chopshoptv.com
---