BACK TO NEWS
Jacob Henley, Founder of Salemtown Board Co.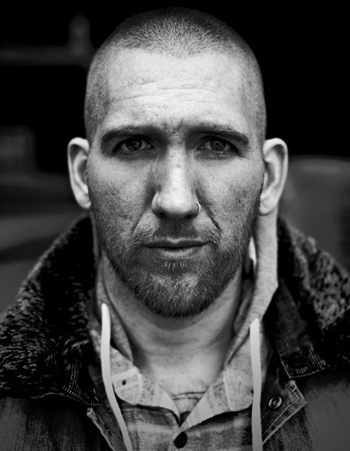 Jacob Henley, Founder of Salemtown Board Co.
Salemtown Board Co., named after the north Nashville neighborhood where the company is based, is a business with a cause. SBC was founded last year by Jacob Henley with a vision to create a positive impact in the local community by building custom, beautiful hand-made skateboards and is on a mission "to employ, train, and mentor urban youth in the Salemtown neighborhood located in the inner city of Nashville, TN."
According to the company website, "Every board is cut, shaped, finished, and painted by hand and topped with our special extra-grippy poly/tread blend. Proceeds from every board go into a college fund for the youth we employ."
We spoke with Jacob Henley, the founder of Salemtown Board Co., who also personally hand paints all the boards he can - each a unique piece of art. Wood for the boards is cut locally by co-founder and partner Will Anderson. Assembly & sanding duties are covered by a 17-year-old local high school junior named Kendrius, who is on track to earn a $5,000 scholarship from SBC by the time he graduates next spring.
"I've always had an entrepreneurial spirit but never really had an idea that would stick," explained Jacob. "I was tossing around ideas about how I could spend more time with some of the kids in the neighborhood, especially young men without Fathers in the home and without any visible, positive male influences. When the skateboard idea came along I knew it was the perfect fit...This is when Salemtown Board Co. was born."
How did you come up with the idea to pair skateboard manufacturing and community activism, what was your initial inspiration in starting Salemtown Board Co. and where does the name come from?
Salemtown is a neighborhood in inner city Nashville. My wife and I have lived in the neighborhood since 2010. We moved here on purpose because we had a heart for the neighborhood and wanted to live somewhere intentionally where we could make a positive impact, especially in our neighbor's lives. We naturally became friends with a lot of the kids in Salemtown, and quickly saw that there was a shocking defect of positive male figures in the neighborhood including a widespread lack of Father's in the home. I've always had an entrepreneurial spirit but never really had an idea that would stick. I was tossing around ideas about how I could spend more time with some of the kids in the neighborhood, especially young men without Fathers in the home and without any visible, positive male influences. When the skateboard idea came along I knew it was the perfect fit. Instantly I got a vision for a place that could employ, train, and mentor some of the kids we had grown to love in Salemtown. This is when Salemtown Board Co. was born.
What does being based in Nashville mean to you personally? What's so special about the city?
Nashville is not what most west coasters or people that have never been here imagine it to be. It is so much more than country music and cowboy hats. To me, Nashville is the perfect blend of city and small town. There is an incredible arts culture here. Nashville is a culture producing city, a hub for health care, education, art, film, culinary arts, music, artisan goods, innovative start-ups, with a healthy skate and BMX scene. You're more likely to see a guy covered in tattoos with an impressive waxed mustache riding a 1960's rebuilt motorcycle who plays keys in a funk band and makes coffee tables out of reclaimed barn wood, than you are to see someone dressed like a cowboy. It's almost impossible to meet someone who is from Nashville originally. Most people in the city have transplanted here from Brooklyn, Seattle, Portland, LA, NYC, etc.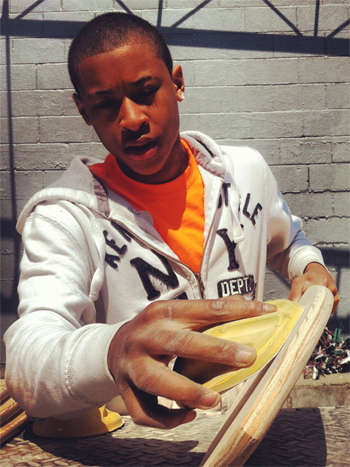 And how about Salemtown in particular - what brought you to Salemtown and can you describe briefly the neighborhood and its inhabitants?
Salemtown is a fascinating neighborhood. If ever gentrification was happening it is in Salemtown. I can literally see 10-12 new homes from my back porch. It seems like a house gets torn down every day. At the same time my house is right next to a condemned home and a section 8 public housing unit. This is an honest snap shot of the community. One by one people who have lived here for 40 years are getting offers on their homes from developers, which were not even for sale, that they cannot refuse. We hear gunshots on a regular basis and burglaries are common. People from a diverse range of demographics economically and racially live side by side, often in genuine friendship and harmony. We love Salemtown and its inhabitants - young/old, rich/poor, black/white.
What is a typical day for the SBC crew at the loading dock space in Salemtown?
The shop is a raw space - concrete from top to bottom with no plumbing, heat or air. Our landlord gives us the space for free to support the cause which is amazing! We've got the shop split into 2 sections, one for cutting, shaping, sanding the blanks, and one for staining, painting, polying, and assembly. Kendrius (a 17 year old young man from the neighborhood) usually rolls in around 3 when he gets off of school. He's is in charge of sanding and shaping every blank as well as assembly. There's generally 2 bay doors wide open, a lot of sawdust, loud music, spray paint, and bear concrete walls with scattered graffiti I throw up when I need to scratch that itch. The area with the saws and drills is entirely on a slant. After all it is an old loading dock but it's where the magic happens.
Can you describe Kendrius' role at Salemtown and could you detail any other current employees?
Kendrius works about 8-10 hours a week right now after school. He'll be a high school senior next year. He's going to be working full days and many more hours this summer as he's out of school and our sales are picking up. I often have a fulfillment manager who donates her time and someone who helps me stain and paint part-time. Our plan and hope is to bring another young dude from the neighborhood that we know well (Steve) on board this summer to help us pick up the slack and keep inventory up.
SBC is contributing a portion of all board sales to Kendrius' college fund - what is the current total?
We are right around $500 bucks right now but our goal is $5000 by year end. Kendrius wants to attend a local art college. We want to make that dream come true. He loves to draw.

What impact have you felt locally in working with urban youth?
I feel like I'm doing what I'm supposed to be doing. Seeing kids warming up and beginning to trust us, and knowing that we and our homes are safe places is wonderful. Genuinely loving a kid, with no strings attached, when they have maybe never received that kind of love from a man before is awesome.
Honestly the best part so far was a few weeks ago. We told Kendrius we were picking him up for work, but we took him to the mall instead and gave him $200 just to blow. We told him we loved him, were proud of him and thankful for him. If that was all we ever got to do this all will have been worth it.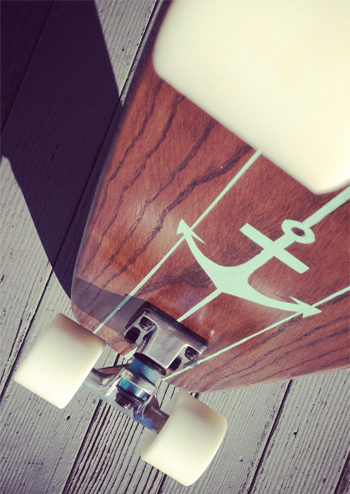 Can you speak on your product line - what's special about SBC skateboards?
I was born in 1980 so the first shape, our cruiser, was inspired by that era of boards. The cruisers are solid, locally sourced oak. We use quality trucks, bearings, and wheels. Each board is a one-of-a-kind work of functional art. We want people to have the option to hang the board on the wall as a piece of art or ride it for years and hand it down to their kids because it lasts. Everyone loves the way they ride. We haven't had a single complaint. I ride mine 6-7 blocks to the shop and back on a regular basis.
We've been making the longboard shape for about a month. We use oak ply for these boards so that they can have a little more play. These boards are 30 inches with a fish tail and wider trucks. The response and feedback for these has been crazy as well.
How do you see your product evolving over time and where is there room for improvement?
We need to get our cost per board down. We hope to always be innovating our designs and continue to release new shapes if the people want them. We've only been operating since Thanksgiving of 2012 so we are still fine tuning the process and learning as we go. We hope to become more efficient with each step and maybe build a paint booth soon. We will likely experiment with other hard woods before long. As far as the quality of the boards, right now we can't imagine that getting better, though I'm sure it well. The first board we made was close to perfect and they're only getting better as we go.
Our dream is to have a warehouse someday with hundreds of employees being trained and mentored in screen printing, leather work, carpentry, knife making, bicycle building...who knows. Each of these things might have a separate name or it may all be under Salemtown. We just want to impact as many kids in a positive way and equip them with vocational and life skills that they may have not learned without us.
We also have tossed around the idea of a 'franchising' of sorts, just giving the business model away and training other leaders to start a Salemtown Board Co. in their own neighborhood.
What do you have in the works for SBC besides cutting, painting and assembling skateboards? Is there anything exciting coming up like new product or any upcoming events?
Man the exiting thing is how people are responding and how much the buzz continues to build. I'm getting hit up by folks from Quiksilver, Volcom, Element, Vogue Magazine, and tons of other places I never thought would hear about us - all because people believe in the cause and want to lend a hand. We'll take all the help we can get!
We're working on some more apparel for folks who want to help but don't want or can't afford a board. A designer at Volcom is helping us out with some designs. We've tossed around the idea of other stuff, but we want to stay focused on skateboards for a LONG time.
Can you speak on producing custom boards for celebrities like Jeremy Lin, Brad Paisley, even Ellen DeGeneres - what do you hope to accomplish there?
That was my marketing strategy at first. Some people I had direct contacts to. Others, I knew a guy who knew a manger type situation. I met Brad Paisley's personal pilot randomly and made him a board that matched his guitar, glitter and all. I know that he got the board in his hands, but never got any type of shout out. He's probably a busy guy. We send each person a letter with the board and ask for a tweet or for any way they can help spread the word. I've got a connection with a hip-hop label in ATL. We made an artist named Lecrae a custom board and he gave us several shout outs to his over half a million followers. That helped. My strategy now is just doing all we can to keep inventory up, and do all we can to be ready for an Oprah or Ellen type exposure. We just dig Ellen, love her heart, and would love to make her a board. I have had a gut feeling from the beginning that we would be on Ellen for some reason. Now it's kind of just a joke that may actually make it happen.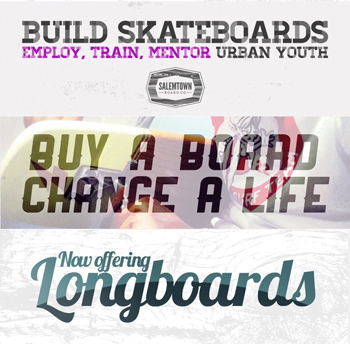 What has been the biggest challenge for you in getting SBC off the ground and running?
I also work another full time job and have a family. It's been tough to juggle everything.
I'm a perfectionist, so becoming ok with giving it my all but also failing at times has been quite freeing. I can't expect myself or anyone on the team to never make a mistake - that type of pressure is crushing for anyone. I just try to lead them to strive for excellence and learn and grow from mistakes.
What has been the most rewarding aspect for you in starting SBC?
Having a vision that becomes reality, that people embrace, and making a difference in people's lives.
Where do you see the company in another year? In five years?
1 year - selling 1000 boards.
5 year - not sure yet.
Do you have any advice for someone interested in launching their own business?
You have to believe in the vision and be passionate about it or no one else will believe you. It's gotta be about more than money. You gotta figure out what success is and not let the world define that for you. Caring about your team and showing them grace is a greater motivator than making them afraid to fail.
Care to add anything we may have missed?
I want to thank and shout out Ryan Zies for putting together and sending out a press release for us to make these kind of connections...just because he wanted to help.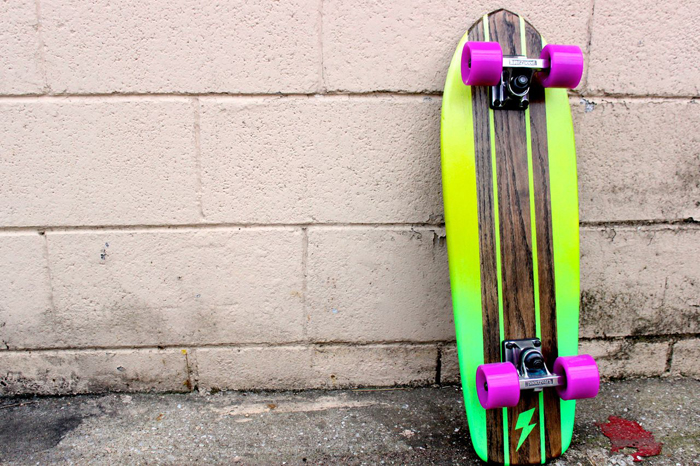 If you are interested in supporting Salemtown Board Co. then buy a board! Visit the shop at salemtownboardco.com. And be sure to check them out on Facebook, Twitter and Instagram.
---