Back to News
MOTO: Dunlop Provides Trackside Support for AMSOIL
April 22, 2013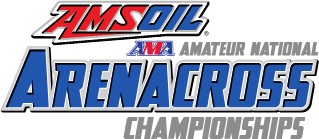 Dunlop Provides Trackside Support for AMSOIL
AMA Amateur National Arenacross Championship
AURORA, Ill. (April 22, 2013) – Feld Motor Sports® announced today that Dunlop, the industry leader in tires, will provide trackside support at the upcoming AMSOIL AMA Amateur National Arenacross Championships (ANAC) on Sunday, May 5, from Las Vegas' South Point Casino. The annual race hosts the world's top amateur AMSOIL Arenacross racers in two full days of action that will determine which riders will earn a coveted #1 plate as an AMA National Champion.
Dunlop will provide competitors at the ANAC with access to a wide variety of arenacross and supercross-specific tires from its Geomax line. Based out of Dunlop's state-of-the-art support rig, two full-time technicians will be on hand to assist riders with the same support that top Monster Energy Supercross racers like reigning champion Ryan Villopoto and rookie standout Justin Barcia receive.
"The same staff that provides service at all the Monster Energy Supercross races will also be on hand at the AMSOIL AMA Amateur National Arenacross Championships," said Brian Fleck, Manager – Off Road Technical, Dunlop Motorcycle Tires. "Our technicians will provide professional fitting service for the riders as well as suggestions for tire sizes, patterns, and air pressures to ensure that each competitor gets the best performance possible from his or her Dunlop tires as they attempt to win a national title."
"Having Dunlop back to provide the same trackside support that the pros receive for this year's AMSOIL AMA Amateur National Arenacross Championships really elevates the prestige of this world-class amateur race," said Mike Muye, Director of Arenacross, Feld Motor Sports. "Dunlop is committed to support every level of racing and this will be a special opportunity for all of our riders to get unmatched service while they compete."
As an added bonus for the riders in search of a national title at the ANAC, Dunlop will provide each winner across a total of 27 classes of competition with the tire of his or her choice.
For decades, Dunlop tires have set the standard in off-road racing, with more than 120 national championships in the dirt. That includes every Monster Energy AMA Supercross, an FIM World Championship, title since the 2010 season. The Geomax series of tires is the product of all that success, and it is those same Geomax tires that have carried the world's top riders to victory that are also available to off-road enthusiasts everywhere. When Dunlop develops championship-winning tires for pro racers that same expertise goes into the tires supplied to weekend riders as well.
Throughout the 2013 AMSOIL Arenacross, featuring Ricky Carmichael's Road to Supercross, hundreds of riders of all ages and skill levels have been competing for a chance to win an AMA National Championship at the ANAC. Over the course of the 10 weekends that composed the AMSOIL Arenacross season, amateur riders have qualified from one of five different regions – North, South, East, West, and Central – during the popular Amateur Days that took place every Sunday following professional AMSOIL Arenacross action. In total, 540 of the world's fastest amateur competitors will converge in Las Vegas, where a total of 26 riders will ultimately emerge as an AMA National Champion.
Live timing and scoring from the AMSOIL AMA Amateur National Arenacross Championships. To follow the intense racing action live, log onto www.Arenacross.com.
For more information on AMSOIL Arenacross, log on to www.Arenacross.com. For all media requests, please contact Brandon Short [email protected] or 949-365-5750.
Never miss out on the latest news! Follow the AMSOIL Arenacross on Facebook and Twitter! Log on to http://www.facebook.com/AMAarenacross and http://twitter.com/arenacross today!
About AMSOIL Arenacross
AMSOIL Arenacross is sanctioned by the American Motorcyclist Association. The AMA sanctions more amateur motorsports events than any other organization, as well as Monster Energy AMA Supercross, an FIM World Championship. For more information about AMA-sanctioned competition events, see www.americanmotorcyclist.com/racing.
About Feld Motor Sports®
Feld Motor Sports, Inc. is the world leader in specialized arena and stadium-based motor sports entertainment. Feld Motor Sports productions include Advance Auto Parts Monster Jam®, Monster Energy Supercross, AMSOIL Arenacross and Nuclear Cowboyz®. Feld Motor Sports is a division of Feld Entertainment, the world's largest producer of live family entertainment. For more information on Feld Entertainment, visit www.feldentertainment.com.
About AMSOIL®
AMSOIL® manufactures premium synthetic lubricants for all automotive, diesel and power sports applications. AMSOIL is formulated specifically for equipment life, maximum power and optimal all\-weather performance and have been tested and proven for over 40 years and billions of miles of service. For more information on AMSOIL, visit www.amsoil.com or www.amsoilracing.com.
About the American Motorcyclist Association
Since 1924, the AMA has protected the future of motorcycling and promoted the motorcycle lifestyle. AMA members come from all walks of life, and they navigate many different routes on their journey to the same destination: freedom on two wheels. As the world's largest motorcycling rights organization, through member clubs, promoters and partners, the AMA sanctions more motorsports competition and motorcycle recreational events than any other organization in the world. AMA advocates for motorcyclists' interests in the halls of local, state and federal government, the committees of international governing organizations, and the court of public opinion. AMA members receive money-saving discounts from dozens of well-known suppliers of motorcycle services, gear and apparel, bike rental, transport, hotel stays and more. Through the AMA Motorcycle Hall of Fame, the AMA honors the heroes and the heritage of motorcycling for future generations. For more information, please visit www.americanmotorcyclist.com.
---