Back to News
X GAMES: Brazilians Bask in Golden Glory at Inaugural X Games Brazil
April 22, 2013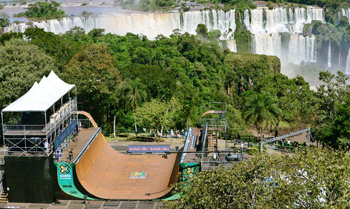 Brazilians Bask in Golden Glory at Inaugural X Games in Brazil
X Games Foz do Iguaçu 2013 - event recap by Devon O'Neil, ESPN (all photos: ESPN)
FOZ DO IGUAÇU, Brazil -- Going into this week's inaugural X Games here, much of the buildup focused on Brazil's fast-rising skateboarding community and a trio of national icons who are leading its current surge -- Bob Burnquist, Pedro Barros and Leticia Bufoni.
The 36-year-old elder statesman, Burnquist, whose popularity among Brazilians is astounding to see in person (picture a pregnant woman, a 6-year-old boy and a rifle-toting soldier all begging for autographs at the same time, while 50-60 of their countrymen claw from behind), went so far as to envision a Brazilian sweep of the five skateboarding events. That would have been a stunner, but Brazilian skaters did capture three of the five gold medals -- and not surprisingly, the three B's were responsible: Burnquist in Big Air, Barros in Park and Bufoni in Street. In Vert, two more Brazilians, Sandro Dias and Marcelo Bastos, earned silver and bronze medals.
Barros and Burnquist are the world's most dominant skaters in their respective events -- and each entered as the defending X Games champion -- so their wins were expected. Bufoni, however, never had won an X Games event in six prior appearances, and she injured her ankle so badly leading up to X Games Foz that she almost withdrew from the biggest contest of her life.
"It was close," she said Sunday night. "I thought I was not going to compete. I only started skating a week ago and was probably at 70 percent for the competition."
When asked if this represented the biggest win of her career, which took shape on the streets of Sao Paulo, she said, "Yeah." Not because it was her first X Games victory after three straight second- and third-place disappointments. "Because it was in Brazil."
If you don't live here or spend time here, it's hard to understand what makes this place so unique. Even Foz, which is as landlocked as you can get for a South American city, evokes a sense of tropical magic. From the horseshoe of 200-foot waterfalls, to the omnipresent banana and papaya and avocado trees, to the wildlife (course workers pulled an 8-foot green snake from the grass this week and dodged hairy spiders falling from trees), you feel like you're in some sort of mystical adventureland.
The best sporting events are flavored with that kind of international flair and culture and language. This week epitomized why. It had everything to do with the people who descended on Foz from around the globe. Athletes from 24 countries competed, and 16 nations won medals, one shy of the X Games record. Considering the event was broadcast in 184 countries, such diversity on the podium was a fitting sight from start to finish.
Certain themes carry over from one X Games to the next, and one of the old reliables is youth domination. We saw a bit of that this week in teenagers Nyjah Huston and Barros, who continue to rule the street and park skating worlds. But they were the only champions younger than 20. The same number of gold medals were handed out to athletes older than 40, when Bucky Lasek and the incomparable Jamie Bestwick swept the vert events on Saturday. Bestwick's win also made him the only athlete to win seven straight X Games golds in any sport.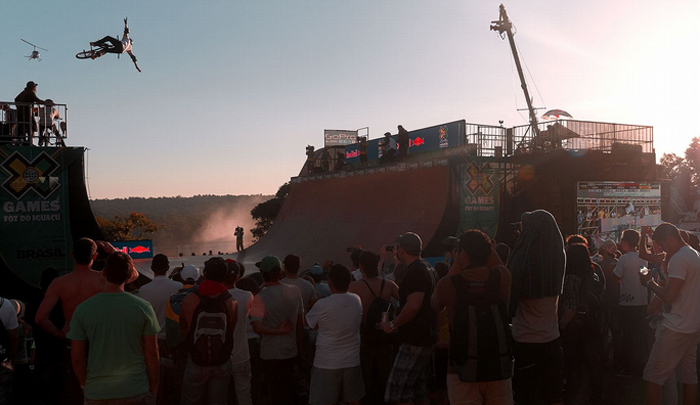 Jamie Bestwick, Mark Kohlman/ESPN
The breakout star this week had to be Kyle Baldock, a 22-year-old Aussie from the Gold Coast who had never finished better than seventh before doubling up with BMX Park and Dirt gold medals. If life is good for Baldock now, it's about to be better: he's getting married in May and is slated to become a father in June.
Of course, despite the feats we saw on the dirt, hardwood and concrete, many athletes' minds remained elsewhere this week, a reminder that sports have their place in the world and it isn't always No. 1. A handful of New England-based competitors monitored from afar the Boston Marathon bombings and subsequent manhunt with aching hearts, and four-time BMX Park gold medalist Daniel Dhers, a native of Caracas, Venezuela, was less worried about finishing fifth on Saturday than of the threat of a civil war erupting at home.
Even in stressful times, a simple, unexpected social interaction can bring relief. Saturday night, after a long and sunburned day at the skateboard and BMX vert competitions next to Iguaçu Falls, a foreign reporter remained at the venue until well after dark. Mist from the falls floated down from a sky full of stars that grew brighter by the minute.
The last shuttle had already left for town, but a Foz do Iguaçu local named Henna -- who learned broken English by watching subtitled movies as a kid and sold T-shirts here this week -- invited the stranger to hop in the back of his truck for a ride down the hill. Elated and grateful, the man sat on cardboard boxes in the windowless cargo hold and gripped a piece of metal.
In a week full of action, the peaceful moments had their place too.
Check out the full results from X Games Foz do Iguaçu 2013, here.
---