Back to News
Adam Garcia, Sales Associate at Mike's Bikes San Francisco
April 19, 2013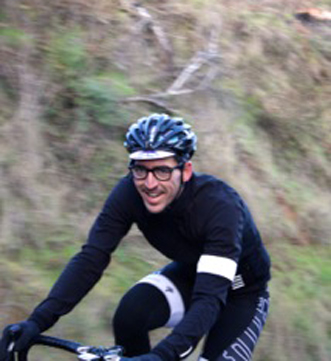 Adam Garcia, Sales Associate at Mike's Bikes San Francisco
In the nearly 50 years since the first Mike's Bikes opened in Marin County, the company has grown from its origins as one of the very first Schwinn shops in the area to now being responsible for a group of eleven wildly successful cycling stores in Northern California and is considered the largest independent bike dealer in the US.
Mike's began in 1964 with a purpose "to get as many people on bikes as possible" and is a big believer in the positive results from riding. The company is happy to put its money where its mouth is, and proves that by paying all employees 10¢ a mile to ride, anywhere!
Adam Garcia, a sales associate for Mike's Bikes, has been working in the San Francisco store for just over a year now and takes advantage of the company's employee ride-to-work program. We spoke with him about why he considers Mike's a truly great place to work, how he got started in the industry, and what a day in the life is like for him as a sales associate.
"At this store in particular, I think a couple of the tech guys own cars which they use for camping trips, but nobody drives to work," explains Adam. "Every single person here arrives on bike. In one way or another, necessity or hobby, is what led cyclists here.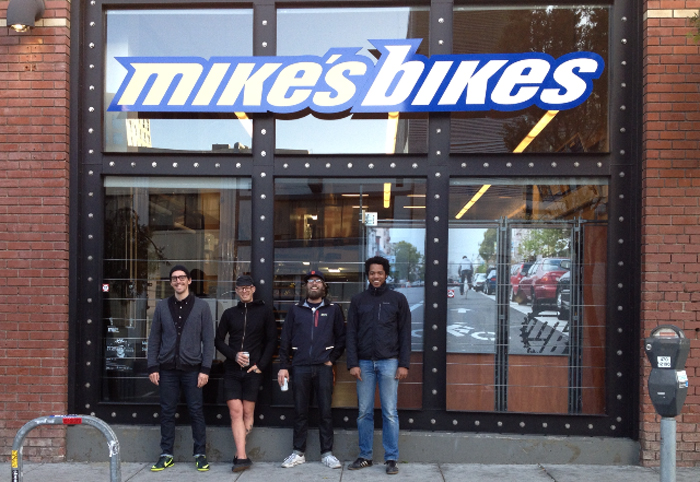 Part of the crew at Mike's Bikes in San Francisco. From left to right, Adam Garcia, Adam T. May, Sam Salzeidier and Raun Harris.
What is your current position at Mike's Bikes and how long have you been working there?
My official title at Mike's Bikes here in San Francisco is Sales Associate. I've been here for just over a year.
How did you get your start in the bicycling industry? Is this your first job in the world of cycling?
This is my first job in the bicycling industry. Previously, I worked at a skate & snow shop for 7.5 years. About 3 or 4 years ago, as that industry was contracting, it felt like it was my time to move from retail to wholesale. But there were just no jobs. So, I started substitute teaching and riding my bike a lot more because I had way more time on my hands. It was through going to group rides that I met a fellow rider who turned out to be the general manager of the store I now work at. At the time, they had an intern from Denmark and when I heard he was moving away I jokingly asked, "Are you hiring?" It turns out they were hiring and I was brought on board around this time last year.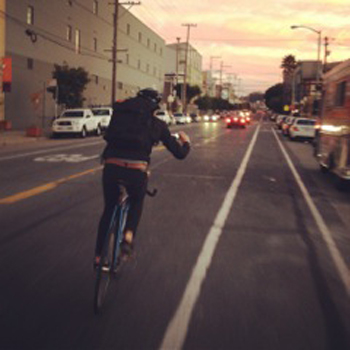 You mentioned group rides and training – are you a competitive rider?
Yes, this year Mike's started an employee team on top of their really successful Pro/1/2 team, which has some top-name dudes. Mike's has expanded this year with the master's team and the employee team, which I ride on.
What have been the positives of riding for Mike's employee team?
It's really been one of the best parts about working here because we have access to all the company and team resources, like a team car. There aren't too many guys that we race against who show up in a logo'd out, fully-racked Honda Element, like the one we can borrow.
Then, the way we communicate through stores via email and Google docs – all of the infrastructure that's already in place for the employees to communicate amongst our eleven stores anyways – we just piggy back on that to be able to keep in touch with everyone. It helps when one guy works in the Los Gatos store, two of us are here in San Francisco, and another two are in Sausalito.
Can you go through a quick roll-call of the staff at the Mike's location you work at, in San Francisco?
On sales, we have five more-or-less full-time guys. And then we have a sales manager. On the tech side, we have six guys and the tech manager. Then, there is the general manager for our store. So, there would be around twelve people here if we all showed up at once. I believe that's fairly low as far as other Mike's locations goes. I think we have, on average, a much older and much smaller staff than any of the other stores – so we're kind of unique here.
How important is being passionate about bicycles for fitting into the culture at Mike's Bikes – is it necessary to ride or are there employees there who don't bike?
For me personally, I don't know how I'd get through the work day not knowing the lingo for what parts are called. Not even just in sales, but really in the semantics of what we do. If I had to learn the names and the descriptions for golf balls and clubs, it would take me forever – so that knowledge is just a huge advantage. At this store in particular, I think a couple of the tech guys own cars which they use for camping trips, but nobody drives to work. Every single person here arrives on bike. In one way or another, necessity or hobby, is what led cyclists here.
Mike's has a reputation for treating employees well and is known as a great place to work for providing workers the opportunity to participate in programs like getting paid to ride to work – can you speak on Mike's incentive program for employees to ride?
Well, we use Strava, the GPS tracker and training log. You go out and ride your bike with the tracker on and using satellites it knows where you went and how fast you were going. You then upload that to Strava and with your unique ID you take a survey on the authorized mikesbikes.info page putting in your name and mileage as well as a link to your Strava profile so they can spot-check it. Then, you get paid 10¢ a mile. So, for a guy like me, it's almost $100 sometimes. The great part is I get paid to ride the work, but the best part is I get paid to ride, period. So, for instance, me and the boss went out and did 50 miles this morning before I got to work, and that's $5 right there. Some of the guy's here did the math and we figured that after you eat a CLIF bar or stop for a cappuccino, you'll break even. So it's like you're riding for free, rather than getting paid. But, it's a line on the paycheck that wouldn't be there if they didn't offer it, so we're all pretty stoked.
What is a typical day for you in the shop once you ride in?
Well, let's just through today. I rode earlier this morning then I rode into work. As far as opening up the stores, we have a morning huddle 15 minutes before the doors open so everyone is on the same page. If you're running behind, you won't necessarily miss the opening of the store; you'll miss a ten minute old business/new business type meeting. Since we're in San Francisco, we've got a lot of gates to open and me or one of the sales guys walk around to turn on the TVs and get all the lights on. Then, it's pretty much good to go after that. Closing duties the night before really takes care of us opening in the morning. Then I handle orders or deal with bikes in transit – letting customers know when to expect a shipment, making sure a bike has left another store when it's supposed to; things like that. And that will take until about 4:30 or 5, when we start getting a commute rush. It seems on the weekdays, anyone that comes in before those hours is a pretty determined bike shopper. And, of course, the weekends are a different story. We open an hour early and the weekends being weekends, that adds a level of difficulty just in getting here. But, it's the same story on Saturday and Sunday – there's a quick 15 minute huddle then we unlock the gates and there's a huge rush of people right at 10 am. And, we're getting into the season where it just doesn't stop for 8 hours – you show up for work and the next thing you know you're locking the door.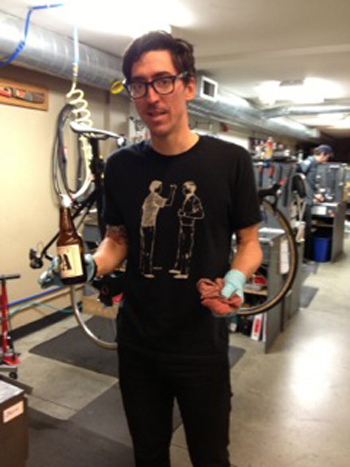 That's great to hear you are keeping busy. What can you attribute to the success of the store?
Well, we are in a part of town that has a bike lane and connects the downtown and financial district to the mission and the lower Haight, so we're between where people work and live, for the most part. We get a lot of passerby traffic and this store attracts a certain type of customer that wants to see a lot of selection in front of them, so it's a pretty healthy mix of commuters and recreational type people.
What's the best part about working at Mike's?
Honestly, it's the resources. Having someone in the office like Dana Martin (Mike's Bike's Community Engagement Director) is pretty awesome. At the end of last year I asked a couple people at Mike's if they wanted to lead a group ride that was part of a larger series of group rides over the Christmas holiday. Instead of having to promote it myself or come up with the flyer myself and hand it out and hope people show up, there's a person dedicated to getting the word out about Mike's. So, I tell her about an event and will send her some copy. Then boom, right away it's on Facebook, it's being tweeted, there's a graphic, and it's on a calendar that I know people check. So we had about 100 people turn out for a group ride because it was really well publicized and also on that group ride we had one of our Honda Elements and a guy to drive it and also a volunteer to snap photos. A little bit of effort on my part went to a team of people that made it look like a really professional production when it's just a group ride.
What is unique about Mike's Bikes?
The resources we have available is what sets us apart from other bike stores. We are in an odd zone where we're not a franchise-type chain but we're not the off-one location either. We're sizable enough to have the advantages of being a big company. But, the two guys that started Mike's Bikes when it was one shop pop in the door unannounced every once in a while. And, one of the guys came on the holiday ride I organized. Also, when I went to my orientation, I went to the President of the company's house for dinner. So, it's just small enough to be personal but is getting big enough to warrant having a publicist.
What advice would you give someone who is looking to start a career in the bicycling industry?
I'd say you have to be passionate about cycling. Having worked at a skate/snow store and now being here I think the people that have been around and the people that will be around are going to be here through hell or high water. So, you've gotta do it whether you know it's going to profitable or not. You have to love it! Before working here, I was spending money that I earned elsewhere to get and ride bikes. So, to now be in it where I'm breaking even on the bikes, that's good enough for me.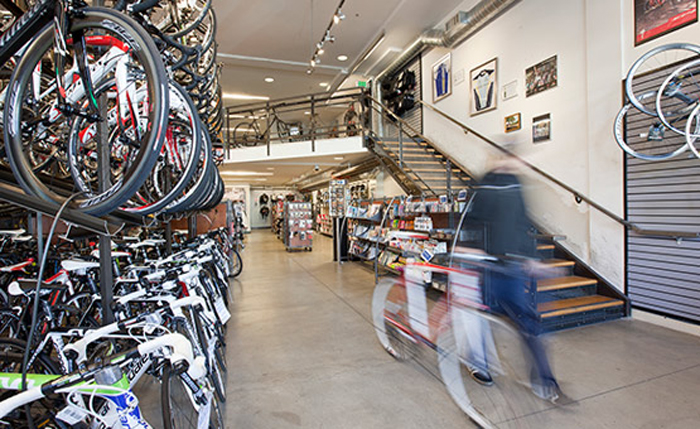 Mike's Bikes of San Francisco
1233 Howard St. (between 8th & 9th) | San Francisco, CA 94103
(415) 241-BIKE | (415) 241-2453 | For web ordering questions call (866) 600-2453
---