Back to News
TOLL: Beleaguered Toll Road Agency Approves Illegal Highway Project
April 23, 2013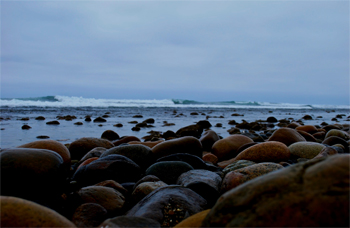 Beleaguered Toll Road Agency Approves Illegal Highway Project With Virtually No Public Notice
from: Damon Nagami's Blog on NRDC.org
Yesterday, at the end of a hastily arranged "special meeting" that afforded virtually no prior notice or opportunity for the public to comment, the Orange County Transportation Corridor Agency (TCA) reportedly approved its plans to build the first five miles of the controversial Foothill-South Toll Road. I've blogged about this issue many times (for example, here).
By noticing and holding this critical meeting within the space of just a couple of days, TCA went back on numerous promises it made to our coalition and to the public that it would give prior notice and opportunities to comment on this project. Here are just a few examples:
As recently as late February, TCA's Web site stated that "[a]fter the traffic and environmental analyses [for the project] are completed, there will be a public review period for the SEIR addendum [environmental document] and public workshops."
TCA's staff assured us in emails that "[y]ou will have plenty of notice before any decisions are made."
As my colleague Mark Rauscher with the Surfrider Foundation reports, TCA's environmental director explained to community members last summer how there would be a lengthy process allowing the public to weigh in.
It is outrageous and unacceptable that a public agency would act in this manner. In TCA's case, however, it is not surprising: This approval is an act of sheer desperation. TCA's road project was rejected by the Coastal Commission and the Bush Administration. The agency is under increasing scrutiny for its shaky financial situation – it's being investigated by the state treasurer and even a conservative think tank has raised serious questions.
One would think TCA would be on its best behavior at this point, but instead the agency decided to approve its project with almost no notice to the public. This is despite the huge level of public interest in the issue – thousands turned out to Coastal Commission and Department of Commerce hearings in 2008, and earlier this year more than 3,000 people submitted comments to the San Diego Regional Water Board opposing a permit for the project. Our coalition of groups that represent millions of members and activists has been working on these issues for years, and we didn't even know about this meeting until late yesterday.
This is an outrageous way for a public agency to behave. We strongly urge TCA to rescind yesterday's decision approving its environmental documents and conceptual design for the road project and open a public review period to allow the affected communities and other stakeholders to weigh in, as TCA had promised to do.
---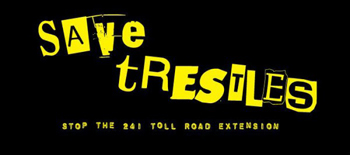 Toll Road Agency Holds Secret Meeting To Approve Project
from: the Save Trestles blog on surfrider.org
We learned late yesterday that the TCA held a "Special Meeting" to approve plans for their so-called "Tesoro Extension," the first 5 miles of the 241 Toll Road that would end up paving over a large portion of San Onofre State Beach and connect with I-5 near Trestles.
Previously we were assured multiple times that the TCA would hold public workshops and have an open comment period to take input on this project before approving. Instead, they put an agenda on their website with less than 48 hours notice, notified nobody, and then held a vote.
Here you can see the TCA's Environmental Director Valarie McFall explaining to community members last summer how there would be a lengthy process allowing the public to weigh in.
This behavior, while not entirely unexpected of them, is outrageous! They are clearly trying to bypass public scrutiny in order to get started building their previously rejected road. Thousands of people went to the Coastal Commission and Commerce Dep't meetings in 2008 to express their views on this project, but the TCA is now locking them out.
Not only is this the wrong way for an agency to conduct business, but the TCA is already on shaky financial feet (as recently reported in the LA Times) and have no real plan for getting out of their mountain of debt. Now, rather than listening to cooler heads, they make a unilateral decision to take on hundreds of millions more in debt in an effort to steamroll their way towards San Onofre and Trestles.
If you are disturbed by this behavior we encourage you to send the TCA an email with your thoughts. Let them know that you are outraged at the lack of public input for the Tesoro Extension and that you wish to have the opportunity to weigh in on their plans. Send your email today to [email protected]
---