Back to News
WEB: Vote Now for Vans Fourth Annual Custom Culture Contest
April 22, 2013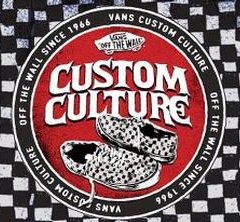 Vote Now for Vans Fourth Annual Custom Culture Contest
Vans is bringing schools across the nation together as public voting opens at vans.com/customculture for the top 50 high schools competing in the Vans Custom Culture contest. Now in its fourth year, Vans Custom Culture is a nationwide art call to action, with students competing for a chance to win $50,000 for their school's art programs.
For this year's program, we collaborated with some of Vans' own creative athletes including Dane Reynolds, Leila Hurst, The Gudauskas Brothers and Alex Knost to create their own custom Vans. See their inspiring designs along with many other Vans Custom Culture Ambassadors on Facebook. Watch a clip of just a few of the ambassadors and their artistic creations on OffTheWall.TV.
Beginning April 22nd through May 13th, 2013, students, teachers, parents and friends alike, nationwide, can visit vans.com/customculture to vote for their favorite school's designs. The top five schools will be invited to New York City to showcase their designs for the crowd and celebrity judges at a special event in June 2013 at the Whitney Museum of American Art, where the grand prize-winner will be announced.
Vans Custom Culture inspires creativity among students through art and design while at the same time aiming to shed light on diminishing budgets for art in education. Since its inception in 2010, Vans Custom Culture has reached tens of thousands of students and has awarded more than $175,000 to support high school art programs.
For more details, visit the Vans Custom Culture platforms:
Website: http://www.vans.com/customculture/
Facebook: http://www.facebook.com/vanscustomculture
---