Back to News
WEB: Arnette Launches #LIVEARNETTE Campaign
April 24, 2013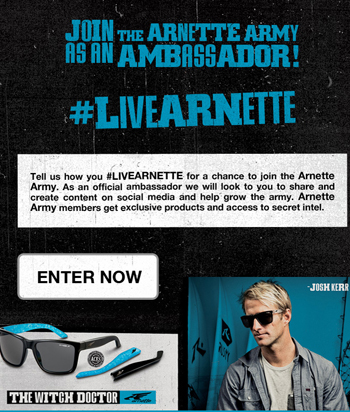 Arnette Launches #LIVEARNETTE Campaign With New Video Series, Ads And Global Ambassador Search
Encinitas, CA (April 24, 2013) – Everyone has a story to tell. #LIVEARNETTE is Arnette's way of sharing the stories of the multiple personalities that makeup ourfamily of athletes and ambassadors through video and social media.
Episode 1 features a candid account of how Mark Appleyard's brother helped get him on the worldwide map in skateboarding. In #LIVEARNETTE Episode 2, Josh Kerr tells the story of how an epic day at 9 Mile Reef almost became his last.
The first two episodes of the series are available to check out now on http://www.youtube.com/arnette and http://vimeo.com/arnette.
Ads highlighting Appleyard, Kerr and other Arnette ambassadors featured in future episodes will run online and in print media throughout the rest of the year.
The #LIVEARNETTE Global Ambassador Search
To help drive more awareness online, Arnette has launched a worldwide initiative to connect like-minded supporters under the #LIVEARNETTE umbrella.
Through Facebook, Arnette is looking for ambassadors in North America, Mexico and Europe who have their own story that fits the Arnette lifestyle of doing things your way, is the only way.
To enter the ambassador search, Arnette fans need to register on one of Arnette's regional Facebook pages:
• North America: http:// bit.ly/Xb9dC2
• Mexico: http:// bit.ly/YuMHmT
• Spain: http:// bit.ly/XB4eQP
• Europe: http:// bit.ly/Z2iyeM
Ambassadors will receive Arnette sunglasses, goggles as well as limited edition hats, t-shirts and more. Additional information and official entry criteria can be found online at: http://www.arnette.com/blog/LIVEARNETTE-Social-Contests-and-Microsite/.
#LIVEARNETTE Global Heat Map Connects Arnette Fans Worldwide
In addition, Arnette will be giving away prize packs to Instagram and Twitter users who post photos, set their locationand tag #LIVEARNETTE in the caption. Photos tagged appropriately will also appear on the #LIVEARNETTE global heat map online at http://live.arnette.com.
Arnette will be searching for ambassadors worldwide and giving away product via the #LIVEARNETTE global heat map until April 30th, 2013.
Additional details on the promotions can be found online at http://www.arnette.com.

---